'How I Met Your Mother' Wraps Up Stories for Ranjit, Blitz, Sandy Rivers, Scooter, and More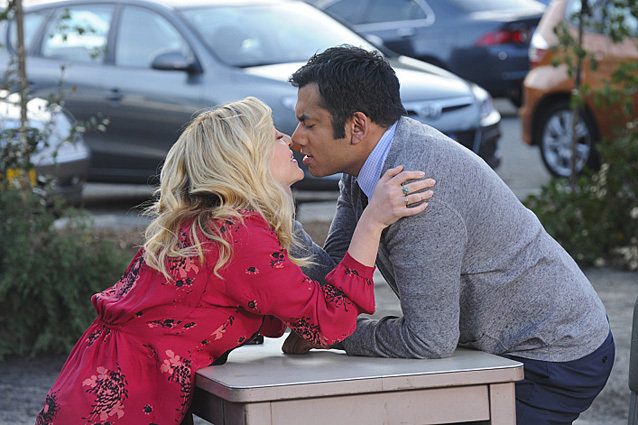 CBS Broadcasting
We've been looking forward to the wrap-up to How I Met Your Mother's story for quite some time. But a late sequence in this week's episode, "Gary Blauman," gave us some narrative conclusions that we hadn't been anticipating. After Marshall makes a somber remark about losing touch with old friends, Future Ted enlightens the audience unto the fates down the line for some of the pals he hadn't kept in his life:
-Carl, the MacLaren's bartender, had a son and turned the pub into a family business
-Jeanette was arrested for stalking some fellow named Val Kilmer, and got married to Robin's old boyfriend Kevin
-Ranjit made some wise investments and ended up buying his limo company
-Patrice started her own drive-time radio show
-Billy Zabka won the American Humanities Medal for Literature
-Zoe continued her life of activism
-Scooter married Lily's stripper doppelganger
-Blitz suffered from a gambling addiction, but kicked it
-Blah Blah got a name (Carol)
-Sandy Rivers moved to Russia, continuing his news career overseas
-James got back together with his husband Tom
All this, combined with the fates we've come to learn about a handful of other characters — Victoria moved back to Germany and continued her career as a baker, Stella lives in California with Tony (presumably riding comfortably on The Wedding Bride money), the Captain began a relationship with Boats Boats Boats — actually leaves us a bit wistful. If there is one thing How I Met Your Mother can be credited with, it is building what feels like a vivid, full, far-reaching universe. A reality populated with living characters — some everpresent and some who only occasionally show their faces, but all feeling like active features of this spinning world.
As such, we look forward with even more vigor now to the ultimate conclusion of the stories at the center of the show: Marshall and Lily (it seems like they spend the next year of their lives in Italy, although there are still a few questions left unanswered), Barney and Robin (the entirety of Season 9 has hinted at "second thoughts" from both parties, but flash forwards do indicate that they stay together… at least in some capacity), and Ted.
Three days after the wedding, he has his first date with The Mother. A date during which she insists that she's not ready for a relationship. A date during which Ted resists his old ways to make some gallant gesture and thrust himself upon her as an act of true devotion. A date during which she proves herself too a kinetic force of romance and insists that the two stay in one another's lives, despite her apprehensions.
We still don't know how they meet, or what eventually happens to her down the line (there are some depressing theories…). But we're quite excited to find out. After a few lackluster years with the MacLaren's gang, this show has certainly reclaimed its old magic. And we're really going to miss it.