'How I Met Your Mother': When Did 'The Karate Kid' Become Irrelevant? — Season 8, Episode 22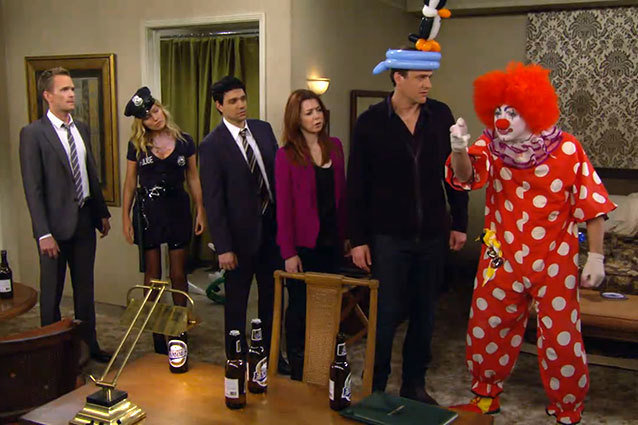 When exactly did we reach an era in which it was necessary to summarize the plot of The Karate Kid? I don't remember aging beyond the statute of limitations on the 1984 classic's relevance, but this week's How I Met Your Mother seems to affirm: we live in a post-wax on era.
Oh, you'll probably want some context: this week, we are handed the inevitable Bachelor Party Episode, the efforts of Barney to experience one last hurrah before succumbing to marital bliss. In a moreover interesting and enjoyable twist on the trope, the entire gang bands together to give Barney the worst night imaginable — the trick unbeknownst to the suited antihero and the audience alike, until at least halfway through the episode — as a contrast to the insuperably hedonistic means in which he lives his life ordinarily.
As such, Ted and Marshall organize a shoddy hotel room just outside of the Atlantic City limits, a birthday clown as entertainment, Barney's ex-fiancée Quinn as a stripper, and (worst of all) the wrong Karate Kid. See, Barney has this odd vantage point of the '84 underdog story, viewing Aryan bully Johnny Lawrence, played by William Zabka, as the true hero over Ralph Macchio's undermining villain. Knowing of Barney's devotion to this bizarre perspective, his friends rustled up Macchio to make an appearance, hoping to further Barney's descent into maddening frustration. Oh, and this is all supposed to be funny. They're trying to screw with him, because they think it's funny… I think. The mentality is nebulous at best.
Anyway, in the introduction of this element of the episode, Future Ted takes it upon himself to explain to his teenage children circa 2030 what The Karate Kid is. And while in context such an explanation does seem to make sense, understanding the summary as a piece of material infused not only for the in-universe characters but for the audience as well is kind of unnerving. The show doesn't always bother to infuse pop culture synopses into its voice over, so when it does, there is a suggestion of some meta involvement and education of the audience. Future Ted's Karate Kid summary was for the How I Met Your Mother viewers' benefit.
So when, exactly, did people stop knowing what The Karate Kid was?
When did the relevancy of the '84 film expire? When were we forced to abandon the assumption that everyone knew how Daniel Larusso an Mr. Miagi were? When did this happen, and why did we let it happen?
That's the primary takeaway from this episode of How I Met Your Mother, which eventually led Barney to the realization (after a series of catastrophes, leading to Marshall being "sold" to Chinese mobsters and Robin calling off the wedding) that his friends were messing with him… happily accepting the prank as legendary. The only other thought to spring from the episode comes along with the show's acute understanding of what its audience expects to happen on it. By now, HIMYM knows that people are surmising that Barney and Robin will break up before, or at, the wedding; as such, they're playing with our theories with turns like these. We might still see the two call things off, as many call-forward scenes have suggested, and the show seems to be having fun with that anticipation until then.
But seriously. You guys all know what The Karate Kid is, right? It's still relevant, right? Right?! I'm not that old, right?!?!?
Follow Michael Arbeiter on Twitter @MichaelArbeiter
More:
'Mad Men' Recap: Fathers, Sons, and Martin Luther King
'Glee' Recap: Lights Out in Lima
'Parks and Recreation' Recap: Andy's Swan Song
---
From Our Partners


50 Worst Celeb Mugshot Fails (vh1)


33 Child Stars: Where Are They Now? (Celebuzz)