'How I Met Your Mother' Recap: The Drunk Train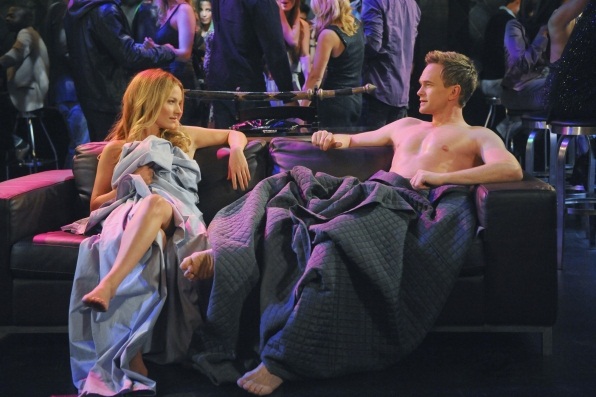 S7E16: Wait a minute, How I Met Your Mother. We're going down this road again? Ted and Robin? What about Robin and Barney? What about Ted and the mother? What about Ranjit and The Captain? ANY other combination would make more sense!
But here we are: on the roof of the apartment building, with Ted professing his love to Robin after a particularly heartbreaking Valentine's Day for the both of them. Let's backtrack…
"Goat cheese? Fascinating! What else are you allergic to?" – Ted
Robin and Kevin accompany Marshall and Lily to a Valentine's Day getaway in Vermont. The slightest provocation in the form of a compliment about their relationship from Kevin sends Marshall and Lily into an endless summation of what makes the perfect relationship—which, of course, in typical sitcom hypocrisy, backfires and erupts into a weekend-long spat. But that is the most uninteresting and inconsequential plotline in a particularly uninteresting and only-consequential-by-default episode.
Kevin proposes to Robin—cue a resounding "No!" from audiences nationwide. Robin hesitates to respond, concerned that she must tell Kevin the truth about her infertility before she can answer. She does, but this does not deter him—which seems to disappoint her, a little. Robin continues on to explain that she not only can't have kids, but also does not want to have kids—this rules out adoption, surrogacy, Scarlett Johansson cloning, the works. But Kevin persists. Again, Robin seems disappointed. While we're led to believe that he is the only who eventually comes to realize, thanks to Robin's probing, that he cannot happily marry a woman who does not want children, what I really believe happened (we don't actually see their breakup take place in entirety; just the disheartened look on Kal Penn's face leading up to the discussion) is that Kevin realized that Robin was so against the idea of marrying him that she was practically begging him to find a reason not to want to marry her. At least, I hope that's what the show was doing. Robin not being in love with Kevin is far more important than Kevin not being in love with Robin. He shouldn't be right for her, not the other way around.
"A backwards baseball cap really youngs me down." – Ted
Back in the New York Metropolitan Area, we find Barney and Ted, who have just discovered, thanks to Lily and Marshall, the Drunk Train: the last train out to Long Island from Manhattan, filled with inebriated passengers too drunk and stupid to turn any sexual prospect down. Barney jumps at the opportunity to try his luck with the women on the Drunk Train—women who are quite a long leap from the Long Island stereotype, and more closely familiar to Brooklyn denizens in a movie from the '90s. Seriously, Long Islanders have their (our) share of flaws ripe for parody, but we're treated instead to a bunch of My Cousin Vinny Marisa Tomeis. To HIMYM's credit, the Drunk Train is a real thing. But it is much less fun than what we see on this episode. Much darker…sadder…a place where you come face to face with the grotesqueness of human nature.
"Last week, I went out with a girl whose favorite band was Glee." – Ted
There's an important plot point that the episode reminds us of every ten minutes or so—but that doesn't really resonate in the interim periods for whatever reason. We see in flashbacks that, on the night prior to their railroad adventure, Ted had employed Barney as a wingman on his date with a girl who turned out to be both uninteresting and uninterested. But Barney really hit it off with Ted's date's wingwoman. Quinn, played by Becki Newton, is a quick-witted, brazen and sardonic young lady who sees right through all of Barney's B.S. Naturally, this draws him to her—so much so that even through his Drunk Train endeavors—both his unsuccessful sober one and his second, more profitable intoxicated one—Barney can't stop thinking about Quinn. In fact, after Ted calls Barney out on his feelings for her, Barney even cuts short a date with a Trainee, deciding he'd rather pursue something more substantial with Quinn. Who, by the way, is a stripper—but he doesn't know that yet.
"Good circling, Ted." – Barney
"This ain't my first word search." – Ted
Again, resounding "No!"s. I don't think I'm in the minority in hoping that the wedding set to close this seventh season will be between Barney and Robin—not Barney and Quinn, or Barney and Nora, or Barney and anyone else. But if that does end up being the case, we've got an awful lot to wade through before then: Barney's pursuit of Quinn and, of course, that whole Ted-loves-Robin-again/still thing I mentioned earlier.
Barney isn't the only one who realizes on the train that he wants more. Ted admits sadly that all he wants is to love someone, but that there is no one for him to love. Upon returning home, he finds Robin, sad, alone and with cigarette on the roof. After she explains to him what happened with Kevin, Ted proudly and earnestly professes his love to her.
"I was all, do I look like I'm from Ronkonkoma?" – Barney
"Ohhh!" – Long Islanders
So what the hell are we supposed to do with this? Unless there is some sort of reality-altering paradox, we know that they can't end up together. Once we all came to terms with that, we figured, "Well, Robin and Barney would be a pretty sweet deal!" But now, How I Met Your Mother is doing everything in its power to complicate that ride. I still do believe that by the end of the season, Robin and Barney will wind up with one another. But I don't really know what's going to come from this whole fiasco.
Also, apparently, Barney went to MIT.
What did you think about this week's episode? Which duo are you pulling for: Ted and Robin? Robin and Barney? Barney and Quinn? Robin and Kevin? Let us know whose camp you're in in the comments section or on Twitter (@MichaelArbeiter).