'How I Met Your Mother' Season Finale Recap: OH MY GOD, IT'S THE MOTHER!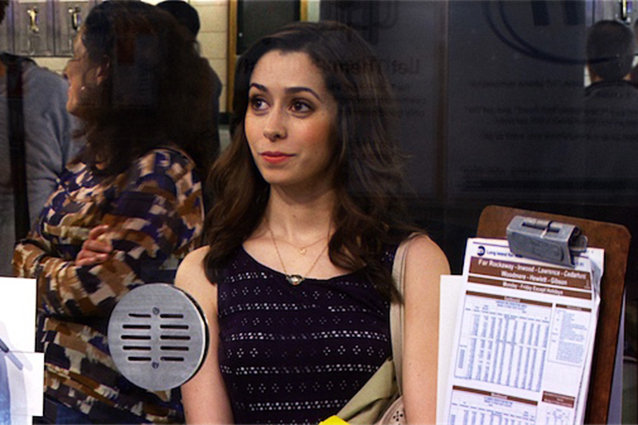 … It's her. … It's … it's actually her. After eight long, Long years … countless teases … Victorias, Stellas, and Slutty Pumpkins alike … yellow umbrellas and promises of matrimonial unions … we, the ever-so-patient viewing audience, have finally met … the mother (played by Broadway actress Critin Milioti). Of course, we still have God knows how long until Ted actually meets her. See, the revelation of which we speak here is a fleeting one — a momentary glimpse into her fishbowl eyes at the very end of the eighth season finale. And we know next to nothing about her still: we know she rocks a healthy boot, travels by train to the fictional Long Island locale of Farhampton, and packs (of course) a yellow umbrella.
And while some detractors might use the ambiguity of her introduction as argument against this still-mystery woman being, in fact, the mother … well, I just can't believe that. I can't believe that How I Met Your Mother would do something so dastardly as to paint this woman in such a gallant light, sticking her at the conclusive seconds of its penultimate season finale, arming her with visual symbols and a dramatic music backdrop, only for yet another tease. The show is devious, but that's just downright evil. Face it, cynics. She's got to be the mother (perhaps I'm just trying to convince myself, now…).
The episode grants us Teddy Westside's admission to pal Lily that he plans to move to Chicago the day after Robin and Barney's wedding, as his love for Robin is too vivid to stand seeing the two of them live happily together. In sharp contrast to this decision, Ted also decides, upon Lily's reluctant revelation of the location of Robin's missing locket (re: one week prior on this show), to surprise his love with "the greatest wedding present" he can muster: said locket. He knows, in the back of his head, how inappropriate it is for him to shoot for her affections on the eve of her wedding, but he can't fight the romantic in him. So off Ted zooms, locket wrapped up and Lily at his side, to the wedding, knowing not that he is about to meet …
… the mother.
Yes, the mother. That nameless, boot-rockin' young lady that we meet at the end of this episode. We meet her. We met her. We met the mother. I'm sorry, I'm still in shock. It's … it's been eight years. I was beginning to lose hope. But we met her.
And now, all that's left is for Ted to meet her, too. So, please do that. Quickly. Because this was good, but not good enough.
Also, other stuff happened: Marshall's a judge, he and Lily will have to decide between staying domestic and moving to Rome, and Robin and Barney try to ruin Casey Wilson's relationship. But nobody will remember any of that. Mother. Mother, people.
Mother.
Follow Michael Arbeiter on Twitter @MichaelArbeiter
More:
'How I Met Your Mother' Recap: Something Old
And the Mother Is… Cristin Milioti
Season Finale Promo Teases the Big 'HIMYM' Reveal
---
From Our Partners:


Watch Justin Bieber Attacked in Dubai (Celebuzz)


33 Child Stars: Where Are They Now? (Celebuzz)