How Long Will Each of NBC's New Shows Last?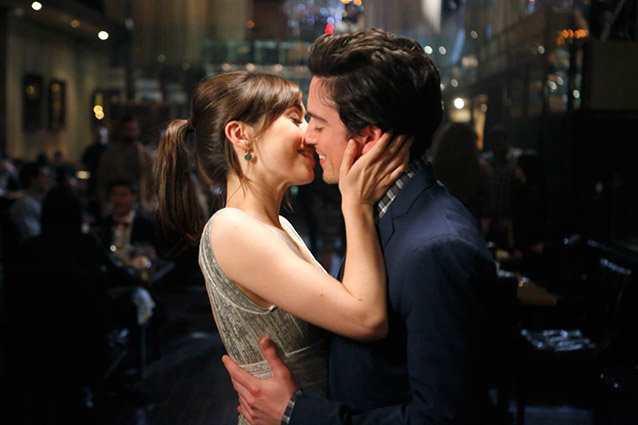 NBC Universal Media
Television upfronts are upon us. Even though the fall TV season has  just barely come to a close, with many shows not returning next year (poor Community), the networks have a new crop of shows ready to premiere later this year. NBC has recently announced its fall lineup, including an interesting mix of comedies and dramas. Here's a preview of NBC's upcoming primetime lineup

A to Z
What It Is: Single-camera sitcom.
What It's About: Andrew (Ben Feldman), a romantic at heart, tries to win the girl of his dreams, Zoey (Cristin Milioti).
Who's in It: Ben Feldman, Cristin Milioti. 
What It Sounds Like: Exactly like How I Met Your Mother. It's so similar it's almost a little shameless. Check this: The male lead is a doe-eyed romantic; the female lead wants nothing to do with relationships; an unseen narrator who is also voiced by an actor best known from a '90s sitcom (Katey Sagal), is recounting the whole story; incredible romantic coincidences aplenty involving particularly colored items. It's madness. But at least they don't share a cast member… oh, wait…
How Good It Will Be: It honestly looks like a tepid version of the CBS series, but without any of that show's subversive charm or quirks.
How Long It Will Last: It looks pleasant enough to last through the season, but who wants to watch another eight years of Ted and Robin doing will-they-won't they.
Premiere: Thursdays at 9:30 this fall.
Bad Judge
What It Is: Single-camera sitcom.
What It's About: Rebecca Wright (Kate Walsh) is a wild party girl who also happens to be L.A.'s toughest criminal judge.
Who's In It: Kate Walsh, John Ducey, Tone Bell, Theodore Barnes.
What's It Sound Like: A reality show titled Judge Judy: Off the Bench.
How Good It Will Be: Judging by the trailer, it seems like the main character's antics will grow stale after a while. "She's a high ranking official, yet she's wildly inappropriate" can only be barely amusing for so long.
How Long It Will Last: This looks dead on arrival.
Premiere: Thurdays at 9:00 this fall.
The Mysteries of Laura
What It Is: Cop dramedy.
What It's About: Laura Diamond (Debra Messing) is a gifted detective who must balance the excitement of police work with managing her twin boys and a flippant ex-husband.
Who's In It: Debra Messing, Josh Lucas.
What's It Sound Like: Brooklyn Nine-Nine, but with more family drama.
How Good Will It Be: It's hard to tell. The trailer is charming enough and is actually littered with a couple chuckles.
How Long Will It Last: We can see this one going the distance.
Premiere: Wednesdays at 8:00 this fall.
Constantine
What It Is: Supernatural drama.
What It's About: Based on DC Comics' classic series Hellblazer, demon hunter John Constantine travels the country to fight off the forces of hell while looking cool in a trench coat.
Who's In It: Matt Ryan, Lucy Griffiths, Harrold Perrineau.
What's It Sounds Like: Like Supernatural, with more Brits.
How Good Will It Be: The trailer has some genuine creepy moments and looks like a far cry from the Keanu Reeves-centered, sun-drenched L.A. interperatation of the character from 2005's Constantine. Matt Ryan is a dead ringer for the comic book version, down to the blond hair and british-accented quips. 
How Long Will It Last: This one has good chances. Even though it's scheduled for Friday nights, which is usually the death nell for television, NBC's other supernatural action series, Grimm has improbably managed to survive on the same night. Also, It's connection to comics will certainly bring in viewers.
Premiere: Fridays at 10:00 this fall.
State of Affairs
What It Is: Drama.
What It's About: CIA analyst Charleston Tucker (Katherine Heigl) must decide which international crises need to be brought to the attention of the president. She's also on a mission to find the people responsible for the murder of her fiancé, who was the president's son.
Who's In It: Katherine Heigl, Alfre Woodard, Adam Kaufman. 
What's It Sound Like: Like Scandal meets Homeland. 
How Good It Will Be: It looks like a soapy, glossy network version of Homeland, which could be fun, but could also be terrible. 
How Long It Will Last: NBC found a surprise hit with The Blacklist, and this show looks pretty similar in story. If it can pick up on that show's audience it will definitely make it through the season.
Premiere: November 17 at 10:00.
Marry Me
What Is It: Single-camera sitcom. 
What It's About: After six perfect years together, Annie and Jake are ready to get married, but the universe seems to have other plans for them. 
Who's In It: Ken Marino, Casey Wilson, Sarah Wright, John Gemberling. 
What's It Sound Like: It's basically looks like Happy Endings, which makes sense since it's also from that show's creator, David Caspe. 
How Good Will It Be:  The cast has some great comedy chops, and the trailer has some goofy laughs here and there. If this show is even half as good as Happy Endings in it's prime, we'll be satisfied.
How Long Will It Last: NBC is in dire need of some new comedies so we're betting this one sticks around for a while. 
Premiere: Tuesday at 9:00 this fall.
Allegiance
What It Is: Spy drama. 
What It's About: Alex O'Connor is a young idealistic CIA analyst, but his life comes crashing down when he learns that his parents are deactivated KGB agents who have just been re-enlisted by the Kremlin to commit a terrorist attack against the U.S.
Who's In It: Gavin Stenhouse, Scott Cohen, Hope Davis.
What's It Sound Like: The Americans, but with fewer wigs and less '80s music. 
How Good It Will Be: It'll be hard for this show to compete quality-wise with The Americans, which is probably the most underrated drama on television, since it is mining such similar territory. 
How Long It Will Last: You only have to look as far as NBC's Hostages to see that dramas like this don't tend to do well on the network. If the show is a critical success it good skate on its prestige like Hannibal, but we don't see this as being terribly successful.
Premiere: N/A
Aquarius
What It Is: Period police drama.
What It's About: In 1967, L.A. police sergeant Sam Hodiak investigates a cult leader luring young women to his cause. Little does he know that that the guy he's hunting turns out to be Charles Manson.
Who's In It: David Duchovny. 
What's It Sound Like: Bates Motel, but replace Norman Bates with Charles Manson. 
How Good Will It Be: It looks like NBC is trying to mine the success (critical success at least) of Hannibal. If this show is even a tenth as good as that, it will be a home run.
How Long Will It Last?:  Knowing NBC and it's audience, If this show does make it to the end of the season, it will be one of those shows that's permanently on the bubble come renewal time.
Premiere: N/A
Emerald City
What It Is: Fantasy drama.
What It's About: A woman investigating the identity of her biological mother gets swept up into a tornado and transported to a twisted vision of magical world of Oz Who's In It: N/A
What's It Sound Like: A dark and gritty version of The Wizard of Oz.
How Good Will It Be: Judging from recent "Dark" versions of fairy tales (Hanzel and Gretal: Witch Hunters, Snow White and the Huntsman), we don't have high hopes.
How Long Will It Last: NBC's recet genre offerings haven't fared to well, but ABC's Once Upon a Time shows that there's certainly an audience for fantasy on network TV.
Premiere: N/A
Mission Control
What Is It: Single-camera sitcom.
What's It About: Dr. Mary Kendricks is a brilliant Aerospace engineer that must survive the boys club of Astronauts in the 1960s. 
Who's In It: Krysten Ritter, Tommy Dewey, Malcolm Barrett, Johnathan Slavin, Julie Meyer.
What's It Sound Like: Mad Men meets Anchorman with some Better Off Ted sprinkled in. 
How Good Will It Be: Mad Men has found a great amount of drama exploring the old-timey misogyny of the 1960s. A series that can explore the same themes from a comedic lens could be really great.
How Long Will It Last: It's hard to tell. This sounds pretty ambitious from NBC. It doesn't seem like the sort of thing that people will immediately click with, so Mission Control might not last.
Premiere: N/A
Mr. Robinson
What It Is: Single-camera sitcom.
What's It About: Down on his luck musician Craig Robinson (Craig Robinson… hey, wait a minute…) teaches music to pay the bills, but works harder to inspire his students once he finds out that they're only taking his class for the easy A.
Who's In It: Craig Robinson, Jean Smart.
What's It Sound Like: An updated version of Welcome Back Kotter.
How Good Will It Be:  Craig Robinson is a huge talent, and we've been waiting for him to get the chance to carry his own show. Fingers crossed, everybody. 
How Long Will It Last: Hopefully, old fans of The Office can rally behind this show and help it secure at least a couple of seasons.
Premiere: N/A
Odyssey
What It Is: Multi-camera sitcom. 
What It's About: A soldier, a corporate lawyer, and a political activist uncover a military-industrial conspiracy involving al Qaeda, the U.S. military, and a U.S. corporation funding the terrorist cell.
Who's In It: Anna Friel, Peter Facinelli, Jake Robinson, Jim True-Frost. 
What's It Sound Like: Traffic with a heaping teaspoon of Homeland.
How Good Will It Be:  It sounds like an ambitious, international undertaking from NBC. It sounds good, but then again it's from a director of Grey's Anatomy. We guess we'll have to see.
How Long Will It Last: Not too long. This doesn't look like NBC's usual offerings so it's hard to think it will last.
Premiere: N/A
One Big Happy
What Is It: Single-camera sitcom.
What's It About: Best friends, Lizzy and Luke decide to start an unorthodox family, but things get crowded when Luke meets and marries the woman of his dreams, Prudence, a british expat scheduled to leave the country.
Who's In It: Nick Zano, Elisha Cuthbert, Kelly Brook.
What's It Sound Like:  A zanier version of Modern Family.
How Good Will It Be: It sounds like fun, and Elisha Cuthbert was fantastic in Happy Endings.
Premiere: N/A
Unbreakable Kimmy Schmidt
What Is It: Single camera sitcom
What's It About: After 15 years of living in a cult, a woman decides to reinvent her life by moving to New York and taking on the city that never sleeps.
Who's In It: Ellie Kemper, Tituss Burgess.
What's It Sound Like: Ugly Betty meets The Office.
How Good Will It Be: Ellie Kemper is perpetually delightful, and the idea of a woman readjusting to modern life after living in a cult could lead to some absurd situations.
How Long Will It Last: Like Mr. Robinson, fans of the office might give this show a boost at least initially. Were thinking this one will at least finish out it's season.
Premiere: N/A