How to Save 'The Tomorrow People'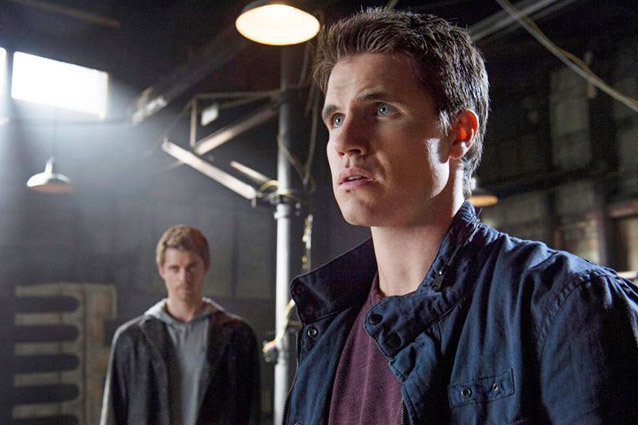 The CW
The Tomorrow People has some amazing action sequences and really great super-powers. It has more of an edge than supernatural shows like Charmed or The Vampire Diaries.  And yet, it doesn't have the same resonance as Vampire Diaries or even The Carrie Diaries.  One problem is the main cast is a crew of sexy robots. The series is lucky because there is a lower ratings threshold to stay on the air, but, can the show make the important changes to actually build a following?
Here are some helpful changes the series can make to improve their following.
More Actors
Veronica Mars  star Jason Dohring and Carly Pope are some great guest stars. Shameless star Laura Wiggins would also be a great addition to the regular cast as nerdy Irene. The three leads are super hot but the show needs more compelling actors. Robbie Amell, Peyton List, and Luke Mitchell would be just as interesting standing around in their underwear saying nothing. Unlike Nina Dobrev, Paul Wesley, and Ian Somerhalder they are all sizzle and no steak. It's sad that they recently killed off Ultra agent Darcy (Meta Golding) because she was proving to be an interesting character.
Celebrity Cameos
It's great that The CW likes to cast new actors and make their own celebrities. However, science-fiction fans have tons of cult-favorite actors that aren't working right now. Heroes capitalized on Star Trek fandom by casting actors like George Takei and Nichelle Nichols. Why not cast actors from cult faves like The 4400, Firefly, or even Buffy the Vampire Slayer?
Play Up The Double Agent Angle…Intelligently
Part of the appeal of the pilot was that it promised an Alias-style tension as high school student Stephen (Amell) does double duty as secret agent and second coming to the underground community of Tomorrow People. However, Stephen keeps getting caught and a blind person could see that he's not to be trusted. It would be great if Stephen was actually at risk of getting caught.
More Sex
Stephen and Cara (List) finally consummating their flirtation is nice because it added much needed tension to the show. It was clear to everyone that they were going to knock boots so why not just cut to the chase already.
Don't Save Mysteries for Later
So far we don't know much about The Tomorrow People or their history. Waiting too long to reveal secrets might be a little risky. Let's face it there might not be more than one season so why not just put the pedal to the metal and actually have some super-powered fun.
Inject Some Humor, Stat
The series needs a little levity and humor. It's enough to suspend belief that people can have super powers or that a teenager can be a secret agent. However, it's impossible to believe that a bunch of people with no sense of humor could end up on television. The series could afford to be a little more tongue-in-cheek and stop taking itself so seriously.