Hulu Must-Series: 'Miranda'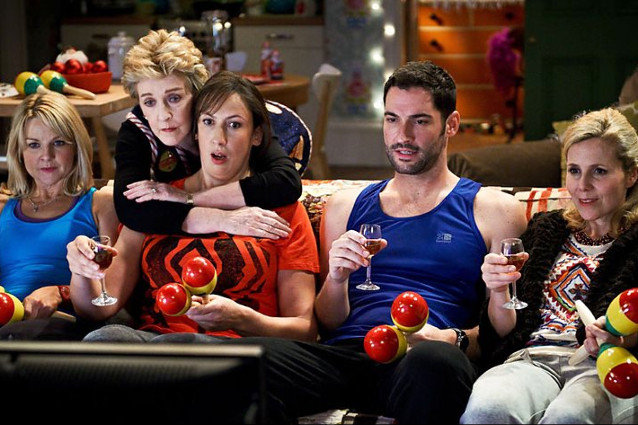 BBC One
We are used to seeing popular U.K. shows stateside. Series of Downton Abbey, Absolutely Fabulous, Skins  and Dr. Who  have all aired in the US in enough time to capitalize on their wild success across the pond. However, some shows slip through the cracks. Miranda is a wildly successful sitcom that first premiered in 2009 has only now become available on Hulu.
Miranda (Miranda Hart) is posh, yet utterly awkward. She's tall, socially inappropriate, and a grown child. She spent the bulk of her wealth buying a joke shop that she runs with her Type-A best friend Stevie (Sarah Hadland). She is terminally single much to the dismay of her haughty and marriage obsessed mother, Penny (Patricia Hodge). She occasionally has run-ins with her former boarding school pal Tilly (Sally Phillips). Her latest obsession is her longtime friend and restaurant chef, Gary (Tom Ellis) who can see beyond her 6'1 frame and social ineptitude yet can't seem to get a moment alone with her.
Hart is a comedic genius. Each episode has Mr. Bean-like physical antics, insanely well-crafted wordplay, and completely absurd situations. Hart is so likable and the pain, tension, and discomfort of being tall, romantically challenged, and stunted in youth is completely relatable. Plus, Hart will occasionally look at the audience and give commentary on what's happening.
Hart represents an everywoman, but not necessarily in a Chaka Kahn/Whitney Houston kind of way. Her issues with men, her mother, and her friends are so much like what people have to deal with on a daily basis. However, Hart is able to say and do what we wish we could do in a given situation. She also has an incongruously attractive crush in a will they/won't they relationship. The series is semi-autobiographical and it seems like Hart is living out her fantasies through her charcter. 
Anglophiles, Brticom addicts, comedy lovers, and people with a pulse must check out this series. The first two series are available on Hulu. See what people in the UK have been obsessing over for years.