Hulu Plus Must-Series: '3rd Rock From the Sun'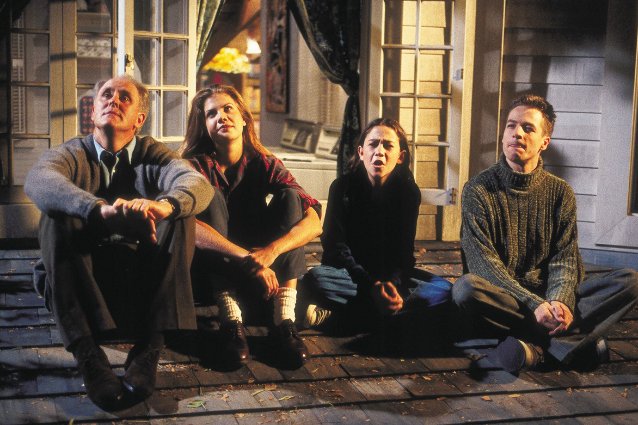 NBC
3rd Rock From the Sun  is by far one of the best sitcoms in television history. It's the perfect blend of the outlandish sitcom premises of the 1980s and the ensemble driven comedies of the 1990s. In the '80s, sitcoms had wildly illogical premises – a Buckingham Palace butler moves in with a Pittsburgh family (Mr. Belvedere), an alien moves in with a family (Alf), or a scientist makes a robotic daughter (Small Wonder). The '90s were chock full of ensemble comedies like Seinfeld until Friends brought about the dark ages of sitcoms. 3rd Rock merged the two and lasted a shocking six seasons and resulted in multiple Emmys and Golden Globes for the cast and crew.
Dick Solomon (John Lithgow) is the High Commander of an alien expedition to Earth. The creatures have been given human bodies and it brings a lot of humorous hi-jinks. Sally Solomon (Kristen Johnston) is the Security Officer and the one chosen to be "the woman" and is conveniently stunningly attractive. The Information Officer and oldest of the group gets placed in the body of a teenager in the form of Tommy Solomon (Joseph Gordon-Levitt). Harry Solomon (French Stewart) was not intended to take the trip but joins the crew and acts as the communicator to their home planet. Solomon teaches at the local college and has a very tense relationship with Dr. Mary Albright (Jane Curtin) and secretary Nina Campbell (Simbi Khali).
The series is genius. It finds the humor and irony in the mundane things we take for granted. The Solomon family has a unique perspective on the simplest of human customs and experiences. The cast is also full of amazing actors. Not only are Lithgow and Curtain comedy veterans, but since the series Levitt has proven himself to be an A-list actor. Stewart and Johnston are also still on television in the series Mom and The Exes, respectively.
The series has some pretty great recurring guest stars including William Shatner as their alien leader, Jan Hooks as Harry's love interest, and John Cleese as a rival alien for Dick. The series also features appearances by Roseanne Barr, Phil Hartman, Christine Baranski, and Jane Lynch.
3rd Rock  is worth a thorough binge watching for jokes that stand the test of time, an ensemble of amazing actors, and episodes that, for lack of a better term, are light years ahead of some series that are currently on television. All six seasons of the series are available to Hulu Plus subscribers.