'Ugly Americans': A Must-Watch on Hulu Plus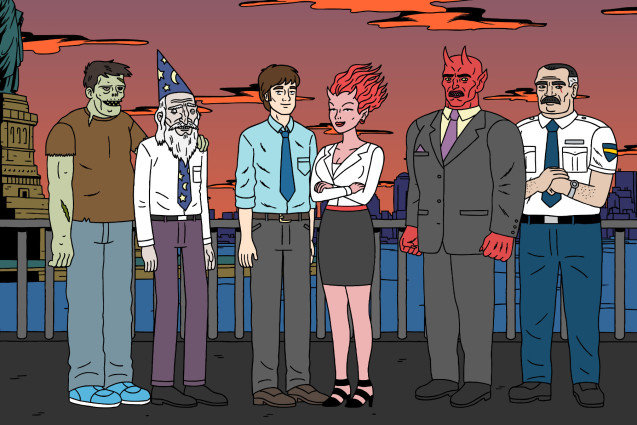 Comedy Central
Imagine a world where wizards, aliens, Bigfoot, zombies, and demons are real. Now…imagine they all live in New York City and are governed by a bureaucratic department of the government. Ugly Americans takes an addictively offensive look at immigration, politics, and pop culture in an animated series that brings a million fictional worlds to reality.
Mark Lilly has a typical New York story. He moves into town and becomes a social worker. He has a gross roommate and a sexy girlfriend. The difference is he's a social worker for Social Services Division of the Department of Integration. His roommate Randall is a zombie who likes interspecies sex and leaves his limbs lying around. His girlfriend Callie Maggotbone (Natasha Leggerro) is a succubus destined to bring about the end of the world if she mates with their boss, Twayne Boneraper. Each episode, Mark must contend with some sort of political issue and is often stressed by violent tantrums on the part of Callie or some sort of life threatening issue via Randall or his co-worker, Leonard Powers, an alcoholic wizard.
The series is hilarious. It uses bizarre creatures to comment on the culture clash of different people and personalities in a large urban area. The dialogue is also very snarky and quote-worthy. Leggerro somehow manages to keep the sarcastic and sexy tone that has gotten her in trouble with veterans on New Years Eve 2013 and has made her a household name in comedy. The series has the right level of irreverence for an adult animated series while still having some of the fun and whimsy of a cartoon. With the large number of cartoons about families with bizarre cutaways and outlandish scenarios, it's fun to see a series that takes advantage of the fantastical possibilities afforded by animation. The series can bend reality, have a character turn into a demon, or have a city filled with thousands of different species each with a new potential for jokes.
The oddly addictive show has all the fun of a series like Futurama and the offensive yet political bent of a show like South Park. Luckily, all 31 episodes and two seasons are available on Hulu Plus.