Imagine & Universal Announce 'Dark Tower' Plans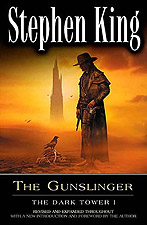 One of the most sought after properties on the planet for production companies and media conglomerates is Stephen King's Dark Tower series. J.J. Abrams and his Paramount Pictures-based Bad Robot banner had the rights to the anthology for sometime but let them lapse due to its commitments to other projects. Earlier in the year, Ron Howard and Brian Grazer announced, through their Universal Pictures-based Imagine Entertainment, that they would adapt the rich mythology across the media landscape and today Universal has let loose some of the details regarding their strategy for executing such a monstrous undertaking.
According to the studio, The Dark Tower will become a major motion picture trilogy as well as an epic television series. Howard will direct the first film, which will be written by his frequent collaborator Akiva Goldsman (Hancock, Cinderella Man). Goldsman will also pen the TV series, to be directed by Howard (though probably just select episodes including the pilot) and produced by both players as well as Imagine principle Grazer.
"I've been waiting for the right team to bring the characters and stories in these books to film and TV viewers around the world," said King, adding that "Ron, Akiva, Brian along with Universal and NBC have a deep interest and passion for the 'The Dark Tower' series and I know that will translate into an intriguing series of films and TV shows that respect the origins and the characters in 'The Dark Tower' that fans have come to love."
After the first film, the first season of the series will immediately air to bridge the gap between the second picture. After the second film, the television series will pick up allowing viewers to explore the adventures of the protagonist as a young man as a bridge to the third film and beyond. It's shaping up to be a long-term and tremendously costly but potentially insanely profitable endeavor for all parties involved.
For the sadly uninformed, The Dark Tower is Stephen King's opus of seven bestselling novels with, to date, more than 30 million copies sold in 40 countries. The novels incorporate themes from multiple genres including fantasy, science fiction, horror and adventure. After the series was completed, a prequel of comic books based on one of the characters was also published.

NBC Universal's major honcho's had plenty to say regarding the announcement, including Jeff Gaspin, Chairman, NBC Universal Television Entertainment, who said: "Stephen King is a brilliant storyteller who creates imaginary worlds that resonate with the broadest audiences across ages and demographics," said Gaspin. "We are thrilled to partner with our colleagues in the film division and Brian, Ron and Akiva to bring Stephen's vision to the largest audience possible through this innovative multi-platform collaboration."
Additionally, Howard had the following words regarding the super-sized production: "We are excited to have found partners at Universal who understand and embrace our approach to King's remarkable epic. By using both the scope and scale of theatrical filmmaking and the intimacy of television we hope to more comprehensively do justice to the characters, themes and amazing sequences King has given us in 'The Dark Tower' novels. It might be the challenge of a lifetime but clearly a thrilling one to take on and explore."
Source: NBC Universal