Is 'Black Box' Getting Mental Illness Wrong?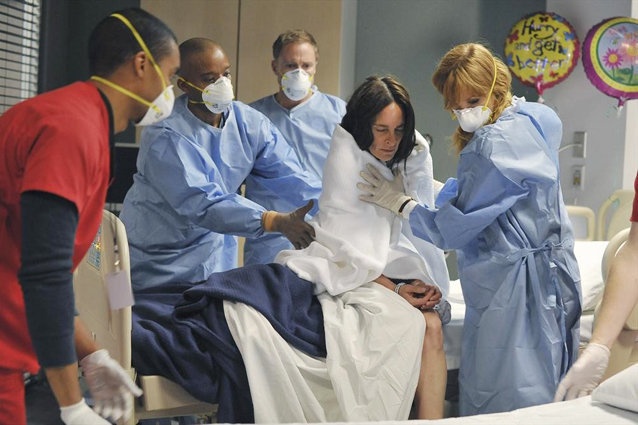 ABC Television Network
Something is off about ABC's new drama Black Box. By day, Dr. Katherine Black (Kelly Reilly) is an accomplished neuroscientist. But by night she rides the high of her manic-depressive episodes and goes on hypersexual binges or dances to music only she can hear. This honestly sounds like a pitch meeting in an episode of Family Guy or an after-hours movie on Cinemax. Mental illness is a serious issue, and the way the show is handling it so far does not bode too well. Filling the void left by Scandal, this series could portray a strong woman and her heartfelt and gut-wrenching journey in and out of psychosis. Instead, it feels like a lost television show inspired by the artistic masterpiece that is Showgirls.
The story is wrought with plot holes. We see Katherine in the middle of a session with her therapist, played by Vanessa Redgrave. They handle all the exposition and we learn she's top of her field, has a fiancé, and is also prone to hypersexuality, mania, delusions of grandeur, and hallucinations when not on her meds. In one episode, she delivers a sloppy speech to colleagues, goes home with a cab driver, gets robbed, and nearly falls to her death. Not only is she a medical professional with an illness that could cause her to hurt others, but her therapist, is legally obligated to report her if she is at risk of hurting herself or others. All this happens in the first 15 minutes. The rest of the series degrades into part medical drama — she corrects an erroneous schizophrenia diagnosis and schedules surgery… in the middle of the night… at a private practice — and part soap opera, as she reveals a daughter/niece and a sexual tension with a douchey neurosurgeon.
One challenge the show has is Reilly. Although she gave a great performance in Flight, resting a series that explores the good, the bad, the sexy, and the icky about mental illness on this actress might be a tall order. The series calls to mind Eli Stone and Ally McBeal by showing the protagonist's auditory and visual hallucinations. Reilly's accent is a challenge. She's chosen a sexy baby voice rather than one of an authoritative doctor. Being able to sound cogent and together while in the throes of a mental health meltdown seem to be a prerequisite. She doesn't deliver the range of wide personality shifts associated with true manic-depressive episodes. Costar Laura Fraser, for example, does a much better job at portraying an American and having sides to her personality… and she's only in a few minutes of the show.
But it's not all Reilly's fault. Her character isn't the strong woman you'd expect to be a neuroscience wunderkind that would inspire a therapist to risk her job. She calls herself a "b**ch," spends more time focused on her relationship than her health, and stops taking her meds for the hell of it. It doesn't have the same take on self destructive behavior as a show like Nurse Jackie that captures both sides of the coin.
The show deserves some props for making the attempt to explore mental illness, though. People are familiar with the manic-depression but rarely see the reality of it. This series tries to cinematically manufacture mania with frenetic sexy moments, show her hallucinations through special effects, and even provides the jazzy soundtrack for the music in her head. It's a tough sell. Mental, a failed Fox drama, tried to replicate House but with psychological issues. Shameless has two main characters, Ian and Monica, who are manic-depressive. Both of those series succeeded in provided the proper brevity and reverence for mental illnesses. A manic episode may send someone into an erotic episode but the gratuitous sex seems to trivialize the disease in the way that cursing and tic jokes do to Tourette's syndrome.
Puns aside, Black Box deserves at least a second glance but it does have an uphill battle. Riding the line between series medical drama and campy sex opera is a tough sell. Luckily, if it goes the way of mid-season replacements Scandal will be back in a few months.