January Jones Did Not Find 'Fat Betty' As Amusing as Everyone Else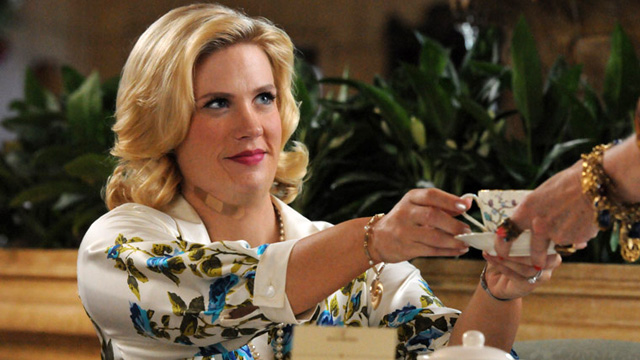 Oh, the unrestrained joy and glee the audience felt in the third episode of Mad Men when January Jones' character Betty Draper Frances was shown carrying about 30 extra pounds. It was amazing and wonderful to watch her sit on the couch and tear her way through a bag of Bugles. However, Miss Jones did not find it nearly as funny as the rest of us did.
"I thought I was watching Eddie Murphy in The Klumps … I was like, 'My career is over,'" she told the Hollywood Reporter in a roundtable discussion with several other dramatic actresses talking about their work. Apparently she was laughing when she said this, but she does admit it took her awhile to get through the episode because watching her waddle on screen was difficult. "I went screaming into the other room," she said. Because playing one fat person is going to ruin her career?If The Klumps didn't ruin the continuous output of one-man turkey factory Eddie Murphy, then I have a feeling that January might still get some work, paunch and all.
Of course, "Fat Betty" all came about because Jones was pregnant while the current season of the show was filming so this was series creator Matthew Weiner's inventive way of hiding the bump without making the character pregnant. And the reason why so many, including myself, were ecstatic about Betty's battle of the bulge had nothing to do with thinking it's funny to see people get fat. It's because it is funny to see Betty get fat. Here is a monster of a woman, a horrible mother who is only concerned about looking beautiful on the outside whose only esteem and value in life has been being a lovely object of affection for men. When you take that physical perfection away from her, she has absolutely nothing left. It is the ultimate revenge against a person like Betty, that she is left completely empty.
It doesn't look like Jones is as distraught about her fictional gain as Betty is, but Julianna Margulies, who was also a participant in the discussion said, "I thought it was so brave." Alright, let's back it up there a minute. I hate when actors or actresses say this whenever someone dons a prosthetic nose or a fat suit or a ugly wig or anything that is going to make them look anything less than absolutely perfect. This is not brave. This is normal. It is not "brave" when the lovely Melissa McCarthy shows off her extra pounds in every episode of Mike and Molly. Gabourey Sidibe's performance in Precious was not "brave" because she was overweight, it was brave because she was playing an abused girl trying to fight against the circumstances that emotionally imprisoned her. Getting some jowls and a little belly (because, let's face it, "Fat Betty" isn't really even that fat) is not brave, it's just how most of us live.
But Jones, of course, says that she's okay with the direction her character has taken. "And I thought it would be something fun, not realizing it was going to be a pain … It was definitely difficult, but I love what [Matt Weiner] did with the character's story. Everyone likes a challenge," she says. Yes, a challenge indeed. Like trying not to laugh at "Fat Betty"… or her supposed bravery.
Follow Brian Moylan on Twitter @BrianJMoylan
More:
'Mad Men' Recap: Fat Betty's Thanksgiving Spectacular
'Mad Men' Recap: Much Ado About Betty
January Jones Really Really Wants an Emmy
---
You Might Also Like:


15 Oscar-Winning Nude Scenes


Topanga's Revealing Lingerie Shoot: Hello '90s!