Why Jason Sudeikis Needs to Pick Up His 'SNL' Game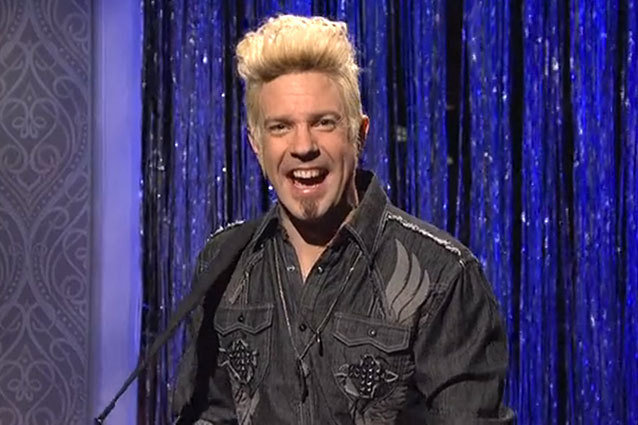 Maybe we shouldn't be surprised if we don't see much of Jason Sudeikis around Saturday Night Live this weekend. No, the SNL star hasn't left the show for good — as he's alluded to/threatened time and time again — but because returning favorite host Justin Timberlake is back and, well, he and Sudeikis' fiancee Olivia Wilde have history. 
RELATED: Jason Sudeikis and Olivia Wilde Are Engaged 
Then again, if J. Suds decides to sit this one out, it wouldn't look all that different from most episodes of SNL recently. The variety show's former heavy hitter has been all but reduced to a minor player, only occasionally popping up in the background of a sketch or to dust off his Wolf Blitzer or Billy Ray Cyrus imitation. (Even then, he's overshadowed by Vanessa Bayer's pretty cool take on Miley.) In February alone, Sudeikis only appeared in a handful of sketches — in none of which was he front and center. 
So what is the fate of Sudeikis, who is currently in his 10th year at Studio 8H? Will the guy who seemed to have one foot out the door with Kristen Wiig — and who said in early 2012 that he'd "miss the people … the process, the parties" — stick around for the duration of Season 38? Hollywood.com reached out to both NBC and the Sudeikis' rep, but did not get a comment regarding his current and future status on the long-running show. 
RELATED: We Can Thank Mitt Romney For Keeping Jason Sudeikis on 'SNL'… For Now
Look, it's not that we want Sudeikis out the door. Far from it. (I mean, what would be up with "What Up With That?" without his trademark dance moves?) But if this does turn out to be the final season for the actor/comedian, he's squandering his talents and would be leaving a lame duck. Maybe it's because Sudeikis didn't get the comeback he so richly deserved on 30 Rock (we had higher hopes for Floyd and Liz) or because he's doing Applebees commercials voiceovers, but we're really pulling for this talented performer to go out with a bang rather than a whimper. 
After all, Sudeikis has done an awesome job playing the likes of Taylor Hicks and Vice President Joe Biden, Jon Bon Jovi, and one half of "Two A-holes." Please, J. Suds, you're too funny and started too promising to become the punchline of "that guy is still here?" jokes. Make the best of the rest of Season 38 and step up your game to play on the level of Bill Hader and Fred Armisen again. That is, if you do indeed choose to go. (Just as long as you don't make a Hall Pass sequel).
[Photo credit: NBC]
---
From Our Partners:


Seal Is Dating the Pink Power Ranger: Report (Vh1)


60 Celebrity Bikini Bodies: Guess Who! (Celebuzz)