10 Actually Great Moments from Jay Leno's 'Tonight Show'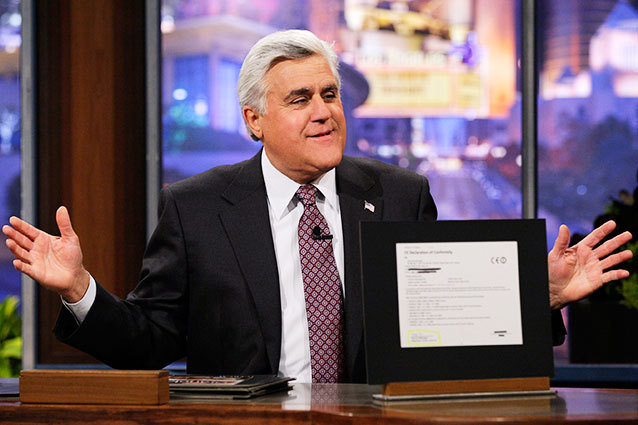 After 22 years, dozens of new cars, and millions of increasingly frustrated late night fans, NBC confirmed Wednesday that Jay Leno would be surrendering his Tonight Show seat in 2014 to Jimmy Fallon. 
So while Team Coco might be cheering that the seemingly immortal late night host is finally leaving the show four years after he was first supposed to, Team Leno (Anyone? Bueller?) will be looking back fondly on some of the host's funniest moments. 
RELATED: What Fallon Said About Replacing Leno
What's that? You're saying those moments never existed? Believe it or not, you're wrong! Below, see 10 Tonight Show moments that were actually funny… even if most of them had nothing to do with Leno. 
Jaywalking: The segment — which asked normal citizens to answer grade school questions about politics, science, and history — is the most depressing exposé of the failings of the American education system. But, still, hilarious!
Jaywalking All-Stars: And you thought Celebrity Apprentice All-Stars featured the dumbest people on television. 
RELATED: Why so many 'Tonight Show' Controversies?
Headlines: Because certainly, I'm not the only one who enjoyed these as '90s bathroom reading?
Dancing Itos: Sad that a famous athlete is about to get off for a heinous double murder? Don't get down — instead, watch these dancing Judge Itos from a 1995 O.J. Simpson parody get down!
Hugh Grant Charms Our Pants Off: …Just like he did Divine Brown, the prostitute the actor was with when he was arrested for lewd conduct in 1995. During Grant's first public appearance since the arrest, Leno asked the question we were all wondering: "What the hell were you thinking?" Incredible that the actor healed all wounds with the simple stammered statement, "I did a bad thing. There you have it." Swoon. 
RELATED: Jay Leno's Next Job: Soap Opera Actor?
Jason Sehorn Proposes: Less funny than sweet, Leno was a charming Greek chorus when the football star proposed to Angie Harmon on national television. (Fellow guest Elton John steals all the funny points for his response to Leno's question about Sehorn's appearance: "What if he wanted to come out?")
Katie Couric Hosts Tonight: A publicity stunt led to everyone's favorite morning anchor replacing everyone's least favorite late night host. Hey, at least Leno didn't choose Lauer. 
Ross the Intern: Without Jay Leno, we wouldn't have Ross Mathews, which means we wouldn't have funny late night campaign and Olympics coverage, which means we wouldn't have Ross on Chelsea Lately or Celebrity Fit Club or on the E! red carpet, and I think I'm starting to lose my support here.
Michael Jackson Loophole: Leno got clever in 2005 when he was legally barred from joking about the Michael Jackson trial because of his role as a witness. Since the topic was about as unavoidable in California as people talking about the supremacy of In-N-Out (#TeamShakeShack), Leno opted instead to invite high-profile comedians like Dennis Miller and Roseanne Barr to perform the jokes for him. No surprise, video evidence of the stunt is as difficult to find on the Internet as Jackson-Presley shippers.
Paul Newman vs. Leno: The acting legend might have been robbed of an Oscar nine times throughout his long career, but he did win his 2005 go-cart race against Leno, which the late night host calls one of his favorite moments of his hosting career. 
---
From Our Partners


See 'Game of Thrones' as 'Mad Men' (Vulture)


Hayden Panetierre Bikinis in Miami (Celebuzz)