'Jennjamin Franklin' vs. 'Wing': Which 'SNL' Reject Is Funnier?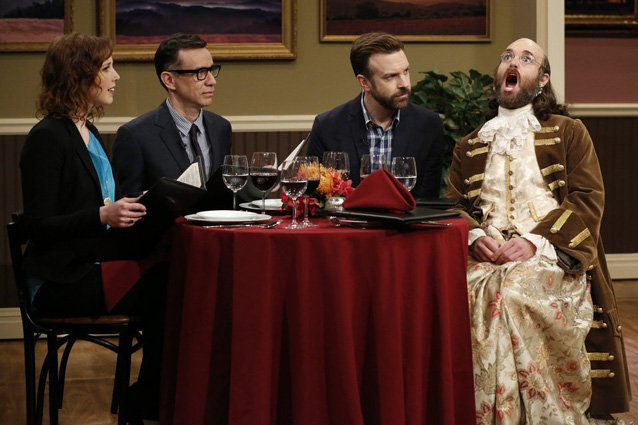 NBC Universal Media
Back in the day, when a sketch was cut from Saturday Night Live, it was lost forever to history. But thanks to the Internet and Seth Meyers, that doesn't have to be the case anymore. Earlier this week, Meyers debuted a new feature on Late Night called "Second Chance Theatre" where he gives new life to bits that never made it to show night during his long tenure as SNL's head writer. The first entry gave us a look at a sketch that Will Forte has long lamented missing the cut.
Meanwhile, a few weeks ago SNL viewers were caught off-guard when the show suddenly, and inexplicably, reran a short called "Bird Bible" from earlier in the year. It wasn't until later when the show posted the Kyle Mooney–Beck Bennett digital short that was scheduled to run on the show's website that we got to see what had been bounced.
Now that we've gotten to see the two sketches though, which one most deserved to have gotten its chance with the audience at Studio 8H?
Jennjamin Franklin
Jason Sudeikis is being set up on a blind date by his friends Fred Armisen and Vanessa Bayer, since he's hit a dry spell "in the sex department" after his divorce. They assure him that their choice is just his type and it turns out that they're right. Even though Jennjamin looks an awful lot like Forte crossed with Benjamin Franklin crossed with Betsy Ross, the two lovebirds soon have trouble keeping their hands — and other body parts — off of each other. The sexual tension between Sudeikis and Forte is positively electric.
Wing
In what was supposed to be the closing sketch on the show hosted by The Amazing Spider-Man 2's Andrew Garfield, the old After School Special tropes get skewered in an unusual way. Garfield plays a hungry jock that would do anything to have the last wing from the order that he's sharing with Bennett and Mooney. Unfortunately for him, Bennett takes that "anything" very literally and wants to touch Garfield in ways that Emma Stone might not find acceptable. Mooney plays the earnest friend caught in the middle and trying to do the right thing. The stilted acting will look familiar to anyone that's ever seen a real After School Special, especially when Garfield is reduced to forlornly eating carrots in the corner.