Jimmy Kimmel Brought Back "Mean Tweets" And They're Meaner and Funnier Than Ever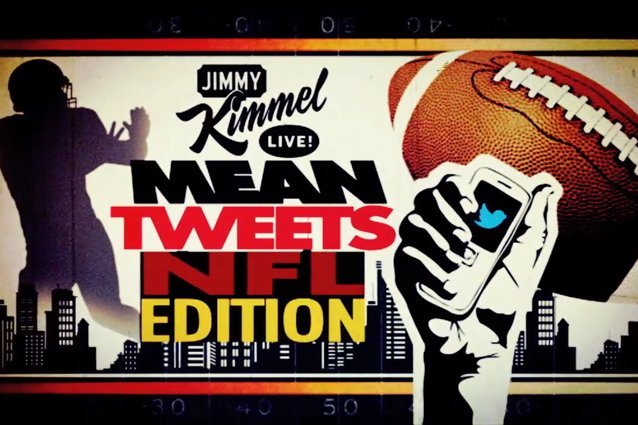 YouTube/Jimmy Kimmel Live
Our favorite segment of Jimmy Kimmel Live! came back last night to celebrate the first game of the NFL season. Jimmy Kimmel introduced us to "Mean Tweets – NFL Edition," and it's easily the best edition of "Mean Tweets" we've seen yet on the show (except for Jimmy's own tweet about Matt Damon). Twitter users do not spare any feelings in this round of tweets.
Check out the hilarious sketch below:
Good on these athletes to take these insults so well, we can't imagine it's easy reading hateful things about yourself. But they were able to laugh along with the rest of us at the ridiculous things people will say on Twitter.
Some of our favorites are:
@charged
"F**K YOU DWIGHT FREENEY. I HOPE YOUR FOOT RIPS OFF IN THIS GAME YOU D**K."
@cdot
"DeSean Jackson seems like no matter how much money he makes he won't stop shopping at Express."
@InternetRaheem
"Isn't Steve Smith like 50 years old?"
– "No, actually I'm 35" (direct quote from Steve Smith)
@dope_cope
"Did Brandon Marshall really cry in his post game interview?? Grow some balls bro."
But the best Mean Tweet (and reaction) of them all was: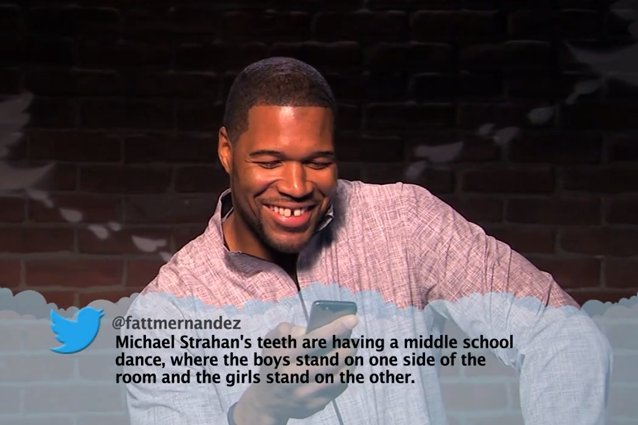 YouTube/Jimmy Kimmel Live Follow @hollywood_com | Follow @analuisasrz