Joel McHale: Chevy Chase Wanted to 'Fight Him,' Protested Pierce's Racism By Using N-word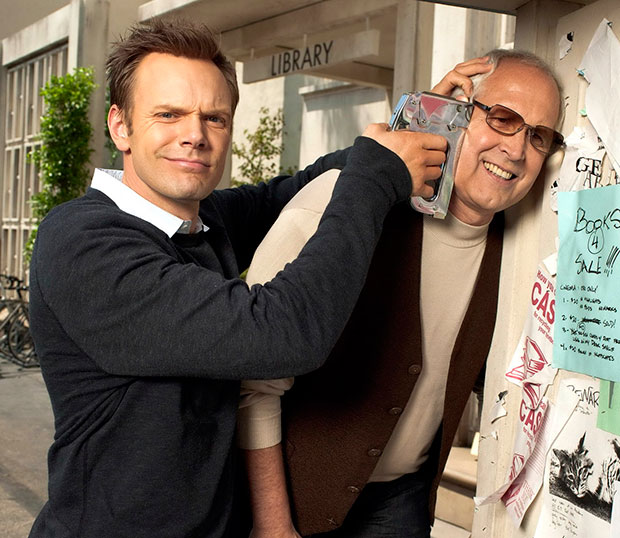 So we all know by now that Chevy Chase is leaving Community after its fourth season. His stint as moist-wipes magnate and 12-year community college student Pierce Hawthorne has been marked by some pretty intense behind the scenes drama. First, he got into a voicemail war with series creator Dan Harmon. Then he went around calling the show a "mediocre sitcom." Tensions obviously were not alleviated when NBC fired Dan Harmon last May. In October, he dropped the N-word while, oddly enough, protesting his character's racism. Finally, after shooting had wrapped on Season 4 in November, it was announced he would be leaving the show for good.
RELATED: 'Community' Cast on What to Expect for Season 4, The Darkest Timeline, and Sperm
Now series star Joel McHale has opened up to Howard Stern about the behind the scenes battles with Chase. He says that every time he'd try to address Chase's concerns about the show, the actor would want to "fight him." The erstwhile Jeff Winger also claims that Chase said Richard Pryor told him it was okay to say the N-word. Looks like somebody should be outfitted with a white ivory toupée.
Reps for Chase have not returned Hollywood.com's request for comment, but check out the clip from The Howard Stern Show below.
Follow Christian Blauvelt on Twitter @Ctblauvelt
[Photo Credit: NBC]
---
You Might Also Like:

Who Wore This Crazy Hat?

Stars Who Changed Their Look