'SNL' Recap: John Goodman Hosts a Holiday Spectacular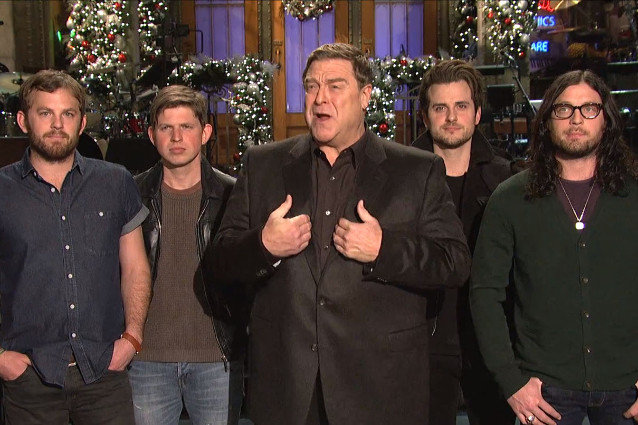 NBC/YouTube
With all the press this week about SNL casting, it seemed like the big reveal would be that the new black female cast member is John Goodman. Instead SNL did not let headlines dictate the show, and opted for a more classic holiday episode. Hosting with musical guest Kings of Leon, Goodman proved that 13 times on the show is definitely the charm. The show took off with the help of Kenan Thompson, first as the criticized interpreter at Nelson Mandela's funeral, then bringing it home with Goodman in the  the soulful song "All I Want for Christmas is Booty." The memorable monologue foreshadowed the kind of episode that is SNL's forte: festive and really funny.
The momentum at the start was maintained throughout the show with strong sketches and cameo appearances from Sylvester Stallone and Robert De Niro. They joined Goodman as the "3 Wise Guys," a biblical sketch about a journey to see Baby Jesus from Long Island and New Jersey. With strong writing ("I hear the kid might not be his!") and a combination of characters that we could  happily watch for hours, this piece was an instant holiday hit. 
Weekend Update more than held up to the rest of this week's killer episode. The topical segment addressed this week's Santa controversy with Megyn Kelly's inappropriate references to a white Christmas. Thompson took this on as Santa saying, "Here's a secret for you. I'm black as hell." The laughs keep coming with a reprisal of Bobby Moynihan favorite Drunk Uncle, and just when his performance seems like it can't get better, Goodman joins in as Drunker Uncle. Their belligerent rendition of the Billy Ocean '80s classic "Get out of my glass, and into my mouth," was enjoyable enough to stomach yet another reminder that Seth Meyers will be leaving soon. 
While this is not the last new episode before Christmas, SNL took this week to produce a show heavy on the holiday content. With the exception of the cold open, only two other sketches did not reference Christmas. One of the funniest of these had Goodman playing a 23-year-old woman, claiming she was fired for being too sexy. The sketch was anchored by Thompson's performance as a flirty judge and Taran Killam's deadpan delivery as a lawyer, but Goodman in drag stole the show. The simple and silly piece utilized Goodman's physical comedy and his overall gift of not taking himself too seriously.
Amid rumors of her leaving the cast, Nasim Pedrad returned as Shallon, a character that seems to be part kid, part hype-man with the sole purpose of frustrating adults. The sketch worked with support of Thompson, Moynihan and Aidy Bryant, but did not capitalize on Goodman's presence the way the rest of the episode did. Cast favorite Kate McKinnon returned at the end for one of the most bizzare yet funny make-out sessions ever seen covered in whipped cream. These moments helped to add variety and absurdity to this otherwise timeless episode of SNL that should go down in holiday history. John Goodman is the host equivalent of a Christmas miracle.