Jonathan Banks Makes A Smooth Transition To 'Community'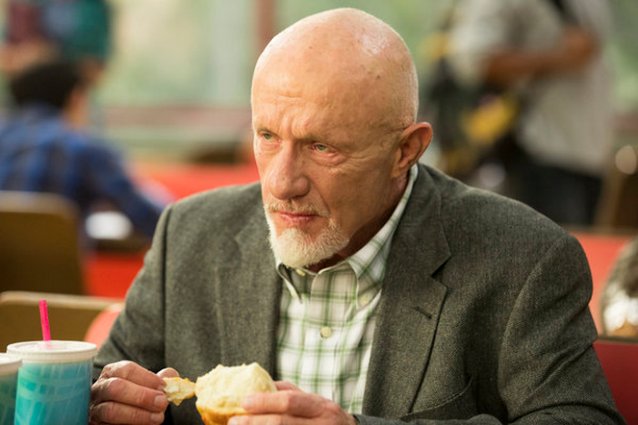 NBC
There's a new cast member on Community – Jonathan Banks. I couldn't be happier.
Banks is replacing a very well-known person on the show: Chevy Chase. That's not an issue, though since many people still remember him as Mike Ehrmantraut on Breaking Bad. That's his main cachet now. Well, he's playing a slightly more vulnerable version of him in this show – a man who is not afraid to admit that he hasn't given up on his dream of cartooning. His doing this is like Andre Braugher doing Brooklyn Nine-Nine. A usual dramatic actor doing comedy, though Banks has stepped out that zone more by doing shows like Parks & Rec, Two and a Half Men and voiceover work on Axe Cop . He's the second Breaking Bad alumn to make the switch – Betsy Brandt did too. I always like seeing actors do things counter to what they are known for, so when I see them in their regular role, I can remember things like this.
Banks' character, Professor Buzz Hickey, has already had several memorable scenes in his three-episode arc, including trying to find the "Ass-Crack Bandit" and ragging on perpetual student Leonard Rodriguez (Richard Erdman). He's already fit into the mediocrity of the Greendale Community College faculty, though he has enjoyed the cafeteria-line cutting perks that the professors enjoy.
His deadpan style is perfect for the zaniness of the other people on the show, especially with Dean Pelton (Jim Rash). There's even a running joke about his replacing Chase on the show – John Oliver's Professor Ian Duncan called him by Chase's character's name, Pierce, and snarked that he was glad that he got rid of the hairpiece. I hope they keep building him up on the show and maybe give him a really big subplot in a later episode.
It's a pity that Community and Brooklyn Nine-Nine are on separate networks. I would love a crossover between the two shows, where Banks could match up against Braugher. Then again, with how much they command the screen, the film might just be all chewed up.
Still, I'll enjoy this run of Banks on Community for as long as it goes on. I just hope they don't do something like have Hickey get shot and stuffed into a barrel of hydrofluoric acid.