'Saturday Night Live' Recap: Justin Timberlake Joins the Five-Timers Club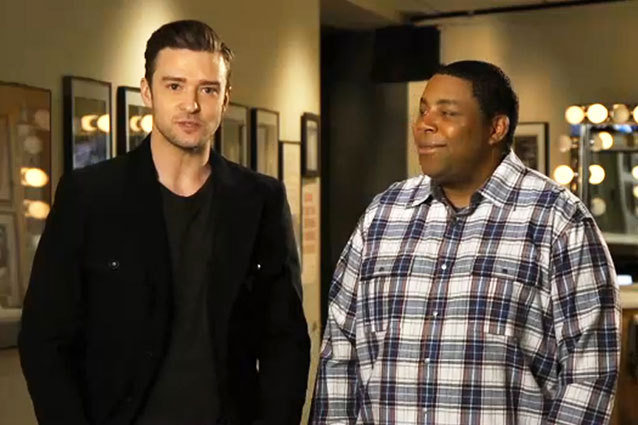 Craving a fun, crazy, wild, sexual ride? That's exactly what Justin Timberlake delivered as he hosted Saturday Night Live for the fifth time Saturday. Facing high expectations going into the evening, Timberlake more than lived up to the hype during his duties. Not only did the multi-hyphenate revive old characters, like his "D**k in a Box" lady-killer and OmeletteVille shiller, Timberlake also headlined some entertaining new sketches. He posed as temporarily chaste Emperor Caligula, starred in a fictional romantic comedy trailer, made an appearance in a Moet & Chandon commercial, and performed two of his hit new songs.
But, there was more. SNL also inducted Timberlake into the "Five-Timers Club" and upon entering, he greeted by some more than A-List celebrity names like Tom Hanks, Steve Martin, and more. Oh yeah, and Jay-Z even made an appearance during one of Timberlake's performances. If SNL was trying to make us forget the series' past subpar three months, it certainly succeeded. 
Read below to see what happened during Saturday night's star-studded episode.
RELATED: Justin Timberlake Returns to SNL
Hugo Chavez Memorial Performance
Becoming one of the rare hosts to appear in SNL's cold open, Timberlake posed as Elton John, sitting down at the piano to play and sing a tribute to deceased Venezuelan President, Hugo Chavez. Poking fun at both John's Princess Diana's tribute, "Candle in the Wind," and the late leader, Timberlake sang about Chavez's pistol-wielding press conferences and bizarre view that Capitalism killed Mars.
Justin Joins the Five-Timers Club
A dapper Timberlake began the star-studded festivities during his monologue, which officially inducted the five-time host into SNL's famous "Five-Timers Club." An update of Tom Hanks' famous 1990 monologue, Timberlake's opening brought back  five-time hosts Paul Simon, Steve Martin, Chevy Chase, Alec Baldwin, Candice Bergen, and Hanks himself. (Members Drew Barrymore and John Goodman weren't on-hand, but their portraits hung on the wall.)
As if those big names wasn't enough, original cast member Dan Aykroyd was there to serve Timberlake a special Gilly-inspired drink called the "Kristen Wiig" (god bless her SNL departed soul), and Martin Short, the third amigo, served hors d'oeuvres covered in the germs from his sneezes. If you were hoping for a  Three Amigos reunion, you were rewarded later in the episode when Short, Martin, and Chase (in his first post-Community TV appearance) dressed as Ned Nederlander, Lucky Day, and Dusty Bottoms later in the show to introduce Timberlake's second performance. 
It's A Date
"D**k in a Box" twosome Timberlake and Andy Samberg made their return as a double dating pair posing as contestants in a Dating Game-esque program. But they had some lofty and legendary competition — they were stacked up against Bobby Moynihan as a sweet contestant looking for love and Aykroyd and Martin's Festrunk Brothers, the two wild and crazy guys made famous during SNL's 1970s glory days. 
Turns out Timberlake and Samberg's duo and the Festrunk Brothers were the real match mad in heaven during the hilarious sketch — not only was it a treat for hardcore SNL fans to see Aykroyd and Martin revive their 30-year-old characters, but the "D**k in a Box" two some invited uproarious laughter with their dream dates, which included "[railing] on your butt," and their insistence that women can't get pregnant in the summertime. (Bonus points for the DuckTales shout-out.)
RELATED: Justin Timberlake's Awesome SNL Promo
VeganVille Vs. Sausage Depot
OmletteVille reinvented! Timberlake tried to create a "meat-free zone" by musically intimidating Moynihan's Sausage Depot mascot to give up his post, much like he did in the singer's now-famous 2003 OmletteVille sketch. In this bit, Timbelake whipped up some of Vanilla Ice's "Ice Ice Baby" with "brown rice baby" as the kicker, and even sang tofu-inspired versions of hits from Rihanna and more. Timberlake ended the sketch with Baauer's "Harlem Shake." WHY, TIMBERLAKE WHY? I love you, but don't you know we've been trying to shake off the shake?
Birth Control NuvaBling Commercial
This sketch advertises a scary imaginary product: a bedazzled NuvaRing. For those who think vajazzling just isn't enough, the birth control product shines from within you… and hurts. Honestly, I could have done without this piece — I certainly didn't need nightmares about "shining up that 'gine" to accompany me to bed. 
Timberlake Performs "Suit & Tie"
If Veganville didn't give you enough of Timberlake's infamous dancing skills, he certainly delivered performing his new single, "Suit & Tie." There's no denying that this man has his groove back after his musical hiatus, which gives us extra reason to continue to be endlessly jealous of the singer's new wife, Jessica Biel.
As if his dance skills weren't enough, Jay-Z also joined Timberlake on stage to finish up the performance. And when it was over, I was left craving for Timberlake to "show [me] a few [more] things."
Weekend Update
Seth Meyers started off the "Weekend Update" with another Chavez funeral joke and a rib about the North Korea-bound Dennis Rodman crashing the papal conclave. Meyers also joked about Playboy's Hebrew version of the magazine (look at the women's breasts from right to left) and Saturday's switch to Daylight Savings Time: "The clock on your oven will be wrong for six months." Actually, the clock on my wall will finally be right again for the next six months.
And proving that SNL continued to pull out all the stops, Stefon (Bill Hader) appeared on Weekend Update to share his patented party advice, and, as an added bonus, offered an impression of Donald Duck having a Vietnam nightmare. (We couldn't have dreamed up anything better.) But the bit left us wondering one thing: Why didn't anyone tell us Jamba Juice was bad for you?
RELATED: SNL Recap: The Time We Fell In Like with Kevin Hart
The Tales of Sober Caligula
Emperor Caligula (played by Timberlake) decided to clean up and stop abusing alcohol and partaking in orgies. What caused the infamous Roman Emperor to give up his dirty ways? He "woke up with [his] penis in the mouth of a dead lion" one day. (You don't want to know where the lion's penis was.) So, instead of the usual orgies, Caligula ruled that his court would participate in game night instead. Screw sober Caligula — doesn't a Timberlake sexcapade sound much more thrilling? At least the pig got lucky.
Maine Justice or Southern Lies?
Timberlake's hair as a Maine-based baliff was the first sign of bad things to come in this mock court TV show.  Indistinguishable dialogue, a blowup alligator, and a confusing premise (a town in Maine thinks its New Orleans?) couldn't save the sketch, despite Timberlake's valiant efforts.
Timberlake Performs "Mirrors"
The Three Amigos — Short, Martin, and Chase — dressed up as a mariachi band as a nod to their 1986 movie and introduced Timberlake for his second performance. There is nothing else that can be said about this other than it was flawless.
She's Got A D!%k
Airing near the end of the night, Timberlake's mock movie trailer centered on "an adorable brunette," who Timberlake finds out actually has a d**k. But despite his confused black friend's advice, the heart wants what it wants, and the romantic comedy had the potential to be even better than Friends With Benefits. 
Moet & Chandon
Ricky V.I.Penis (Timberlake's final character of the night) closed the show with an advertisement for Moet and Chandon starring porn stars. Imagining Timberlake as a porn star needing more room in his pants? Now, that's a real reason to celebrate!
Follow Lindsey on Twitter @LDiMat.
[Photo Credit: NBC]
---
From Our Partners:


Kim Kardashian's Maternity Style: So Wrong? (Vh1)


60 Celebrity Bikini Bodies: Guess Who! (Celebuzz)