Kareem Abdul-Jabbar Reviews 'Girls': Five Reasons His Is Better Than James Franco's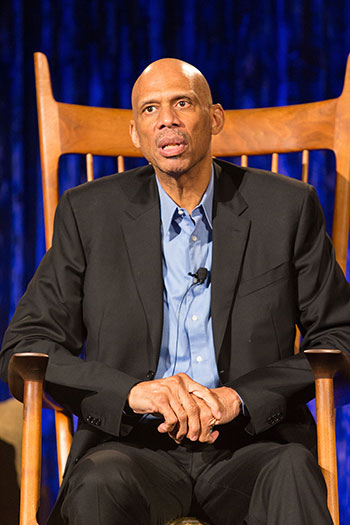 If you're a fan of Girls, you probably haven't forgotten James Franco's scathing review in the Huffington Post, in which he prevailed upon Lena Duhnam's Hannah to "get a f**king job." His entire review was tinged with bitterness at the attention placed on flawed women while the flawed men were left without their own defense. And the entire rant was marked with a clear penchant for inserting his own life history into everything he does. It was, to say the least, obnoxious. So when word crept out that NBA hall of famer Kareem Abdul-Jabbar was taking to the Huffington Post as a platform for a Girls review of his own, the expectations were rather low. But lo and behold, Abdul-Jabbar's review (whether or not you agree with him) is well-informed, well-written, and even a little insightful. Perhaps he should stop guest-starring on Guys With Kids and get himself a pop culture column.
The basketball legend takes issue with Dunham's voice of a generation, but unlike many before him who've simply whined about Dunham's success with cries such as "nepotism!" (because oh yes, her art world mother definitely has pull at a TV network) and "self-indulgence!" (okay, but that's kind of the point, isn't it?), Abdul-Jabbar's rather scathing criticism is backed by the two most important elements of a review: respect for the subject and support for one's arguments.
So it's a show about 20-somethings in Brooklyn. Why do you care, Mr. Abdul-Jabbar?Girls wants to tell us something important about twentysomething females of the 21st Century. And, as the elders of our society, we should always be listening to those new voices crying out.Well, alright. It's hard to argue with that. But what about the race issue? Dunham has dismissed it, but do you have something to say about it?Last season the show was criticized for being too white. Watching a full season could leave a viewer snow blind. This season that white ghetto was breached by a black character who is introduced as some jungle fever lover, with just enough screen time to have sex and mutter a couple of lines about wanting more of a relationship. A black dildo would have sufficed and cost less.I'm not sure Donald Glover would appreciate being compared to a sex toy, but you're entitled to your opinion, good sir.
What do you think about all the sex on the show, in general? There's quite a bit of it, in case you didn't notice it happening all the time, everywhere…
The contrast of the generation that's been taught that pretty much anything goes sexually trying to act cool while struggling with their vulnerabilities is generally fresh and original and insightful about this generation.Me too! I mean, yes, excellent point.
But many people think this show is important, including lots of Dunham's fellow comedy writers like Louis C.K. and Tina Fey. Do you think it will go down in history as being influential?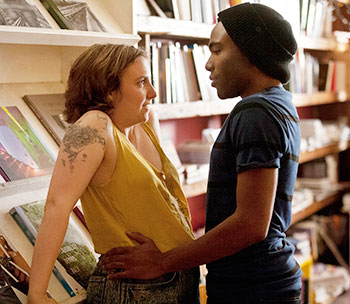 When it takes itself seriously is when it stumbles. I just wish it would express its seriousness by being funnier. Seinfeld made it a point to ridicule the characters' shallowness and self-involvement, raising it to a level of social commentary. And it was funny. Two other girl-centric shows that reached these same heights to be voices of a generation were My So-Called Life and Wonderfalls. Both funny, yet also insightful and original. Perhaps that's why they both only lasted one season before becoming cult hits. Girls, a safer more mousy voice, has already been renewed for a third season.Wow, you watch a lot of TV, don't you? Who knew.
So, it sounds like you're not a fan. Are you still watching?
Girls' heart and mind is in the right place. It wants to be more than the sum of its familiar parts. And sometimes it is. Maybe this season its voice will be louder and clearer and have more to say. It's worth listening for.Well, what a penetrating discussion of a culturally relevant show. Seriously, do you need a second job, Mr. Abdul-Jabbar?
Follow Kelsea on Twitter @KelseaStahler
[Photo Credit: Photo by Paul A. Hebert/Getty Images; HBO]
More:
'Girls' on HBO: The Show Finally Deals With Race
Why Lena Dunham's New Betty Halbriech Series Will Actually Be Brilliant
Lena Dunham Addresses Girls Nudity, Implores Everyone to Cool Their Jets

Miley Cyrus Teaches Us Yoga on the Beach — INFOGRAPHIC