Kathy Griffin Simulates a Certain Sex Act on Anderson Cooper and More New Year's TV Gold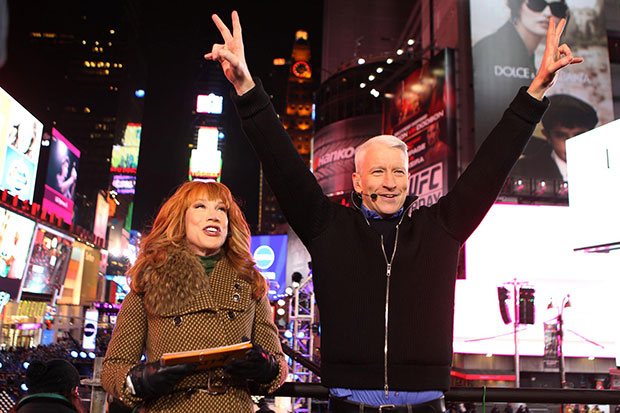 Champagne, fireworks, and a midnight kiss aren't the only New Year's Eve traditions America loves to celebrate. From Guy Lombardo to Dick Clark to Anderson Cooper and Kathy Griffin, Auld Lang Syne TV specials are as much a part of sweeping out the old year and ushering in the new as babies and old men. Of course, they've gotten a bit more outrageous since Guy Lombardo's heyday. While Dick Clark's New Year's Rockin' Eve With Ryan Seacrest remains the most popular Dec. 31 event, it's a relatively tame affair compared to CNN New Year's Live With Anderson Cooper and Kathy Griffin. One particularly awkward moment for Anderson from that broadcast is sure to be the talk today of anyone who watched, but we've found seven others from across last night's broadcasts that had us buzzing as well. Or maybe it was just the champagne.
8. Kathy Acknowledges This Is Anderson's First New Year's Publicly Out of the Closet.
Now, mind you, Kathy didn't poke fun at Anderson's newly disclosed sexuality head on. She can be crude, but not that crude. She was a bit more subtle. Like asking him if he'd ever made out with TV journalism's other Silver Fox, NBC's David Gregory. Interestingly, Anderson did not give a clear answer.
7. Will Someone Please Find Jenny McCarthy a Kissing Partner?
To give a new twist to an old tradition, McCarthy, an unheralded New Year's Rockin' Eve MVP for appearing and hosting on live TV on and off for over five hours, asked the Twitterverse who should be the recipient of her midnight kiss. The candidates? Archetypal. A military man, a firefighter, and an "average Joe" were the three contenders for her puckered lips. Her Twitter followers collectively played the Homeric role of Paris to select from the assembled studs and, surprise, surprise…the military man won the honor.
6. Kathy's Intended Duet of "Islands in the Stream." 
You could argue that Kathy Griffin is at her absurdist best on live TV. While her scripted stand-up act can feel heavily rehearsed, and even stilted, put her on live TV and she's a stream-of-consciousness spark-plug ready to shock viewers, and make her co-host Anderson very uncomfortable. One recurring bit last night was her attempt to sing a duet with Mr. Cooper. The karaoke-worthy choices? "Islands in the Stream" with Anderson and Kathy as substitutes for Kenny Rogers and Dolly Parton. And, even better, "You Don't Give Me Flowers" by Neil Diamond and Barbra Streisand. What? Seal's "Kiss from a Rose" wasn't on the table?
5. Snooki Is No Linguistics Expert.
When 20-year-old U.K. crooner Conor Maynard spoke to the Jersey Shore star, who was hosting the Club MTV NYE 2013 broadcast, she gushed over his "Harry Potter accent." Aw, it's the first time she's ever met someone from Britain!
4. Kathy Griffin Mocks Taylor Swift.
The singer and her repertoire of revenge and resentment fell under the following withering critique from Kathy: "I'm not saying she has an eating disorder. I'm saying, she's slender. Can she stop whining about her perfect life? She went out with Gyllenhaal and then her song is 'I will never ever, ever take your call again, like never, like seriously, never ever Jake Gyllenhaal, stop calling me.' Who doesn't want Jake Gyllenhaal to call her?" The only thing better was Anderson's response, "He seems like a nice guy." Looks like someone agrees with us that "We Are Never Ever Getting Back Together" is one of the worst songs of 2012.
3. Jenny Gets Inappropriate With Justin Bieber.
Or rather, a life-size cardboard cutout of Justin Bieber. After he performed an unplugged, surprisingly soulful, version of "If I Was Your Boyfriend," McCarthy raunchily stood behind a Biebs cutout and proceeded to fondle it. And act like it was fondling her right back. "Oh, Justin. I'm old enough to be your mother!"
2. Anderson and Kathy Meet PSY.
The most transcendentally amazing moment of any of 2013's New Year's Eve coverage came when New Year's Rockin' Eve performers PSY and MC Hammer crossed the quantum barrier between networks and dropped in on Anderson and Kathy on CNN. PSY gave the most sincere, heartfelt non sequitur answer imaginable when he said "That means so much coming from you" in response to Kathy's comment about his 2012 success, "You have money coming out of your butt." Griffin responded with an equally unironic "Keep it Gangnam Style or any other style you want." Did Seacrest send Hammer and PSY to mess with their heads? The world may never know.
1. Kathy's New Year's "Present" for Anderson.
Never, in their six years co-hosting on New Year's Eve, has Anderson ever appeared this uncomfortable. With hindsight, I suppose the whole evening was building to it. First, Kathy demanded that Anderson 'spoon' her after midnight had struck, then claimed that she'd gotten, ahem, a rise out of him. But around a half-hour into the New Year, she started to crouch down and attempt to simulate something a bit more provocative. Anderson was mortified. So he crouched down with her to maintain eye contact, and avoid the horrifying implication of her gesture. Only Kathy crouched down and attempted to give Anderson this "New Year's present' more than just once. Actually, over and over. Both of them ended up finishing their broadcast in a catcher's squat, as CNN's standards and practices department undoubtedly began 2013 with a full-blown panic attack.
Follow Christian Blauvelt on Twitter @Ctblauvelt
[Photo Credit: CNN]
More:
New Year 2013: What Specials to Watch on New Year's Eve and What Marathons to Watch on New Year's Day
10 Reasons to Be Excited for 2013

'American Idol' Winner Hospitalized After Head-On Car Crash

20 Hottest Bikini Bodies of 2012: Katy Perry, Miley and More!