Can Kristen Wiig Just Be in Everything?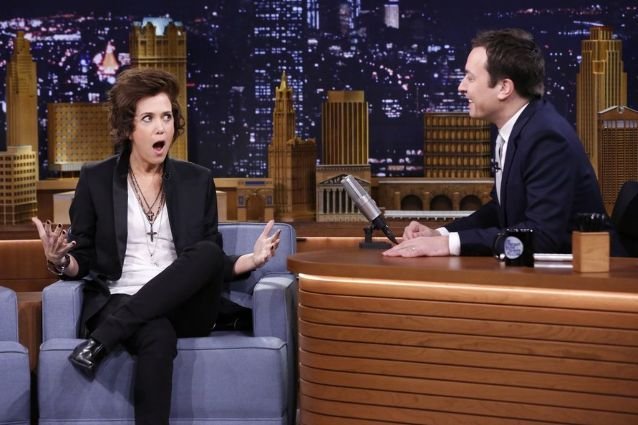 NBC
It isn't every comedian that can get away with doing an entire interview on The Tonight Show doing an imitation of someone else. Yet, when Kristen Wiig did exactly that — taking a seat next to buddy Jimmy Fallon dressed like One Direction's Harry Styles during his first week as host — it was completely charming. The same goes for when Wiig pops in on her old Saturday Night Live stomping grounds, as when she showed up in a cold open this season reprising her highly inappropriate, small-handed Dooneese character during a parody of NBC's The Sound of Music.
Quite simply, the Bridesmaids star makes every TV show that she comes in contact with better just by her presence, so why should that be limited to just late night? There are plenty of primetime offerings that could use some of Wiig's charm.
Parks and Recreation
Fellow SNL alum Amy Poehler's show has a strong history of funny guest stars (Louis CK, Parker Posey, Megan Mullally) so the writers would know what to do with Wiig. With Rob Lowe and Rashida Jones having departed, there's also plenty of available screen time. Even if it's just for a single episode, the show could use the boost. We've already met two of Nick Offerman's ex-wives both named Tammy (same as his domineering mother). What could it hurt to have a just as crazy Tammy III?
Downtown Abbey
Wiig was just in Will Ferrell's period piece parody miniseries The Spoils of Babylon on IFC, so she should be good with the costumes. Elizabeth McGovern's Cora Crawley is from the States… she has to have a cousin someplace, right? Wiig is just the person to turn up as an ugly American full of dating advice and some "just get over it already" tips for Lady Mary (Michelle Dockery).
The Vampire Diaries
We get it… hot vampires. After five seasons of watching pretty people fall in and out of love, biting each other's necks just isn't enough anymore. Let's say that Paul Wesley's Salvatore has an undead aunt that wants to pal around with Nina Dobrev's Elena… or Katherine or Amara or whatever other doppelgangers she has. Wiig seems perfectly capable of turning from funny to scary in a heartbeat… or, you know, whatever vampires have.
Game of Thrones
Wiig's pal Ferrell had a spoof on his Funny or Die website that turned GoT into a reality show. The producers of HBO's smash probably wouldn't want to go full-on comedy, but we could see Wiig doing a guest turn as a woman that befriends Peter Dinklage's Tyrion, only to be killed in some horribly graphic way just as he's starting to feel a little bit better about life.
The Blacklist
NBC has a hit in the freshman James Spader thriller, but the struggling Peacock network can't afford to take any chances. It's always far better to keep the audience entertained while they're still watching a show than to have to lure them back later after they're already watching whatever's on CBS at the time. The show hasn't done much in the way of name guest stars so far, but Isabella Rossellini did make an appearance so it's not like they're completely averse to it. Maybe the next name on Spader's list could be a woman who controls foreign leaders from behind the scenes using her looks and charm… and maybe, just maybe, she has really, really tiny hands.