Late Night Last Night: Housewives, Honey Boo Boo, and a Kardashian in the Line of Fire — VIDEOS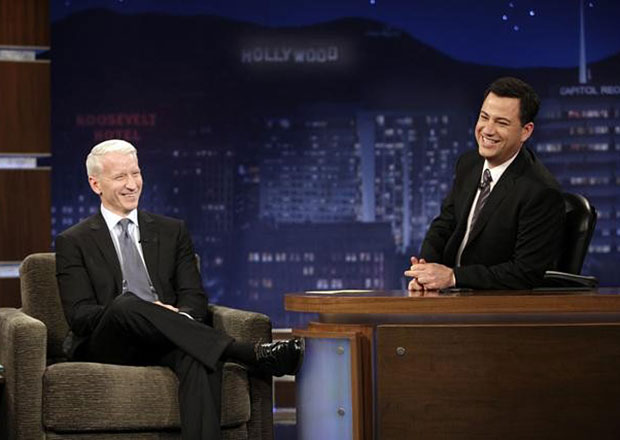 Can't sleep? Television has the natural cure for you: late night shows! Snuggle up under your comforter and pull out that remote, because in the late hours the likes of Jimmy Fallon, Jimmy Kimmel, David Letterman, Jay Leno, or Conan O'Brien are prepared to give you a laugh or two. And on Tuesday night, they did just that, chatting up with Anderson Cooper about the likes of Teresa Giudice and Ashley Greene about on-screen chemistry with Olivia Wilde. And that's just the beginning!
Here's what happened last night on late night TV in case you missed it:
Late Night with Jimmy Fallon
Anderson Cooper and Fallon had quite the laugh at the expense of The Real Housewives of New Jersey star Teresa Giudice (who visited his talk show last week). Neither host can get past all the drama on RHONJ. "Nobody listens to anybody else," Cooper said. "It's like Thanksgiving at Oz, like watching an old episode of Oz. It was stressful. I'd be like, 'I can't watch this anymore,' and I keep watching." Fallon admitted that he first got addicted because of his wife, but now watches the show without her.
Cooper also shared his fascination with Here Comes Honey Boo Boo mother June Shannon. "June is so brilliant because while she's looking at the camera, she'll let out a huge burp and she just continues straight looking at the camera," he explained. "There's no apology. There's no 'excuse me.' A combined look of sweetness and dead eye." He even said that he would rather hang out with Shannon's family instead of the Kardashians. Sorry, Kim.
Part 1:
Part 2:
Jimmy Kimmel LIVE!
Joey Fatone and Kym Johnson spoke with Kimmel after their Dancing with the Stars elimination. "I feel like I got kicked in the nuts," the former 'N Sync star said. "If I didn't have a lot of weight in my waste area, maybe I would have moved a lot faster." Despite saying goodbye to DWTS, Fatone also did have a good laugh with Kimmel about his choice of attire during his final run on the floor. "I was a combination of Hitler and Charlie Chaplin," Fatone joked.

Late Show with David Letterman
While Mitt Romney and his wife may be ignoring Letterman's calls, Martin Short and Kat Dennings sure aren't. Both stopped by to visit Letterman last night and what a fiesta it was! Short and Letterman chatted about the upcoming debates, and Short pointed out the extensive amounts of bronzer Romney has been wearing throughout the campaign so far. "Move over Snooki," he said to emphasize his point.
2 Broke Girls star Kat Dennings, on the other hand, refrained from talking politics. She instead described her "cute" appearance as a child: "When I was nine, and I started acting, I had very large front teeth. They really stuck out. I was kind of a farm girl and I would wear overalls and had hair down to my hips, and it was very, very curly." It's hard to imagine that look now, given Denning's straight and shiny locks and trendy wardrobe.
Short's appearnce:
Dennings' appearance:
The Tonight Show with Jay Leno
Carol Burnett told Leno that she wants to do a parody of Keeping Up with the Kardashians. "I would love to do the Karadshians," she said as she imitated Kim Kardashian's infamous blank stare. "I have to say I'm sorry about them [reality shows like Kardashians]. There are very few good writing and television comedies today. When we were on, our Saturday night line-up was All in the Family, MASH, Mary Tyler Moore, Bob Newhart, and us. The writing was incredible on all the shows." Yikes! Your serve, Kim K.
Part 1 of the interview:
Part 2 of the interview:
Conan
And last but not least, Ashley Greene opened up to Conan O'Brien about making out with Olivia Wilde in Butter. "Part of the reason I took the role, I thought, 'How do I get a male demographic? Make out with Olivia Wilde, right?' So I took the role," she said. "We did it. It was fun and easy. She's a good kisser, just so everyone knows." After admitting that, the guys are sure to check out Butter when it hits theaters Oct. 18.
Follow Lindsey on Twitter @LDiMat.
[Photo Credit: Randy Holmes/ABC]
More: