Late Night Last Night: Kevin Nealon Thinks President Obama Needs a New 'Do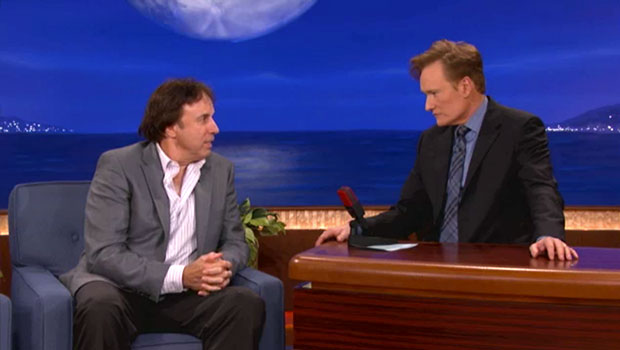 Did the presidential debate wear you out Tuesday night and put you to sleep before you could watch your favorite late night shows? Well, don't worry. We're here to help you catch up. While Late Night with Jimmy Fallon, The Late Show with David Letterman, and The Tonight Show with Jay Leno all aired reruns last night, Conan O'Brien and Jimmy Kimmel kept their entertainment fresh. O'Brien's guest, Weeds star Kevin Nealon, had some very interesting views to share with the host. Specifically, he suggested one scare tactic that he thinks President Barack Obama should use to intimidate Republican candidate Mitt Romney as the presidential race continues.
Here's what you missed last night on late night TV:
Jimmy Kimmel LIVE!
Comedian Don Rickles stopped by Kimmel to tell some jokes about his wife, Barbara, and his iPhone application. "I'm married 47 years," he said. "You can see her later. She's on the corner going, 'Sailor,'" proceeding to mime his wife attempting to entice a gentleman caller. But besides getting a kick at his wife's expense, Rickles made a crack about himself and his lack of understanding of modern technology. For example, even though he is the focus of an iPhone app, he really doesn't actually get what apps are. "I don't know that stuff," he admitted. "I always get hung up with that, the apps. My wife says, 'You must have an app.' I got that and I got the tweets." Rickles then attempted to explain how his app works, even though he has limited knowledge on the subject. "You hit the top of my head, and for $2.99, I saw a couple of smart, clever remarks," he described. "You'll enjoy it. I can tell by your response," Rickles said of the audience's mild round of applause, "nobody's going to buy it."
Part 1

Part 2

Part 3

Conan
Weeds star Kevin Nealon talked about his take on the presidential race. His opinion? President Barack Obama needs to change his hairstyle. "I think it would be great if Barack Obama, in the next couple of weeks without saying anything, just started growing a big old afro," he said. "Then stuck a pick in the back. Because he really needs to intimidate Romney. Maybe he should wear a hoodie?" He also discussed his views on the abortion debate: "What worries me is a lot of people… 'When does life begin?' is the question. A lot of people think life begins at 40." Since Weeds is over, did head writer and creator Jenji Kohan decide to write a midlife crisis line for Nealon instead of for his former character, Doug Wilson?
Part 1
Part 2
Follow Lindsey on Twitter @LDiMat.
More:
Late Night Last Night: Chelsea Handler Nearly Makes Jennifer Aniston Cry — VIDEO
Late Night Last Night: Tina Fey Fears for Tracy Morgan
Late Night Last Night: Politics and Babies on the Brain — VIDEOS
From Our Partners:

'Twilight' Star Kristen Stewart Drops 2.2M on L.A. Home Near Robert Pattinson — PHOTOS
(Celebuzz)

Rihanna to Earn $8 Million for Turning on Christmas Lights: 14 Celebrity Appearance Fees Revealed
(Celebuzz)