Late Night Last Night: LeAnn Rimes Says 'Screw You,' to the Brandi Glanville Drama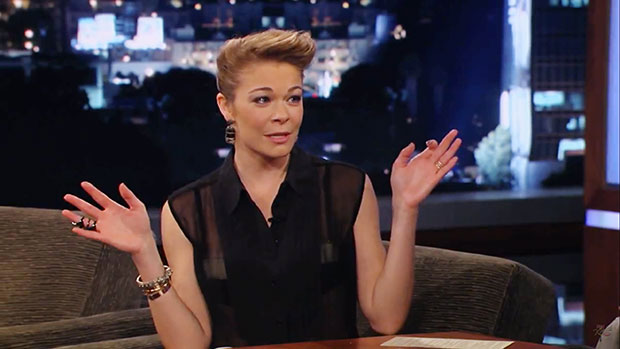 It seems like every other day, a new headline screams, "Brandi Glanville Slams LeAnn Rimes" or "LeAnn Rimes and Brandi Glanville's Shocking Fight." The drama surrounding these two women (due to the fact that Rimes is now married to Glanville's ex-husband, Eddie Cibrian) just never comes to an end. And on Tuesday night, Rimes once again had to field questions about her ongoing feud with The Real Housewives of Beverly Hills star — this time from Jimmy Kimmel.
To kick their interview into gear, Rimes revealed that she is dealing with a crippled voice due to a new onset of allergies that she has never had before. She told Kimmel the allergies are so bad that she wouldn't be able to talk for two weeks after their interview was completed Tuesday night. Well, this story gave Kimmel the leverage he needed to start asking about Glanville. First, he wanted to know if Rimes watches RHOBH. While she admitted that she doesn't, she said she still knows what happens on-screen. "I do know what's going on, because I have to deal with my publicist every Monday," she said. "I guess that's why I have no voice. I've been yelling at the TV screen, which I don't watch."
Kimmel then addressed the fact that it always seems like one of the two ladies is saying something negative about the other. "I think that it's kind of interesting how it seems very one-sided most of the time," Rimes said. "But then, you know, you just kind of get fed up with people lying about you. And you're like, 'Words here. Words here.'"
Kimmel pointed out that Glanville's most recent comments involved her calling Rimes "insane" during Monday's RHOBH episode. Rimes couldn't deny the fact that she's crazy. "I am, clearly," she said with a smile.
Rimes continued on to say that she tries to ignore Glanville's affronts, but sometimes she just gets annoyed by all of the bulls**t. "I usually don't engage," she said. "But there comes a time when you're just like, 'Screw you!' That's it. That's all you want to say, and then you're like, 'I'm done with this for another three months.'"
Clearly, Rimes hates Glanville's drama. "I don't really enjoy it," she said. "I do actually make music and I love it. It's awesome."
Bam! Take that, Glanville!
Part 1

Part 2

Follow Lindsey on Twitter @LDiMat.
[Photo Credit: ABC]
More:
Late Night Last Night: Kim Kardashian's Divorce Drama Drags On — VIDEO
Late Night Last Night: Emma Stone and Jay Leno Dance the Night Away — VIDEO
Late Night Last Night: Betty White Tries to Lie on 'Fallon' — VIDEO

Child Stars: Where Are They Now? (Celebuzz)