Late Night Last Night: Matt Damon Is 'In Command' of Kimmel's 'Ship' – VIDEOS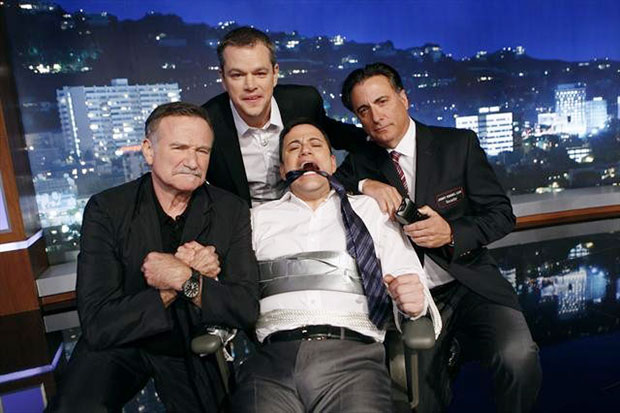 Has a fake Hollywood feud finally been put to rest? Basically, since Jimmy Kimmel started his late night hosting duties, he has closed nearly all of his episodes with the words, "Apologies to Matt Damon. We ran out of time." But Thursday night, Damon finally decided not to let Kimmel "run out of time" and literally took over Kimmel's entire show, marking the first Damon appearance on Kimmel as an official guest.
Kicking the show into action, Damon introduced himself and gave the show a new name. "Hey everybody. Welcome to tonight's episode of Jimmy Kimmel Sucks," he said. "I am your host, Matt Damon."
Then Damon let loose on Kimmel, who sat tied up in a chair throughout the whole show. "Just for starters… is it weird to see a person with actual talent host this show?" Damon said. "I'm very excited to be here obviously. Jimmy has bumped me from his show 1,205 times. For 10 years, every night I wait in that green room, and every night, Kimmel says, 'Apologies to Matt Damon. We ran out of time.' I've been waiting for this moment for a long, long time. This is like when I lost my virginity, except this is going to last way longer than one second."
"You know, every time I got bumped off this show, it left a mark," Damon continued. "But if you bump a man long enough, a night will come when he bumps you back. And tonight is that night, my friends. I am in command of this ship! Tonight, good triumphs over evil. I am Luke Skywalker and Kimmel is the Death Star, big and round and easily destroyed through his garbage hole." Damon had a few more jokes up his sleeve before the show officially got rolling. "Look at Jimmy over there with the gag in his mouth. You've never been funnier, my friend," he said. "Jimmy Kimmel is to late night talk show hosts what Magic Johnson is to late night talk show hosts. Hey Jimmy, did you hear the joke about Lindsay Lohan? Because I have. 1,205 times." Bam!

Along with Damon taking the hosting role, a slew of A-list celebrities appeared on Jimmy Kimmel to help Damon along.
Andy Garcia replaced Kimmel's loyal side-kick, former parking lot security guard Guillermo Diaz. Sheryl Crow also kicked band leader Cleto out of his spot.

Robin Williams finished Damon's monologue.

Damon's best childhood friend, Ben Affleck, stopped by to hold the cue cards.

And Damon had other A-list guests stop by including Amy Adams, Demi Moore, Reese Witherspoon, Nicole Kidman, and Gary Oldman. Even Jennifer Lopez, Sally Field, John Krasinski, Robert De Niro, Don Cheadle, and Oprah Winfrey check in via a video to congratulate Damon on his new role as host.

Follow Lindsey on Twitter @LDiMat.
[Photo Credit: Randy Holmes/ABC]
More:
Late Night Last Night: Allison Williams and Jimmy Kimmel Try To Be Royals
Late Night Last Night: Betty White Tries to Lie on 'Fallon' — VIDEO
Late Night Last Night: Opa! Heidi Klum Dances on Tables for Leno — VIDEO

Celebs as Kids: Guess Who? (Celebuzz)