Late Night Last Night: What Happened to Amy Poehler's Penis?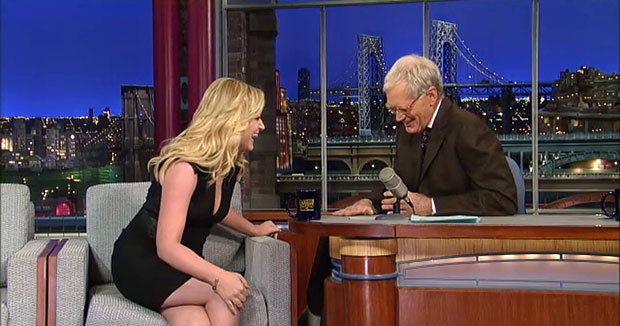 Kids are just inappropriate sometimes. There's no telling when they are going to open up their mouths and say some crazy. And when it does happen, we're never prepared for the bizarre statements and questions that come rolling off their tongues. Parks and Recreation star Amy Poehler recently had to deal with one of those moments when her four-year-old son Archie started asking what happened to her penis. Oh kids!
Here's what you missed last night on late night TV:
Late Night With Jimmy Fallon
Sportscaster Bob Costas, perhaps best known these days as the host of NBC's Olympics coverage, stopped by to chat about his issues with the opening ceremony of the Games. "The opening ceremony is kind of the bane of my existence," he said. "It's sort of a cross between an UN security council meeting and the Macy's Thanksgiving Day parade. Why don't they just take me out of my misery?"
Jimmy Kimmel LIVE!
Andy Garcia revealed that he took his 10-year-old son on a Mardi Gras float and exposed him to the women that take their tops off for beads. "If they want specific beads, they tend to expose themselves," he said. "He was deeply appreciative."
Part 1

Part 2

Part 3

Late Show With David Letterman
Amy Poehler shared a story about an embarrassing question her son recently asked her. "Archie is the four-year-old, and Abel is the little giant," she said. "Archie is turning into such a compassionate boy. And he's a lovely, kind kid. The other day, he came up to me while I was getting changed and he put his hands on my shoulders and said, 'Mom, I'm so sorry you don't have a penis.' Isn't it nice?" But it didn't end there. "Then he said, 'Did you have one and break it?' Which I thought was his way of finding out if I was to have one, would I have taken good care of it, basically," she said. Poehler also kissed Joe Biden and told. "My character, Leslie Knope, on Parks and Recreation is in love with Joe Biden, and he's her ultimate fantasy," she said. "We did a couple of takes. Just for the heck of it, I went in for a kiss. He was so great. I think he's used to a lot of crazy people." She also gave Letterman a kiss at the end of the clip.
Part 1
Part 2
[Photo Credit: CBS]
More:
No Malarkey: Vice President Joe Biden Will Appear On 'Parks and Recreation'
A Chronicling of Tina Fey and Amy Poehler's Super Awesome Friendship — VIDEOS
OMG: Tina Fey, Amy Poehler to Host 70th Golden Globe Awards

Prince William Shares Personal Snapshots of Royal Air Force Life (PHOTOS)
(Celebuzz)