Late Night Last Night: LL Cool J Clarifies His 'Intentions' for 'Accidental Racist'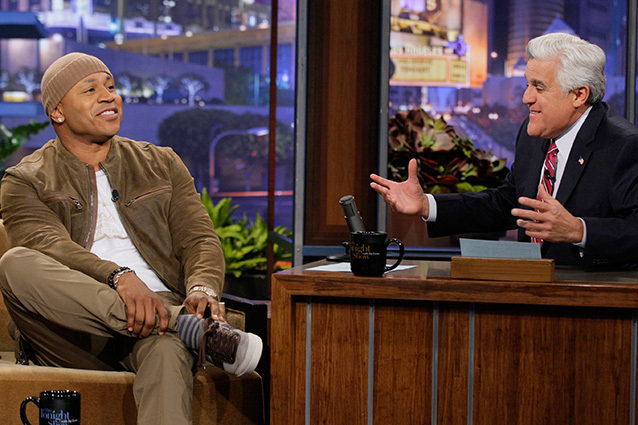 By now, you have probably heard Brad Paisley and LL Cool J's new controversial song "Accidental Racist" (and if you haven't, go listen to the controversial tune). In the song, the country singer tries to complain about the white man's plight in the south, and how the white man is the victim of racism. Then LL Cool J finishes the song with forgiving America for slavery. On Thursday night, the rapper stopped by to have a chat with Jay Leno and tried to "clarify" what his "intentions" were with the song.
"The song wasn't perfect," LL Cool J said. "You can't fit 300 or 400 years of history into a three-four minute song… Ultimately, I can't defend the song, but I can clarify my intentions."
LL Cool J then tried to explain the lyrics, "If you don't judge my durag, I won't judge your red flag." "I in no way would ever compare the history of the confederate flag — which, when you think about the rapes, the torture, the murders, the lynching, all the things associated with the confederate flag — with a durag," he said. "However, when you think about a kid like Trayvon Martin, and you think about some of the things that happen in society based on clothing, when you put it in its proper context, it makes sense."
LL Cool J continued: "I would never, ever, ever suggest to anyone that we should just forget slavery and act like that didn't happen. I understand the systemic racism that exists. I get that. But you know what? If the playing field is un-level, and you feel that it's unfair, then maybe putting down some of that baggage will help you make it up that hill a little easier."
The rapper said he and Paisley just put the song out there to "create conversation." Well that it did — and LL Cool J is satisfied with all the coverage that the song is attracting from the media.
The conversation wrapped up with LL Cool J comparing racism to a bad marriage. He said that he hopes by putting this song out with Paisley, the two can set an example of how the two different races can come together come together and "have a conversation" that will hopefully help change society's divide.
"Art is objective," LL Cool J added. As long as people are having a conversation, "the art has done it's job."
Follow Lindsey on Twitter @LDiMat.
More:
Racists Respond to 'Accidental Racist' 
'Accidental Racist' Is Actually Racist
ACM Awards Winners List
---
From Our Partners


Jessica Alba Bikinis in St. Barts (Celebuzz)


Which Game of Thrones Actor Looks Least Like His On-Screen Character? (Vulture)