Late Night Recap: Bill Gates Spreads a Viral Video with Jimmy Fallon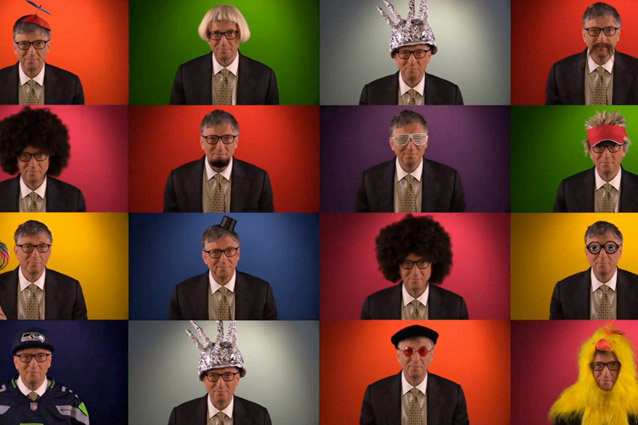 Late Night with Jimmy Fallon/YouTube
Interested in learning more about the Bill and Melinda Gates Foundation, or do you want to see the Microsoft chairman wear a chicken suit? Take a look at the goofy side of Bill Gates below, plus the rest of the best moments of late night television this week.
Remember you can catch all the late night highlights every week right here on Hollywood.com.
PC Virus
Despite Windows' notoriety for viruses, even Bill Gates couldn't resist putting together a viral video on Late Night with Jimmy Fallon.
The Bare Essentials
The folks from Impractical Jokers shared a clip on Conan where James Murray poses as a nudel model. Try not to laugh too hard at the "spinning Egyptian."
Bieber, Bieber, Everywhere
Justin Bieber's latest run-ins with the law have landed him in the hot seat of late night television. David Letterman's Top 10 List counted down the "Justin Bieber Headlines We're Likely to Read"
Doodle+
Jon Stewart goes into why it would be awful to watch yourself having sex using Google Glass, as if it needed any explanation.
Farewell Kiss
What could be a better way to leave The Tonight Show than to receive a shower of kisses from Heidi Klum? Until his last show, it could only really go downhill for Jay Leno.
Papa Colbert
During his celebration of literary giant Ernest Hemingway, Stephen Colbert unveiled a portrait that mashed his features with Hemingway's. 
The Evolution of Bieber
Jimmy Kimmel tries to find the missing link between the sweet, bowl-cut Justin Bieber of yore and the DUI, pants-sagging public menace of today
Lovin' Spoonful
Twenty seconds can be an awfully long time, especially when a guy in boxers is spooning you.
A Dog in the Fight
Want to know who'll the Super Bowl next week? Jay Leno's canine prognosticator says it will be Seattle!
Backstroke of Genius
In this week's edition of "Fan Corrections," Conan O'Brien unveiled the "true ending" of Scarface in which Tony Montana survives the raid on his mansion.