Late Night Recap: Born to Jam — Bruce Springsteen and Jimmy Fallon Rock Out to "Bridge-gate"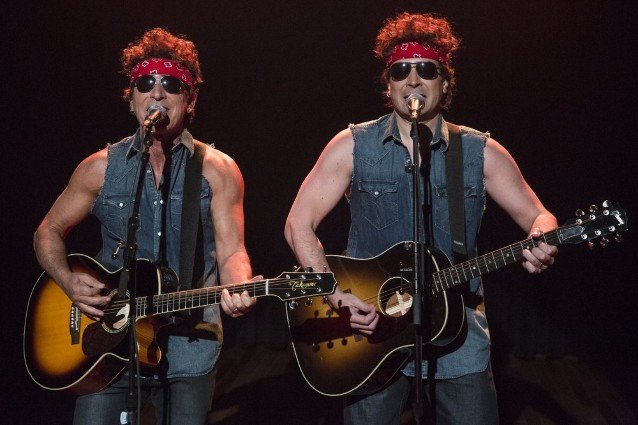 NBC
We've got the best highlights of this week's late night talk shows, beginning with a rock and roll duet on Late Night with Jimmy Fallon. Remember, you can catch all the late night highlights every week, right here on Hollywood.com
A Traffic Jam Session
People were seeing double on Tuesday night when Jimmy Fallon and Bruce Springsteen sang about the "Bridge-Gate" scandal that's rocked the Garden State. And check out the guns on The Boss! Looks like somebody's been doing their pushups.
Photo Opportunity
Matt LeBlanc's photogenic face was all Jimmy Kimmel and Guillermo wanted when they asked to have their pictures taken with him behind those "stick-your-face" cardboard cutouts. Who knew Matt LeBlanc played Rudy Huxtable?
A Bunch of Sissies
Jon Stewart tackles the "feminization" of American culture on The Daily Show.
Linguistic History
"Said no one ever" could be a thing of the past with Conan O'Brien's new segement, "Things That Have Never, Ever Been Said."
Reading Is Fundamental
Stephen Colbert takes an in-dept look at UNC's illiterate college football players. And to think they were this stupid before they took one too many hits to the head…
He's Still Got It
The legendary Bill Cosby was his old, rambling self when he performed stand-up (or more accurately, sit-down) on Late Show with David Letterman.
Ice Age
Earlier this week on The Tonight Show, Vanessa Hudgens talked about being caught up in the "portal vortex."
Off-Pitchers
New York Yankees' C.C. Sabathia and Mark Teixeira were on the key of awful sharp when they sang on Late Night with Jimmy Fallon.
Throwback Thursday with Kid N'Play
In case anyone had doubts that Arsenio Hall is still stuck in the 90s, Kid N' Play made a surprise appearance on his show this week. You could almost hear the Millenials collectively wondering "who are they?"
Good, Old Fun
David Letterman's funniest "Top 10" list this week listed the thoughts of the 100-year-old woman who hired a stripper to celebrate her birthday. With that image burned into your head, it's hard to shake off.