Late Night Recap: A Burly Brawl on 'The Daily Show'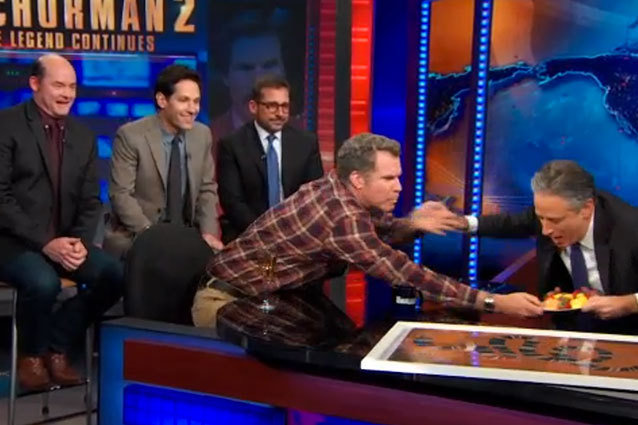 Comedy Central
With Christmas arriving in just a few days, this was the last week of the year for the late night shows before their two-week holiday. Check out the best moments of last few days of the year down belong, beginning with a very physical guest appearances on The Daily Show of the men from Anchorman 2: The Legend Continues.
When the late night talk shows return after their holiday break, you can catch all the late night highlights every week right here on Hollywood.com.
Fighting Amongst Anchormen
Things escalated quickly on The Daily Show when Jon Stewart refuses to give a delicious fruit salad to Will Ferrell.
"How To" in 60 Seconds
Adam Scott speedily demonstrates to everyone what the top Google "how to" searches of 2013 on Jimmy Kimmel Live!
Homemade, All American Girl
Conan O'Brien visits the very popular doll store American Girl and things get a little too weird between the late night host and his new plastic companion.
Oliver's Twist
Jon Stewart ventures off-script to deliver a tear-jerking, farewell retrospective to John Oliver.
Crystal vs.Colbert
Grammy nominations can create fierce rivalries! Watch Billy Crystal and Stephen Colbert threaten each  other over who will claim the "Best Spoken Word Album."
Barbara's Top 10
Want to know what questions Barbara Walters didn't ask her "Most Fascinating People of 2013?" David Letterman's got the Top 10 for that, presented by none other than Barbara Walters herself.
Epic Late Night Split
Jean-Claude Van Damme's viral "Epic Split" commercial is trumped by Jay Leno during his "Ask Jay Anything" bit.
A Year of Censorship
Jimmy Kimmel takes a year-long look of "Unnecessary Censorship."
Wilde Thing
Her's Olivia Wilde explains how her mom lived on the edge while she was pregnant with her and her siblings.
Scared to the Bittersweet End
Some viral clips are more equal than others. Jimmy Kimmel announced his "Clip of the Year" and gave its winner one last frightening moment to savor his fifteen minutes of fame.