Late Night Recap: Did Jimmy Fallon Win or Fail at His First Week on 'The Tonight Show'?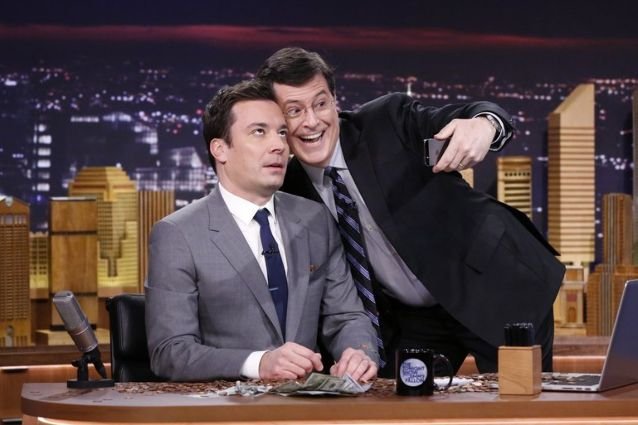 NBC
The much-hyped late shift finally happened this week when The Tonight Show Starring Jimmy Fallon debuted on Monday night. The people have spoken and the verdict was Jimmy Fallon's first week was a resounding succcess. Catch the highlights of Fallon's first week as host of The Tonight Show, as well as a few memorable moments from the rest of the late night shows down below.
Dough Stacks McGee
Payday, as well as a walking caravan of celebrities, arrived a little early on Fallon's debut night. Thanks to an alleged bet made to "a buddy," Fallon made over $1,000 in just a few minutes. Oh, the perks of hosting The Tonight Show.
On Origin of Hip-Hop
Watch Will Smith and Fallon go through all the hip-hop dances throughout the years – and realize why the "cabbage patch" and "stanky leg" have gone the way of the dinosaur.
Hashtag Things Out
@jimmyfallon @JonahHill #ridiculous #talktoomuch #hashtag2
The First Lady of the "Ew!"-S-A
First Lady Michelle Obama paid a visit to the teenage show "Ew!" And although this is stating the obvious, Will Ferrell makes one ugly woman.
Anchor's Delight
Once again, Fallon spliced together clips of NBC newsman Brian Williams to sound like he's rapping and it's the best one yet.
The Luger Who Cried Wolf
Jimmy Kimmel fooled everyone again, with a little bit of help from American luger Kate Hansen.
Go Figure
Watching Will Ferrell skip and prance as a figure skater in black tights is something nobody can unsee. But it's still better than him dressed in drag.
The Hug Cam
By slowing down sports footage, Jimmy Kimmel proves that most sports are just excuses for men to hug other men.
Rapping Up the Week
Fallon saved Friday night for his unofficial guest host, Justin Timberlake, and they taught everyone a valuable history lesson on rap.