Late Night Recap: It's a 'Full House' Reunion with Bob Saget, John Stamos, Dave Coulier, & Jimmy Fallon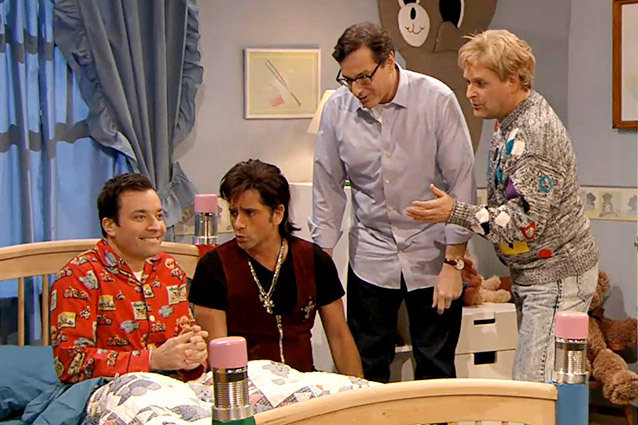 NBC Universal Media
Is a Full House reunion in the works? It certainly came together for an episode of Late Night with Jimmy Fallon. Check out the throwback reunion that had everyone talking, plus lots of puppies! Remember to come back to Hollywood.com every week to catch up on all the late night talk show highlights.
Three Men and a Jimmy Fallon
We've all been there – waking up to a cold sweat, panicking about hosting The Tonight Show. Thank the heavens there's always Daddy, Uncle Jesse, and Uncle Joey to help put us back to sleep! While it's great to see Bob Saget, John Stamos, and Dave Coulier back together again, we don't miss the mullets and the ugly sweaters.
Dude Duet
Political comedian Bill Maher and Family Guy creator Seth MacFarlane do their best Rat Pack impression by singing a  farewell to Jay Leno.
"Katy Perry Finger-banged my Cleavage"
Now that's an image that guys will certainly want etched in their minds! In her interview with Conan O'Brien, Anna Kendrick told the world just how intimate she and Katy Perry became on Grammy night.
Don't Speak
The week's most painful interview to watch goes to former Speaker of the House Nancy Pelosi, who just couldn't keep up with Jon Stewart's questions about the healthcare.gov website.
Missed Connections
Every guy's feeling a missed connection with Alison Brie's sultry reading of people's desperate pleas of romance from Craigslist.
The Boy Who Never Aged
It looks like Peter Pan spent too much time away from Neverland! Bill Murray made another impressive entrance on Late Show with David Letterman when he literally swooped in for his interview.
Prepping for the Puppy Bowl
Famed football coach Joe Gibbs trains Stephen Colbert for the biggest and cuddliest game of his life.
Puppy Conan
Due to popular demand, Conan O'Brien brought back the canine version of his show, "Puppy Conan."
Puppy Predictors
This is the last clip featuring puppies, we swear! Jimmy Fallon unleashed the hounds to see who's their pick to win Sunday night's big game. And the winner will be … 
Peer Advice
Where's the proof that Justin Bieber is sinking faster than mercury during a polar vortex? Miley Cyrus is giving him advince on how to keep things on the DL on The Tonight Show.