Late Night Recap 11/18-11/22: Bush Paints a Portrait for Leno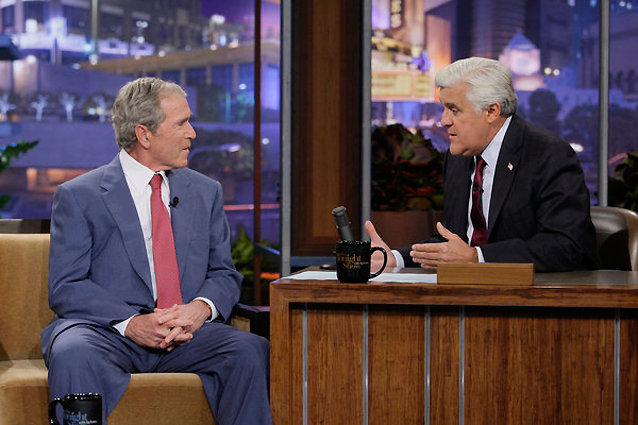 NBC
Couldn't stay up to see best moments of the late night talk shows? Check out what you missed this past week right here.
A Presidential Portrait
Former President George W. Bush's painted portrait of The Tonight Show host Jay Leno proves that he needs to pick a new hobby.
Throwing Gamers an Xbone
On the eve of the worldwide release of Microsoft's new all-in-one entertainment and gaming console, Jimmy Fallon showed off the Xbox One by playing Kinect Sports with Will Forte.
A New Holiday Tradition
Will Tracy Morgan's unique spin on "Elf on a Shelf" be a hit with the consumers? 
Playing Dead
By holding his interview on Late Night with Jimmy Fallon on the floor of the studio, Bill Cosby showed that he's either still a comedic genius or lost his marbles.
Lawrence of Hysteria
Although she fought to save her life in The Hunger Games: Catching Fire, Jennifer Lawrence may have indicated in her interview with David Letterman that she might be fighting a severe case of hypochondria.
Like a Fine Burgundy
Legendary anchorman Ron Burgundy bestowed upon Conan O'Brien an entire cornucopia of sage-like advice, such as using one's excrement to survive a prison riot.
Over a Slice of Pie
Jon Stewart made peace with the city of Chicago over their dispute about the legitimacy of Chicago's deep dish pizza.
Never Coming Back to America
Wondering why they never made a sequel to Coming to America? On The Arsenio Hall Show, Eddie Murphy blamed actual African princes and their insistence to collect their, ahem, royalty checks. 
Thanks for Nothing
Relish in the ignorance of common Americans by watching Jay Leno fruitlessly asking random pedestrians about Thanksgiving.
Cruelty in Under 140 Characters
Anonymity at its worst was on fully display with Jimmy Kimmel's latest installment of "Celebrity Mean Tweets."