Late Night Recap: A Goodbye to 'Tonight' — Jay Leno Was All Choked Up for His Final Farewell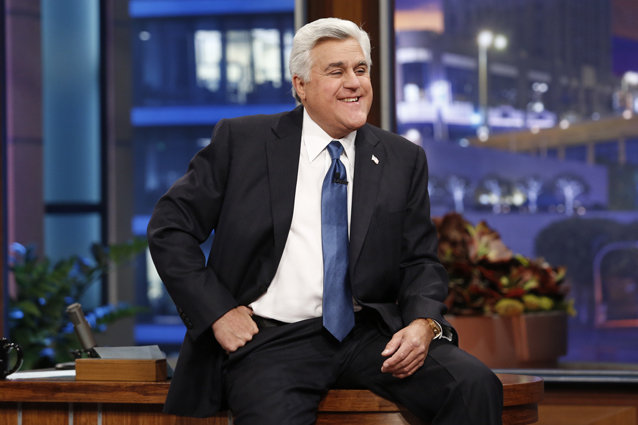 NBC Universal Media
For nearly 22 years, Jay Leno served as the host of late night's most venerable franchise, The Tonight Show. For the second and presumably last time, Leno bade a farewell to all those who stayed up late with him. Check out the highlights of his last week on the show and remember to keeping coming back here at Hollywood.com for your weekly late night highlights.
"A Heartfelt Goodnight"
We'll start with how it all ended. At the end of his last show as the host of The Tonight Show, Jay Leno fought back tears during his  goodbye. He kept it together up until that moment when the finality of it all finally got to him. Whatever your thoughts are about Jay, it's hard not to get a lump in your throat especially when he quotes Johnny Carson's own farewell on The Tonight Show, "I bid you all a heartfelt goodnight."
Auf Wiedersehen, Tonight
But before things became sappy, Billy Crystal livened things up. Having the distinction of being Leno's first and last guest, Crystal wanted to give Leno a goodbye to remember. A la "The Sound of Music," Crystal ushered in a musical farewell featuring Jack Black, Kim Kardashian, Chris Paul, Jim Parsons, Sheryl Crow, Carol Burnett, and Orpah Winfrey.
What's Next for Jay?
Everybody has his own opinion on what Leno should do next. Check out this extended version with more celebrities that was not seen on TV!
The Gravity of the Moment
Of course Leno wasn't the only one who became all teary-eyed all week. Sandra Bullock showed her emotional side during her Tonight Show eulogy to Leno.
Thanks for the Memories
Goodbye Jay! And thanks for all of these great moments on The Tonight Show.
Soccer Punched
Jimmy Fallon also wrapped his run as host of Late Night this week, beginning with a thorough ass-kicking in "bubble soccer" by Chris Pratt and Colin Farrell.
Rockin' Out from Late Night
Fallon's goodbye was more lighthearted affair, courtesy of a joint musical performance with The Muppets.
Zombie Equality
In other late night talk show highlights, Conan O'Brien celebrated the return of The Walking Dead from its winter hiatus with a zombie-themed cold opening and cable's first zombie lesbian kiss!
F**k You, Celebrities
The latest "Celebrities Read Mean Tweets," the cast of The Monuments Men took the full brunt of the Internets. 
Damon vs. Kimml XCVIII
The latest matchup of Matt Damon and Jimmy Kimmel's perpetual feud was literally extinguished by the end of Thursday night's show. The final score was Kimmel 8,521 – Damon 0.