Late Night Recap: A 'Late Night' Start for Seth Meyers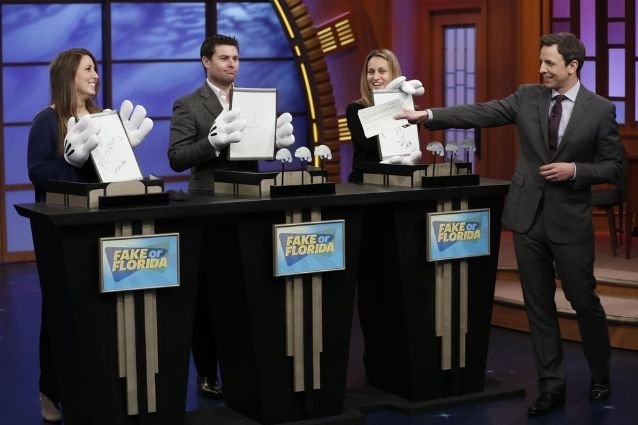 NBC
Seth Meyers officially threw his hat in the late night ring this week as the new host of NBC's Late Night. See the highlights of his first week on the job and remember to check back here at Hollywood.com every weekend for your weekly late night talk show highlights.
"Fake or Florida"
Seth Meyer's breakout bit of the week was an odd little game show about that kooky place in the USA that calls itself The Sunshine State.
Rudd Battles Fallon
Paul Rudd absolutely shamed Jimmy Fallon into submission with a this one-sided lip sync battle.
Late Night Takeover
Two of the greatest thespians of our time, Patrick Stewart and Sir Ian McKellan, try their hand at hosting a late night talk show.
Escandalo
The folks over at Jimmy Kimmel Live! put together a hilarious Latino-flavored parody of ABC's Scandal.
Take That, Arizona
This hilarious sketch from Conan O'Brien takes a jab at the Grand Canyon State for its anti-gay laws.
Acrobatic Archery
This "Stupid Human Trick" really missed the mark on Late Show with David Letterman – she really should've aimed for Letterman's crotch.
Show Me the Digital Money
Jon Stewart lampoons banks such as Credit Suisse for its role in financial marketplace fraud.
A Decade of Love
Adam Sandler and Drew Barrymore profess their on-screen love that has lasted 10 years on The Tonight Show.
Military Over-Spending
When Stephen Colbert found out that America is spending billions of dollars on useless military equipment, the fake political pundit doubled down on more spending!
Suit of the Loom
Jimmy Kimmel debuted his brand new suit, made completely from authentically loomed rubber band braids.
Waste Paper Basketball
Jimmy Fallon and Miami Heat's LeBron James rapped about their favorite office distraction.