Late Night Recap: Sofia Vergara and Jimmy Kimmel Trade Insults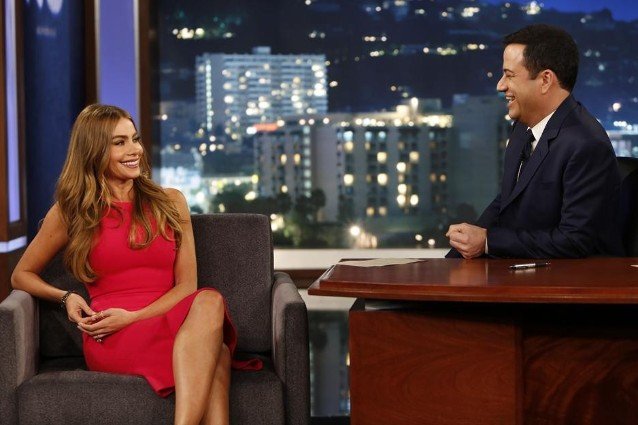 ABC
And we're back! All the late night talk shows have returned, fresh from their holiday break. Let's take a look at what the shows had to offer to start 2014, which includes Sofia Vergara and Jimmy Kimmel venturing deep into the dark recesses of the Internet's comments section.
Remember you can catch all the late night highlights every week right here on Hollywood.com.
Ugly Commentary
There sure are a few people who don't appreciate Sofia Vergara's Latin beauty or Jimmy Kimmel's double chin, as the two of them read what people have written about them in internet comments sections.
Scarlett in Blue
Scarlett Johansson was talking about her new movie Her on Late Show with David Letterman, and she sure looked stunning in that lovely blue dress.
The People's Late Night Host
The people have spoken and they chose Stephen Colbert as their favorite late night talk show. Watch Colbert thank everyone who made it possible, beginning with Aaron A. Aardvark.
Cold Comfort
While the entire country was experiencing the "polar vortex," Los Angeles was enjoying warm and sunny beach weather. Jimmy Kimmel's Cousin Sal put a stop to that when he dumped ice and snow on local beachgoers.
A Brush with Greatness
Conan O'Brien didn't want to miss the sweet mooment when Two Broke Girls' Kat Dennings and Beth Behrs accidentally got to second base with each other.
Drinking Games
It was like a frat party on Late Night with Jimmy Fallon when Matthew McConaughey and Gisele Bundchen played a round of "flip cup" on Monday night.
Making Sense of Nonsense
Jimmy Kimmel breaks down Dennis Rodman's epic rant on CNN by reading a word-for-word transcription. Spoilers: It really didn't make any sense.
A Bunch of Know-Nothings
Jay Leno proved once again that most American know more about the less important stuff, such as who was naked on a wrecking ball, than who's Vice President of the United States.
The Jersey War
Local New Jersey Correspondent Jon Stewart shamefully explains Gov. Chris Christie's involvement in "Bridge-gate."
McCain on 2016
Want to know which of the lesser of two evils you'll vote for in 2016? Sen. John McCain laid down his picks of Presidential candidates on The Tonight Show.