Late Night Recap 11/25-11/29: Thanksgiving with Jay Leno and Jimmy Fallon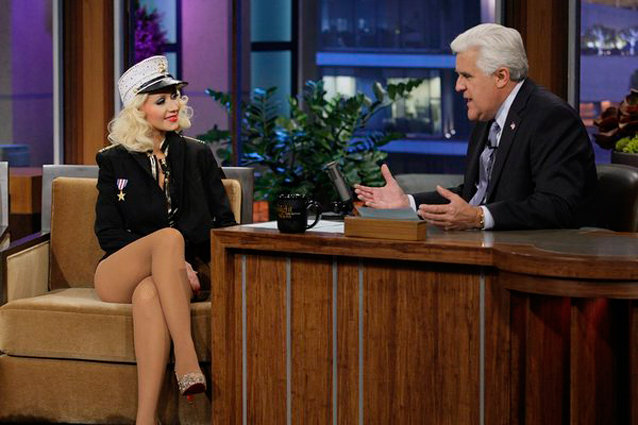 NBC
Too busy preparing Thanksgiving dinner instead of catching the late night shows? Watch Christina Aguilera's revealing performance on The Tonight Show and find out what the rest of the late night shows were thankful for this year.
Remember you can catch all the late night highlights every week right here on Hollywood.com.
Thank You for Your Service
As a tribute to the selfless men and women who serve to protect this country, Christina Aguilera wore an incredibly sexy sailor outfit that received a standing ovation from the all-military audience of The Tonight Show on Thanksgiving night. Later on, she performed the song "Candyman" from her fifth studio album, Back to Basics.
Girls Night Karaoke
How did Jimmy Fallon spend his Thanksgiving? Singing Thanksgiving-themed parodies of Katy Perry, Lorde, and Miley Cyrus songs with Rashida Jones and Carrie Underwood!
A Thanksgivukkah Pageant
The planets aligned this years for the very rare occurrence when Thanksgiving and the first night of Hanukkah happen to fall on the same day. To celebrate this once in a lifetime moment (apparently, this won't happen for another 79,000 years!), the very adorable students of Shepard Hill Elementary put on a play about it on Jimmy Kimmel Live!
#CandyPatinkin
A very special guest made a timely late night appearance to help Jimmy Fallon advance to the next level of Candy Crush.
Tracy's Troubling Thanks
To show everyone what he's thankful for, Tracy Morgan listed exactly 28 Thanksgiving-y thoughts that'll really make you think.
An All-Star Documentary
It was bound to happen: Ken Burns plans to make a documentary about Toronto Mayor Rob Ford, starring Jennifer Lawrence, Vince Vaughn, Jonah Hill, Jesse Tyler Ferguson, and Martha Stewart.
A Different Sort of Hunger Games
Instead of fighting to the death, The Hunger Games: Catching Fire star Josh Hutcherson shot some hoops with Jimmy Fallon, playing a game of H-O-R-S-E using Thanksgiving food instead of a basketball.
Walking Down Memory Lane
Having appeared on The Tonight Show many times, Garth Brooks was treated to a retrospective reel of his past visits when he sat down to chat with Jay Leno on Wednesday.