Leanne's Spoiler List: A Fiery 'Pretty Little Liars' Premiere, A Badass Back On 'Revenge'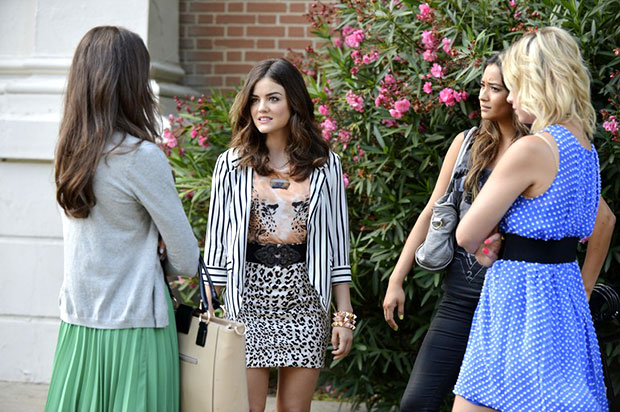 There are currently three things that are making me ridiculously happy: 1) Peppermint Coffee. 2) Bundling up in sparkly scarves and 3) Obsessing about what's coming up next on our favorite shows. Okay, maybe that last one is a regular thing, but TV scoop never ceases to make me smile. While some shows are now hibernating in their holiday hiatus, others are just getting started. This week's edition of Leanne's List features a fun mix of immediate teasers and long-term spoilers to bring you TV-induced cheer. I screened the winter premiere of Pretty Little Liars and wrote down all the best oh-em-gee moments, chatted with a Revenge hunk about the upcoming action-packed drama, and gushed with Candice Accola on The Vampire Diaries' newest dilemma. Plus, get all the scoop on Scandal's future fiascos and American Horror Story: Asylum's terrifying fall finale!
1. Pretty Little Liars: A Fiery Premiere
I literally just finished watching the winter premiere of Pretty Little Liars and all I can say is: That. Was. A-mazing! Not only is the episode totally worth the wait, but it answers a bunch of your burning questions that are left over from the haunted Halloween special. Who did Aria stab on the murder train? Is Mr. Montgomery a giant creep? Will Toby take his shirt off? I'll go ahead and answer that last one with an enthusiastic, yes! The episode—appropriately entitled, "She's Better Now"—opens with Mona creeping on her former bestie the night before she returns to Rosewood High. That's right y'all. Little Miss Straight-Jacket is returning to the judgmental halls of high school and she's armed with a plan to win back the affection of her peers. But will the Liars see through her?
The episode also introduces us to a few new faces—hello Grandma Marin!—and highlights a few oldies that we'd definitely like to forget. There's some kind of a marathon going on which is the perfect excuse to distract the entire town while our fearless foursome break into yet another locked room of secrets. (Side-Note: make sure you have a bobby pin handy for said break-in, a paper clip just won't do.) Lastly, be prepared to witness Toby do some very intense A-type things, but overall the episode is a blast. Literally.
Wanna know more about what's coming up on Pretty Little Liars? Of course you do! Later this week I'm chatting with Executive Producer Oliver Goldstick to get all the A-wesome scoop on what's to come later this season. Leave your questions for your favorite little liar in the comments below and I'll be sure to pass them along!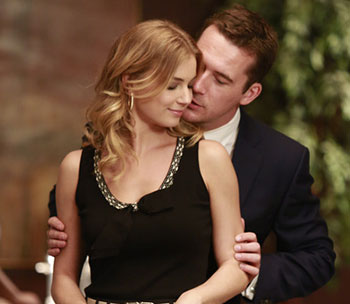 2. Revenge: The Badass is Back!
This second season of Revenge has been an interesting one. Any show with a phenomenally kick-ass first season has a difficult time in their sophomore slump, but according to new on-screen hottie Barry Sloane, there is plenty of drama headed our way in January. For the less-obsessed: Sloane plays Aidan, Emily's new beyond-attractive love interest and future boyfriend to countless swooning couch-potatoes across the country. Sloane was kind enough to dish on the drama's newest love-square, but today we're talking action. Emily and Aidan were both trained to exact their plans of revenge under their ruthless Japanese mentor Satoshi Takeda, and Sloane says we haven't seen the last of Takeda's influence. "I think there's a lot more to come from Takeda… That guy and his motives are very strange."
Sloane then addresses the elephant on screen: "Obviously, there was a recast which I think is very interesting for everyone. He's made a very different type of Takeda and a very dangerous sort of enemy." [TV Vet Cary-Hiroyuki Tagawa, 62, replaced Lost's Hiroyuki Sanada when Sanada left Revenge to play the villain in The Wolverine.] Although season two has presented us with a new Takeda, Sloane warns that his influence over Emily and Aidan is still just as strong. "There's certainly going to be more about what his motives are and who he is and what he wants from the pair of them. He's done a lot for [Aidan and Emily] … So I'm sure if he's asking something of them, they're quite inclined to do it." Fingers crossed Takeda asks Emily to scissor-kick Fauxmanda in the head just for fun.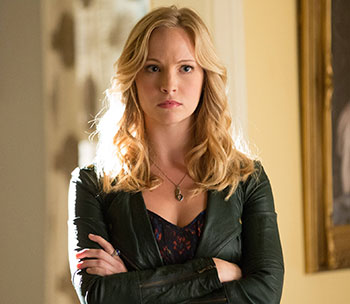 3. The Vampire Diaries: To Cure or Not to Cure?
The fact that there could possibly be a cure for vampirism has been overshadowed by Elena's transition—and continuous whining—for the majority of Season 4, but what about everyone else? Could another Mystic Falls vampire be interested in a returning to a mortal lifestyle? The perfect vampire, aka TVD star Candice Accola, reveals that her character, Caroline, has definitely thought about using the cure for herself. "Caroline and Klaus touched on it very lightly in the last episode," Accola notes. Fans will remember that before Caroline's transition way back in season one, she was an overly controlling, and slightly annoying, insecure know-it-all who was desperate for attention and praise.
Being a vampire has lead Caroline to gracefully mature and be the best version of herself, but this possible new path is something she will continue to contemplate when the show returns from its winter hiatus in January. "I think that question will thematically run throughout the next couple of episodes when we come back in January," she promises. But would Barbie Vamp really want to give up her immortality just so she could walk in the sunlight without a magic ring? Accola teases, "You'll have to watch to find out!" Elena can do what she wants, but personally I'd be super bummed to see our former Miss Mystic Falls, leave her badass lifestyle to be a wimpy human again.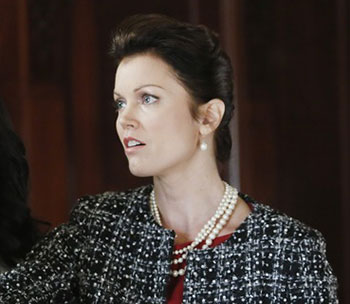 4. Scandal: First Lady Problems
Wow. This season of Scandal has been a whirlwind to say the least, and the whole attempted assassination plot isn't getting resolved any time soon. (Last time I checked, you don't recover from a shot to the head very quickly, if at all.) But that doesn't mean we'll have to wait to find out what happens with the rest of Scandal's ultra-dramatic plotlines. Dun dun duuun! To get us some answers, I chatted with Bellamy Young—who plays First Lady Mellie Grant—to find out what's coming up on the ABC drama. Young explains that although her character will continue to hold court at her husband's bedside, the voting machine conspiracy she's involved in will get even more complicated.
"What people have been calling the DC5—the whole election-rigging storyline—will really start to play out and just get so complicated and so surprising," Young teases. We'll get some answers as to how these people came together, but in true Scandal fashion, that'll only lead to more questions. Young was kind enough to present us with some examples: "Is it or is it not related to the assassination plot? Who's going to be really left accountable for all of it—either together or singly?" But there's one thing we do know for sure: this week's episode, "Blown Away," is definitely not one you'll want to miss.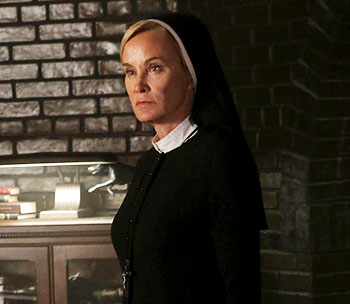 5. American Horror Story: Asylum: Oh Come All Ye Frightful
I've said it before and I'll say it again, make sure you have a buddy—preferably a big strong man—with you before you sit down to watch this week's episode, "The Coat Hanger." Major revelations will hit Briarcliff patients during tonight's fall finale—in both past, and present. Be prepared for some miraculous resurrections because we'll see the return of characters you thought were gone for good.
Horror fans will also receive some key insight into those little green men. In fact, those LGM's (not nearly as cute as the ones in Toy Story bee tee dubs) will lead to a very unlikely duo teaming up. Oh and did I forget to mention that one of our leading ladies is preggers? Lastly, expect to see another Briarcliff resident done up like a classic Christmas figure — in the most haunting and horrifying way possible. Merry (early) Christmas, folks!
Are you excited for Emily and Aidan to get closer? Think that Caroline should used this fabled cure for vampirism? Scared for the fall finale of AHS:Asylum? Have and questions for what's coming up on Pretty Little Liars? Tell me everything in the comments below!
Follow Leanne on Twitter @LeanneAguilera
—Additional reporting by Jean Bentley, Kelsea Stahler and Shaunna Murphy
[Photo Credit: ABC (2); ABC Family; The CW; FX]
MORE:
Leanne's Spoiler List: 'Gossip Girl' Flashbacks and Fatalities, 'Dexter' Makes His Choice
Leanne's Spoiler List: 'True Blood' Wants Fresh Meat, 'Parenthood' Heads to Court, & More!
Leanne's Spoiler List: 'AHS: Asylum' Mommy Issues, Love and Loss on 'Dexter'

Lea Michele Calls Her Breasts 'My Prizewinners'

Kim Kardashians Best Bikini Moments (PHOTOS)