Leanne's Spoiler List: Season 2 Secrets from 'Smash,' 'Vampire Diaries' Boss Talks Delena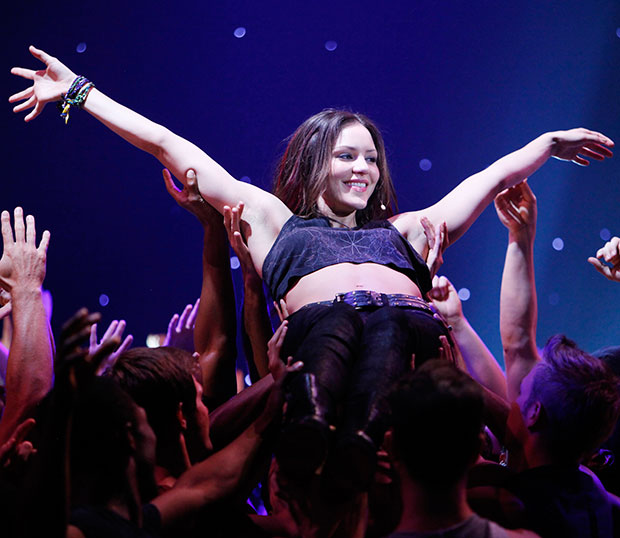 Happy New Year TV lovers! Since it's a fresh start, let me reintroduce myself: My name is Leanne, (She awkwardly curtsies, stumbles, and falls. Wow, smooth.) I'm completely obsessed with all things television-related and I'm thrilled to continue spoiling you all with what's coming up on your favorite shows! So here's how it's going to work: Every Wednesday, I'll post a short but oh-so sweet list of all the spoilers you absolutely need to know. Every show will get their time to shine, but if you really want to hear scoop about a particular series, find me on Twitter (@LeanneAguilera) and use the hashtag #LeannesList to tweet a question about your favorite show. Or if you're too lazy to open another window on your desktop, just place your requests in the comments below. Voila! So easy right?
Now that we're slowly but surely becoming cyber soulmates, let's get started! In the first 2013 edition of Leanne's Spoiler List I'm dishing about the oh-so hot brand new characters you'll be meeting in season two premiere of Smash and revealing a deeper peak into Elena's sired mind from The Vampire Dairies boss Julie Plec. I also sweet-talked my way into watching the winter premieres of White Collar, Switched at Birth, and House of Lies and now I'm sharing all the goods about your favorite characters. So sit back, relax, and get ready for a new year filled with fun reviews and exclusive spoilers from yours truly.
1. Smash: A Dashing New Duo!
Some of you know I might have a teeny tiny crush on a show called Glee, so you can imagine how much I absolutely love NBC's racy, innovative, and infectiously fun musical drama Smash! The season two premiere is still a month away, (Feb. 5!) but lucky for you Broadway lovers, I asked Santa for a sneak peek and I was very good this year! The first episode back is a whopping two hours long, and it is packed to the brim with new characters, thrilling musical numbers, and so many twists and turns that you'll definitely need a neck brace when it's done.
GALLERY: 10 Best (and 5 Worst) TV Couples of 2012
Here's what I can spill about the episode: Dev is officially out of the picture and so far there is absolutely no sign of Julia's drone of a son Leo. (Cue the applause please!) We get to meet two new fellas, Jimmy and Kyle, who are beyond talented and of course — in true Smash fashion — they're definitely easy on the eyes. Think of this dynamic playwriting duo as the new Julia and Tom. Kyle writes the book, and Jimmy uses his swoon-worthy voice and musical skills to create the songs. While the Marilyn Musical Bombshell is caught in yet another pre-production snafu, Karen discovers the newbies in a bar and is instantly entranced by their powerful ballads and unique sound. There is only one problem—Jimmy (the so-hot-it-hurts one) has a massive chip on his shoulder and doesn't want Karen (aka "Princess") to help him and his partner achieve their dreams. Not to worry: Karen is determined to help their Broadway-bound show—whether they like it or not. Looks like Karen's got herself a new beau to crush on!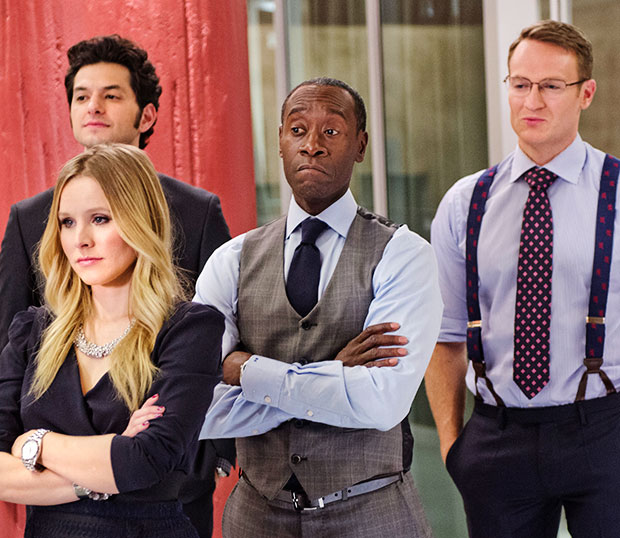 2. House of Lies: Drunk and Delusional
If you're not watching Showtime's comedy House of Lies, you should probably seriously reevaluate your DVR schedule because this show is hilarious, witty, and most importantly, it has Kristen Bell! (Let's all take a minute to relive the wonderment that is the Ellen/Kristen sloth video.) Now that's were all in an amazing mood, let's just dive straight into House of Lies season two scoop. (It premieres Jan. 13, bee tee dubs).
Jeannie is now back from a paid leave of absence from work. Remember that whole sleeping with her boss thing? Well, now she's got a bigger problem: What the heck happened the night she got wasted with Marty and completely blacked out? It turns out Marty doesn't remember their drunken night of debauchery either. Luckily, Jeannie begins to have flashbacks from their interesting (and bloody) night, but the last 30 seconds of the episode are definitely something that you don't want to miss. Oh, and fun fact: Clyde has not one but two girlfriends! That's right: Claude, our favorite smooth talker, is currently in a Ménage à trois relationship and invites Marty to join the festivities. Of course, I can't reveal to you what Marty chooses, but I can tell you that his reaction is priceless. What about Doug, you ask? Welp, Doug makes a complete and total fool of himself in front of a very important client. Yet again.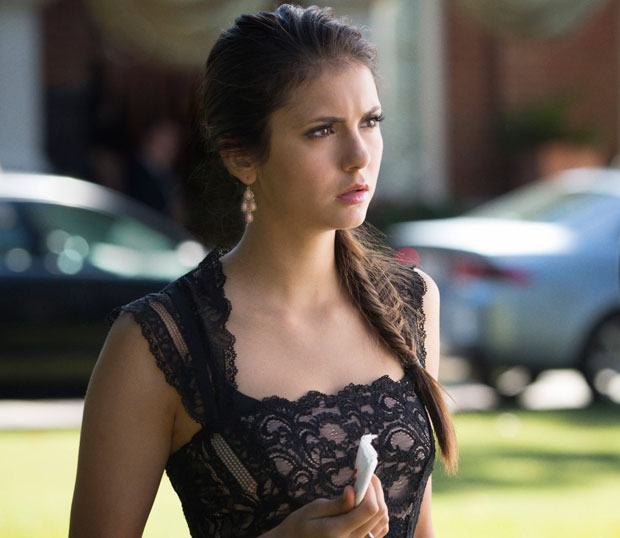 3. The Vampire Diaries: Sired Vampire Girl Problems
Whenever The Vampire Diaries is on a hiatus, life seems bleak, empty, and fang-free. Sigh. Luckily for all you Mystic Falls lovers out there, I chatted with the all-knowing TVD showrunner Julie Plec to help curb your bloodlust until the drama returns Jan. 17. Even though we saw the rage/devastation when Stefan learned of Elena and Damon's recent under-the-sheets activities, Plec reveals that Elena's love triangle between the two Salvatore brothers is far from over. "Elena's mindset is basically a combination of feeling a sense of loss of not being able to be around Damon and also this profound sense of guilt for how much she's hurt Stefan." Don't forget about the third man in her life, though: her brother, Jeremy. "Equal to that, a protectiveness of Jeremy," Plec adds. "She's feeling very unsettled that she's not there where he is in helping him go through the motions to uncover the rest of his hunter marks. So she's got a lot that she's concerned about." Our heroine will never lead a normal high school senior life, but then again, she is a vampire.
GALLERY: TV's Most Infuriating Third Wheels
But about that Damon situation: Is Elena ever going to question the sire bond, or is she dead set that her love for Damon is the real deal? Plec answers, "In the midst of all of it, she's still wondering, are these [true] feelings she's feeling? They feel so real. What is going on with me?" Looks like we're going to have to wait a few weeks to find out, but head on down to the comments with your speculations! Is it just the sire bond messing with her head, or does Elena truly love Damon?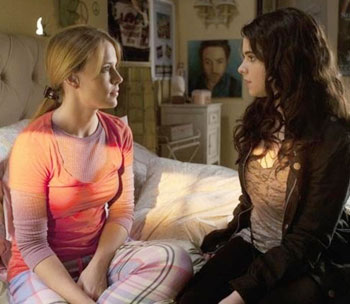 4. Switched at Birth: Gifts Galore!
After what seemed like the longest season one in the history of television (I might be exaggerating just a tad), Switched at Birth returns Jan. 7 with a brand new season and a whole lot of fun! I've already witnessed the amazingness of the season two premiere and I am happy to report that fans will not be disappointed. When we last saw our two families, Angelo was awarded with a $5 million settlement which was basically the court's way of saying, "This is really awkward and we're really sorry that the hospital switched your two daughters. So here's a huge pile of money to make up for it." So, what's a fella to do with all that cash? Shower everyone with gifts, that's what! A cappuccino maker, a telescope, and a Rolex watch are just a few of the pricey items that Angelo gives the family to show his love. But the coolest present of all is definitely Daphne's.
GALLERY: Twist! TV's Best (and Worst) Game Changers
When I was on the Switched at Birth set last month, the lovely Katie Leclerc was kind enough to spill the details to me and now I'm going to do the same for you: "Daphne gets a food truck!" Leclerc exclaims. The actress reveals that although Daphne has an intense passion for cooking, owning a food truck is a huge challenge and commitment for the high schooler. "Now she has to learn about business and has to learn about how her business affects other businesses and different communities and things like that. But she figures it out and she really grows up. She really just thrives in that environment and it's good to see that," she says. Business savvy is great and all, but with food trucks it's all about the tasty treats! So what will Miss Daphne be dishing up? Leclerc smiles. "The first time she takes it out she does waffles, but it turns out that she is going to do tacos… but with a twist," she spills. Sounds delicious to me!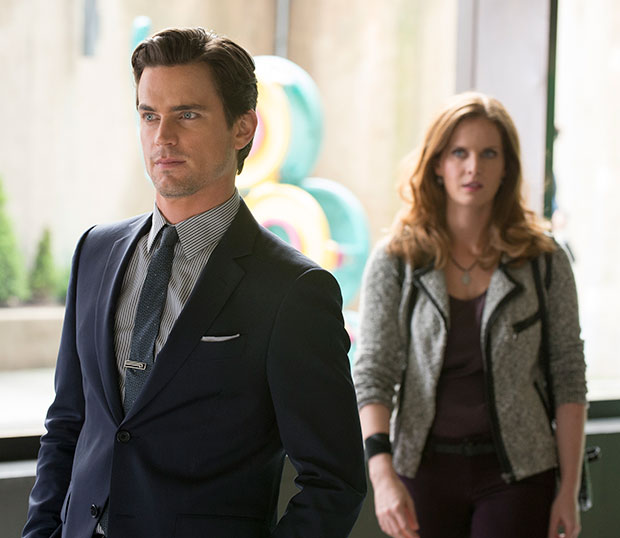 5. Comment Question: Dale Sullivan asked, "Got anything new on "White Collar"?"
Well my dear Dale, I just finished watching the mid-season premiere of White Collar and let me confess something to you: I have a HUGE crush on Matt Bomer. Is that spoilery enough for you? Okay, fine. Let's get to it! The episode, "Family Business" — which premieres on Jan. 22 — is a total Marry Poppins (practically perfect in every way!) When we last saw our handsome hero, Neal discovered in a shocking twist that Sam is actually his father. Dun dun duuun! Now fans will pick up right where we left off and in the first three minutes you'll learn everything you ever wanted to know about our MIA daddy, including the backstory behind the picture Neal has from when he was a little boy.
Golden Globes 2013: Worst TV Snubs
To find the truth behind his father's criminal past, Neal must go undercover into the spirited world of counterfeit whiskey (pun intended). So get excited, White Collar fans, because the only thing better than a shirtless Neal is a drunk one with a sneaky plan. We already knew that our blue-eyed badass was incredible at a lot of things, but you can now add professional alcohol replicator to that list. After a fiery climax (yup that's a big clue), Neal makes the tough decision about whether or not he wants his dad to be a part of his life.
Are you excited to meet Smash's dashing new man? Counting down the days to get your Delena and Stelena fix? Intrigued by the new season of House of Lies? Tell me everything in the comments below!
Follow Leanne on Twitter @LeanneAguilera
[Photo Credit: USA, The CW, ABC Family, NBC, Showtime]
MORE:
Leanne's Spoiler List: Seth Gabel Spills 'Arrow' Secrets, 'The Vampire Diaries' Gets Darker
Leanne's Spoiler List: A Fiery 'Pretty Little Liars' Premiere, A Badass Back On 'Revenge'
Leanne's Spoiler List: 'Gossip Girl' Flashbacks and Fatalities, 'Dexter' Makes His Choice

'American Idol' Winner Hospitalized After Head-On Car Crash

20 Hottest Bikini Bodies of 2012: Katy Perry, Miley and More!