Leanne's Spoiler List: Thrills and Kills on 'Pretty Little Liars', 'Glee' Adds a New Twist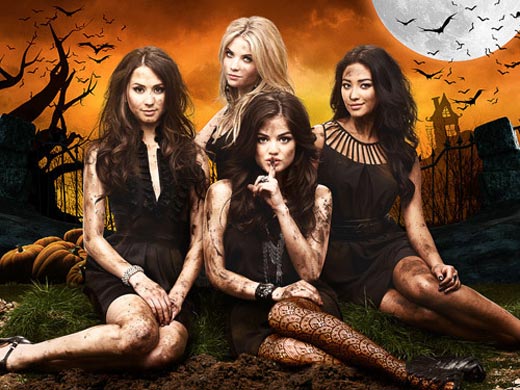 You can definitely feel the Halloween spirit in the air. The breeze is crisp, the candy corn is addicting, and your one friendly friend is stressing you out because she says that your costume isn't "cute" enough. (Sorry, that last part may have only applied to me.) There is no denying that All Hallows' Eve is quickly approaching and this week's list features pillowcases full of awesomely spooky spoilers. Trust me, you're going to want to put Hocus Pocus on pause for just a minute to read these. There is a death coming to Rosewood, and I've got details on which of the Pretty Little Liars won't survive the Halloween episode. One of our favorite American Horror Story stars dishes on "disturbing" changes in the upcoming season and I've got a rundown of this week's Vampire Diaries featuring a blood-thirsty baby vamp. Plus, I'm passing out fun-sized scoop on Glee, Arrow and Girls! Trick or Treat, TV lovers!
1. Pretty Little Liars: All Aboard the Crazy Train!
Pretty Little Liars has definitely got it all: Hot boys? Oh yeah. Drool-worthy fashion? Uh-huh. An insanely mysterious Halloween special that will kill off one of the main characters? Yep! To help fill you in for all the craziness of next week's 'A' Train, I caught up with the gorgeous—and not at all evil in real life—Sasha Pieterse. The actress reveals it's impossible to have a spooky episode without the devilish Ali DiLaurentis. She smiles, "Oh you're definitely going to be seeing her in the Halloween episode. It's kind of exciting because we see a new suspect." This suspect that Pieterse is referring to is someone that had a secret past with Ali. Someone that we would have never thought was close with the girl we love to hate.
"It's really exciting and kind of bizarre and very on the creepy side. It's so funny how Ali dominates everyone she comes in contact to." Pieterse reveals. "You will see this kind of new dimension and you look at Ali in a totally different way and it's so exciting. I can't wait for the viewers to see it and see what they think. They might hate [Ali] a little bit, but they might hate this other person more." The youngest of the cast (16!) also told me that fans are going to be "absolutely shocked" when they learn who dies at the episode's end. "They kind of gave us a heads up that someone would die but I did not think it would be that person. I can't tell you anything about it, but I can tell you that there is a close call and it wasn't just this person that was in danger." Yikes! Okay, start making your predictions in the comments below and look out for more Pretty Little Liars scoop as the episode gets closer!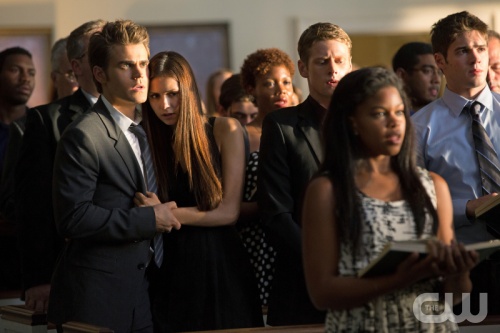 2. The Vampire Diaries: Baby Vamp and Barbie Vamp
There's a new problem in Mystic Falls, but luckily this one is prettier than most. As you all should know, Elena (Nina Dobrev) is now a baby vampire, which means that everything is heightened: her compassion, her senses—heck, even her sex drive! (Get excited for an oh-so steamy scene Stelena fans…) But what is heightened most of all? Her thirst for blood. It seems that Elena's doppelganger qualities are affecting her ability to process all types of blood including animal, bagged and even a fellow vampire's. Stefan (Paul Wesley) and Damon (Ian Somerhalder) are of course doing their best to help their lady have the best possible newborn years, but let's be honest, sometimes a girl just needs her best friend. That's right, Caroline (aka the reigning Miss Mystic Falls) will be there to guide Elena when she definitely needs it the most. P.S. Pissed off and hungry Elena is kind of a badass…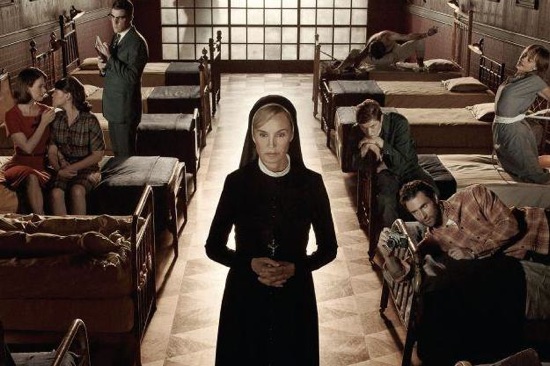 3. American Horror Story: Asylum: From Jewels to Jesus
Last season's house featured an array of tormented souls, but no one pulled on my heartstrings quite like Nora, the 1920's beauty who lost her baby. Luckily Lily Rabe is back in the second season of American Horror Story, but she told me that Nora and her new character Sister Mary Eunice have absolutely nothing in common. "They're so totally different, there's nothing similar. I mean to begin with I'm in a habit and a wimple everyday instead of jewels and fabulous hair and makeup and gorgeous dresses." Rabe continues, "Nora was so jaded and depressed and desperate and miserable and had and Mary Eunice has a sort of openness and an innocence and naivety." Although the last season of AHS was truly terrifying, Rabe wants viewers to know that they've really stepped it up this year. "It feels more psychologically disturbing." Great. Now that we just stopped having nightmares about Rubberman, we're getting a whole new set of horrifying images to keep us up at night.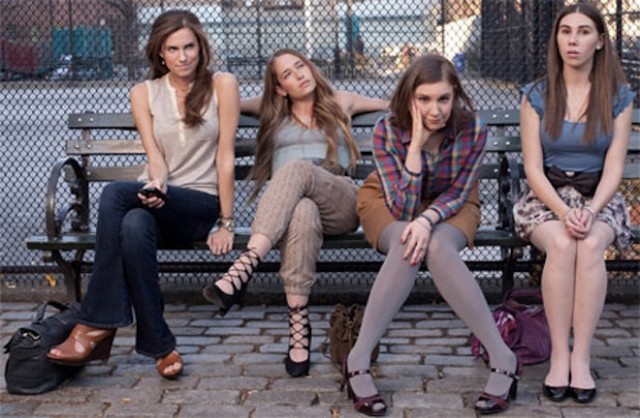 4. Girls: The Truth About Lena
The past weekend I caught up with The New Normal's abnormally amazing star Andrew Rannells and in between my fangirl giggles (I'm a huge Book of Mormon fan), I got an update on the highly-anticipated second season of Girls. When we last left off, Hannah invited her now gay ex-boyfriend Elijah to move in with her, and this sure-to-be destructive plan is still a go. "I'm in like the first half of the second season and I was very grateful that Lena included me. I had to move out [to Los Angeles] from New York so I could only do so many," he said. Rest assured, Girls fans, in this small but precious amount of time you will get to see plenty of hilarious roomie squabbles—especially when Elijah decides to "cute-up" Hannah's apartment.
Now, let's get to the hard-hitting, why-I-became-a-journalist type of questions: Is hanging out with Lena Dunham as amazing as it seems? "Absolutely!" Rannells gushed. "It is one hundred percent as amazing as it seems. Lena and [Executive Producers] Jenny Konner and Judd [Apatow] it's like it's all as magical and as fantastic as you would want it to be… I'm thrilled that I get to be a part of that because I love this girl so much. I love Lena." Phew! That's beyond comforting to know. I also made sure to mention to Rannells the new Sex and The City craze that people are applying to Dunham's uber-realistic HBO hit. Which girl from Girls are you? "Aww s**t, probably a Hannah," he smiles. "I mean it's so funny with the Sex and The City thing, everyone used to say like, 'I'm really a Carrie,' which is always such bulls**t, but yeah I think legitimately I'm probably more of a Hannah." Good to know! Hmm… I'm more of a Marnie with a little dash of Shoshanna, minus the crack, of course.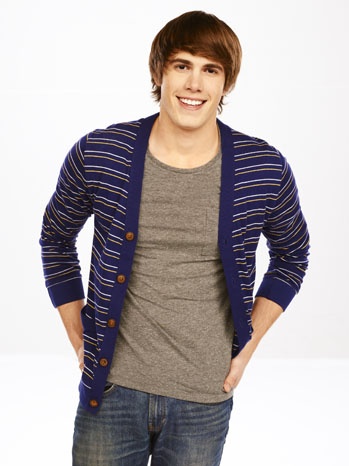 5. Glee: Oh Brother, Another Newbie?
After a heartbreaking last episode, I was excited to get some Glee news that didn't make me want to devour a pint of ice cream and throw a pillow at my flat screen. So, after ordering a sturdier and less breakable TV from Amazon, I headed over to the American Horror Story: Asylum premiere this weekend and met Glee's newest newbie, Blake Jenner. Fans of The Glee Project already know that Jenner is a triple-threat and is as sweet as he is talented, but let's get to know his character shall we? "Well, I'm playing Ryder Lynn. He's a football player and he's a really, really great athlete but he's kind of struggling in school." Jenner reveals, "He does have kind of a secret…Ryder is dyslexic so that's something that has been affecting him his entire life and it's been an challenge for him. So the glee club is going to find out and then help him cope with that."
For those of you wondering how Ryder will be welcomed in the New Directions so quickly, relax. I've got you covered. He explains, "He was kind of thrown into this world of Glee. It was kind of an accident. It's not something that he was actively perusing, but they hear his voice and kind of bring him into the mix." Hmm. That sounds like another Glee character that we all know and love. Jenner laughs, "Yes, very kind of Finn-esque." Speaking of Finn (Cory Monteith), Ryan Murphy recently tweeted that Jenner and Monteith would be sharing quite a few scenes together, but there is also another bromance brewing this fall. The actor was tight-lipped saying, "He and Jake have a lot in common so that's been really nice for him." Besides being oh-so cute, I wonder if these boys also share the fact that they're both related to graduated Glee club members? Hey, I'm just speculating on this one, but he does looks a lot like Finn and it seems like something that would fit in with the McKinley High madness…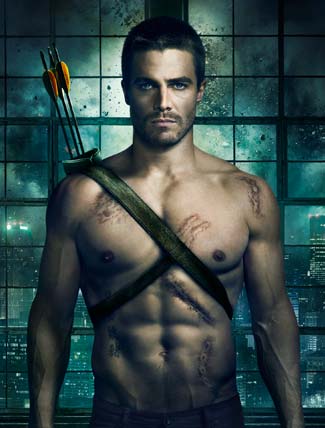 6. Arrow: New Sparks are Flying!
Did episode one have you worried that Laurel (Katie Cassidy) was the only apple of Tommy's (Colin Donnell) eye? That a Tommy-Laurel-Oliver triangle would dominate the romantic aspect of this show? Well, don't worry, because when we visited the set of Arrow last month, not only did Stephen Amell (Oliver) tease chemistry between Oliver and Helena Bertinelli/The Huntress (Jessica de Gouw), who will be showing up very soon, but we received confirmation that in episode 106, sparks will fly between Tommy and Oliver's little sister, Thea! "I have a very nice — a nice few scenes with Tommy," Willa Holland laughed. There's a nice little arc between us. A little relationship spark, to say the least. It's gonna be interesting. You guys enjoy that one." Donnell seemed particularly excited to explore this budding relationship. "She's gotten really hot in the past five years," he said. "They grew up together in the same way that she and her brother did. So, there is some really interesting stuff — it goes back to seeing the good side of what Tommy is. I think people are going to be interested in seeing the relationship develop between the two of them." Too bad Oliver's probably going to be pissed!
Do you think that Ryder and Finn are somehow related? Who do you think will die on Pretty Little Liars? Intrigued to see a full-fledged Vampire Elena? Tell me everything in the comments below!
Follow Leanne on Twitter @LeanneAguilera
Additional reporting by Shaunna Murphy.
[Photo Credit: ABC, Oxygen, The CW, FX, HBO]
More:
Leanne's Spoiler List: 'Smash' Will Shake Things Up, 'Vampire Diaries' Gets Intense
Leanne's Spoiler List: Is There a New Love Triangle on 'The Vampire Diaries'?
Leanne's Spoiler List: Will There Be Another Death on 'Revenge'?
From Our Partners:

NY Comic-Con: 34 Crazy Costumes
(Moviefone)

(Moviefone)