Leanne's Spoiler List: Will There Be Another Death on 'Revenge'?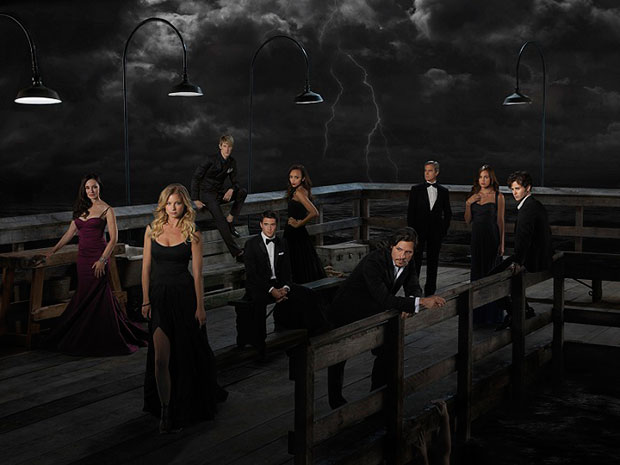 It's Wednesday! Do you know what that means? It's the day to spoil yourself with some TV scoop! Leanne Fun-Fact: I like to motivate myself to do work with little treats. (And yes I do realize that makes me sound like a malti-poo trying to learn new tricks.) Six amazingly awesome spoilers got me two bowls of Special K, 3 pieces of turkey bacon, a handful of popcorn, 5 peanut butter M&M's and, like, 3 pieces of licorice. (Name it.) So what's on the menu list today? I've got scoop on everything you can expect from Sunday's sinfully sweet Revenge premiere, a Glee shipper-update from a yummy new cast member, and delicious details on the new season of Mad Men. Plus some exclusive bites from Family Guy, Scandal, and The Mindy Project! Oh and you get 27 brownie points if you can find the Mean Girls reference I've Easter egged in here. So go ahead, treat yo' self!
1. Revenge: Girl, Look at that Body!
I chatted with the wonderful Christa B. Allen Tuesday afternoon about what to expect during the Season 2 premiere. And, basically, I learned that this Sunday's episode is filled to the brim with all kinds of crazy. When we last saw Charlotte, she was lying unconscious on her bed after having about 15 pills too many, so many fans are dying to know when the fate of their favorite Grayson (or should I say Clarke?) will be revealed. Allen was quick answers, "We'll know the outcome in episode one. We'll know this Sunday." Although many cliffhangers will be tackled during the one-hour drama, viewers can expect to be left with at least twice as many questions. "Season 2 picks up pretty much right where we left off, but it sets it up the same way as in Season 1," Allen says. "We sort of show you how things end up and then throughout the season we'll kind of explain how we got there. Not as vague as we did in Season 1, but there is a very important tidbit that you see in episode one that we'll have to explain."
Luckily I am really good at these guessing games, because when I suggested a funeral, Allen confirmed, "Oh yes, you do see a body." Keeping consistent with last year, creator Mike Kelley is keeping things secret but hopefully the explanation behind this "tidbit" is revealed by the season's half-way point (episode 13) and we won't have to wait until May. The 20-year-old agrees: "Mike Kelley might drag it out to the end of the season. I'm not sure. This one is too big of a reveal in the first episode, [but] I feel like we have to explain it in the first 13." Check back at Hollywood.com this Friday for more details on what's coming up this season on Revenge, including answers on Amanda's (hopefully fake) baby bump, scoop on Emily's (Emily VanCamp), mother and whether or not Charlotte will learn who her real half-sister is!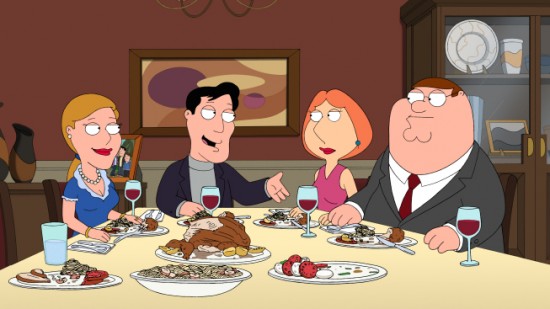 2. Family Guy: May The Odds be Ever in Your Favor!
Season 11 of Family Guy premieres this Sunday and to help get you excited for a brand new year of Peter's (Seth MacFarlane) shenanigans, I reached out to Executive Producer/Head Honcho Steve Callaghan for some scoop. He reveals, "One of my favorite highlights from the episode involves two of our characters momentarily swapping voices." Although we've seen voice-swapping moments like this in Family Guy's past, I've seen the episode and believe me when I say, this cutaway hits it out of the park! (Ahem, that was a hint.)
Callaghan explains that the episode centers on a quest to climb Mount Everest and, once again, the plot is predictably unpredictable. "During the Griffins' Everest trek, they fall victim to a storm which forces them to takes some very extreme measures to survive." How extreme? So extreme, that Callaghan says the moment marks "possibly a first for a network sitcom." Boom! Gauntlet thrown! Your move, ABC. The showrunner also teased that the premiere spotlights one of my favorite Hunger Games stars. Callaghan says, "This episode also features a guest role played by Elizabeth Banks, who plays the uber-competitive wife of Lois' ex-boyfriend." And after seeing it, I can safely say that she and Effie Trinket would definitely not get along.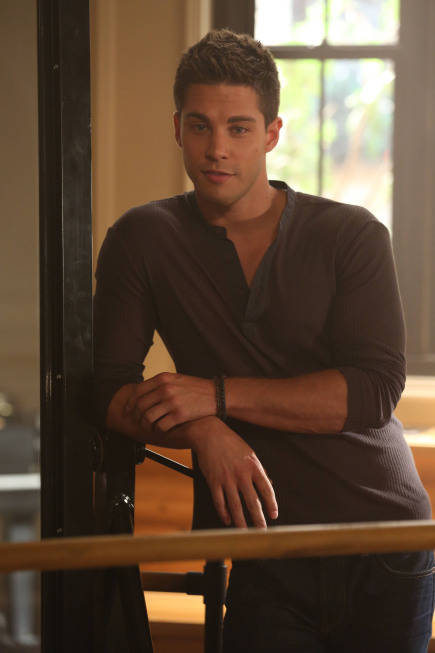 3. Glee: Team Finchel or Team Brodchel?!
A few weeks ago, (before I started