Leanne's Spoiler List: The Ladies Take Control on 'Game of Thrones,' The Ultimate Revenge on 'Revolution' and More!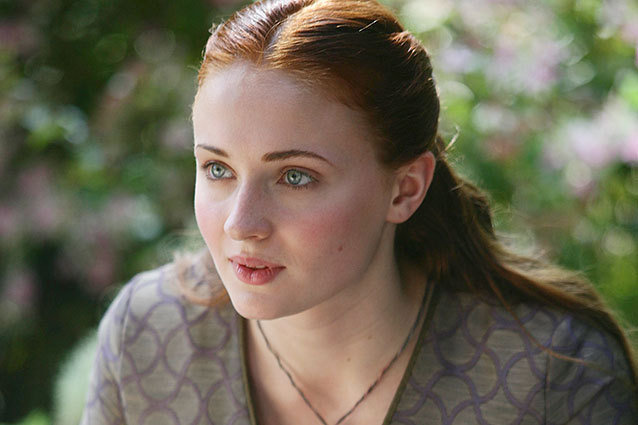 This week's edition of Leanne's Spoiler List features five fabulous shows that will make you giggle with excitement and gasp from all the amazing moments that will soon flood your TV screens. Are you ready to return to Westeros?! The stars of Game of Thrones revealed why the ladies are kicking ass and taking control in Season 3, while Revolution's Tracy Spiridakos shed light on all the upcoming darkness and drama in her quest for revenge.
The Middle's starlet Eden Sher revealed details on tonight's episode and her elaborate thoughts on a classic SNL character, while Stefania Owen teased that love is in the air on The Carrie Diaries. Plus, I've snagged details on tonight's one-of-a-kind and twitter-friendly event to honor Pysch's 100th episode. This week's list is packed to the brim with spoilers so grab a spoon and dig in to the deliciousness!
RELATED: Leanne's Spoiler List: Shameless, The Big Bang Theory, Grey's Anatomy and More!
1. Game of Thrones: Ladies Night Is in Westeros!
Though many of you reading this may swoon over the lads of Game of Thrones (Robb Stark, Jaime Lannister, sexy bastard Jon Snow, other sexy bastard Gendry, Theon Greyjoy…), the boys aren't part of the only game in this realm — old gods and the new be damned!
We've seen the first four episodes of Season 3, (subtle brag intended) and we think you'll be cheering for the ladies in no time. Newest apple of Joffrey's eye, Margaery Tyrell (former queen-to-be of Renly before he was killed off by a creepy vagina-cloud-monster), has taken quite well to life in King's Landing, and will definitely be a dynamic force to be reckoned with this season.
But it turns out that even an evil Queen Regent who effed her brother to create you can play the jealous mom card. Apparently Cersei, mother to the intolerable boy king, is none too happy with Joffrey's newest romantic development. Especially since — now, take a seat — Joffrey actually LIKES Margaery! (Wait a second, he likes anyone? Ever? Nope!). Cersei's newest distraction is actually a nice break (at least for now) for everyone's favorite ginger-potential-princess-turned-terrified-noble-prisoner.
Sansa isn't a girl anymore (and not yet a woman…), so she's learning a thing or two about the politics of noble relations under Margaery's tutelage. "Margaery and Sansa have a relationship which I think is very much a forced friendship," Sophie Turner, who plays the lovely Sansa, tells Hollywood.com.
"But a true friendship that is very sincere. It's done for political reasons… for a good end result for the Tyrells and also Sansa. Margaery treats Sansa like a little sister and she educates her, and it's lovely. It's a really nice relationship." But what will she teach her, you ask? "It's nice to see her going from a chess piece to a player," Turner teased. Yikes! Watch out, Joffrey!
RELATED: Leanne's Spoiler List: Ryan Murphy Tallks Glee, Girls and More!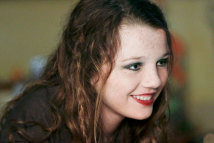 2.The Carrie Diaries: Hamsters and Hotties
You all already know how much I adore this show, so I'll keep my gushing to a minimum this week. Carrie is the perfect pre-Sex and The City teen and Sebastian is so hot it almost hurts my eyes, but without a doubt my favorite '80s lady is definitely the fiercly independent little sister with a big attitude, Dorrit. So you can imagine my delight when I got the chance to talk with the lovely Stefania Owen last week about Dorrit's budding love life.
We saw a few weeks ago that Dorrit — in her quest to find Carrie the perfect birthday present — also found a little something for herself: A dark-haired jean jacket-wearing, music store-working hunk named Miller. Although we haven't seen much from him since, in next week's episode "A First Time For Everything" Dorrit will turn to an unexpected character for relationship advice: Donna LaDonna! That's right, while Carrie is out contemplating on going all the way with Sebastian, Dorrit is looking to Connecticut's biggest skank with a heart of gold for advice on how to handle her first serious relationship with Miller.
"He is the opposite of Sebastian," Owen explains. "And I think that's what the writers wanted to have so that you have that contrast." The 15-year-old actress says that she was eager to watch Dorrit mature through a relationship. "I had a feeling it was coming, but I was surprised and excited — I'm also excited to see how it turns out," she said.
Dorrit's relationship status (figuratively speaking of course) is not the only thing that's going to change for the young Bradshaw — her dark wardrobe will also start to warm up! "The look does change as the episodes go on, and it's for certain reasons," Owen teases. "Dorrit always changes — one minute she's the worst child you could ever dream of, but in other moments she's almost the more responsible child."
And speaking of changes, here's the type of question that keeps me up at night: Where the heck did Morrissey the hamster go?! "That's what I asked!" she says. "I'm really sad because the hamster disappeared and never came back. I thought there would be so many great little scenes between Dorrit and the hamster, but I guess the hamster disappeared. Dorrit wasn't the best owner I guess." You'll always have a special place in our hearts Morrissey!
RELATED: Leanne's Spoiler List: Glee, The Vampire Diaries, Justified and More! a>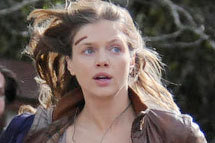 3. Revolution: RIP And Revenge
Sorry if there are any typos in this blurb, (yes, that's the super fancy name I call these things) but you have to bear with me here: I can't seem to see my computer screen clearly through my tears. How heartbreaking was that death on Monday's Revolution? After spending the first half of the season trekking across America to save her brother, Charlie and the rest of the Matheson group of good guys watched in horror as Danny saved the day by blowing up Monroe's locket of power only to get shot and killed himself. RIP, Danny, I'll miss your bright blue eyes and shiny blonde hair!
Renewed with purpose, Charlie (Tracy Spiridakos) now blames Monroe for her brother's death and will do anything to make him pay… even if that means killing him herself. "She is driven to make things right, but she doesn't want to lose her humanity in light of all the things that have happened — that's her inner struggle," Spiridakos tells Hollywood.com. "She definitely continues to be even more badass than before, but will she continue to keep that heart that she's always had. That's her journey."
And Charlie won't be alone in her quest. Exec producer Eric Kripke revealed that taking down Monroe is now the focus of the second half of the season. "It's really about facing down General Monroe," Kripke tells Hollywood.com. "If the first half of the season was just, 'Find the brother!', that was just the prologue to a much larger story, which is 'Take down the adversary!' The big bad of the season is General Monroe."
The rest of the season is going to be one big fast-paced war movie, according to Kripke. "We're really able to get into that story now, where it's these rebels who want to bring back the United States up against the evil empire which is the Monroe Republic," Kripke says. "But how do they do it in a way that lets them stick together as a family? Because, it's a family show. It's really about how the bonds of family and love and loyalty can overcome any obstacle, and can they stick together in the midst of this overwhelming and frought situation." They're already down two Matheson family members, let's hope they come out of this war with no more casualties!
RELATED: Leanne's Spoiler List: Arrow, Happy Endings and Grimm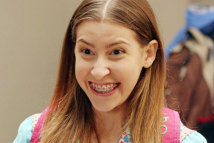 4. The Middle: Sue vs. Superstar!
If your middle name was the exact same as your first name, would you want it to be permanently displayed on your drivers license as a forever reminder of déjà vu? Yeah, me neither! So that's exactly what Sue Sue Heck is hoping to change in tonight's all-new episode of The Middle. Eden Sher — the fabulous 21-year-old who brings Sue Heck's overly enthusiastic personality to life — told me that she has a lot of hilarious moments in tonight's episode, "The Name."
"It's a lot of me popping in and out of scenes, suggesting names, and asking if those names are good, so I got to be a fun punch line," Sher explains. "A lot of the names that — of course — Sue spoke in seriousness were hilarious, and that was really fun." When I asked her to reveal some of these giggle-worthy names Sher was coy, saying, "I will say that when she gets fed up and she can't decide she just picks a name at random in this baby book, one of them is Sue — she lands on Sue."
While Sue is busy trying to find the perfect middle name, fans can get excited to see one of the world's most perfect actresses grace their TV screens. That's right, the legendary SNL vet Molly Shannon, is back in the Heck household to reprise her role of neat-freak Janet. While Shannon has perfected countless of characters over the years, my ultimate favorite has and always will be Miss Mary Katherine Gallagher.
Of course I had to ask the hard-hitting journalistic question: "What do you think would happen if Sue and Mary Katherine ever met?" And I was pleasantly surprised to learn that this is something that has crossed Sher's mind countless times! "Don't worry I've thought about this!" Sher boasted. "I feel like at first they would be like great friends and they would get a long and be very silly, but I actually think that Sue would eventually be so annoyed with Mary Katherine Gallagher," she said. "I think they might be a little bit too similar and they don't see the little things about themselves — like the overly enthusiastic things — that nobody else cares about. I think they might get a little peeved with each other."
There you have it TV lovers! If Sue Heck and Mary Katherine Gallagher ever ended up in the same room together, their combined enthusiasm would be too much for the two superstars to handle. Now we can all feel like we've learned something today!
RELATED: Leanne's Spoiler List: Smash, Revolution, Shameless etc.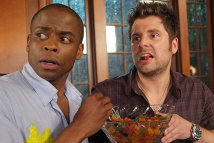 5. Psych: The 100th Episode!
Oh hey all you little Psych-o's out there! Guess what? Tonight is Pysch's 100th episode and the powers that be at USA Network are shaking things up for Gus and Shawn's exciting milestone. For the first time ever you — yes even you with that cute shirt on! — have the power to determine the ending to tonight's epically awesome episode, "100 Clues."
I've already seen the episode and here's what you need to know: The one-hour special was definitely inspired by the classic 1985 film (and now board game) Clue, because Sean and Gus are invited to a mysterious party in a historic mansion. The party is thrown by Billy Lips, a rock icon who Shawn send to prison five year ago for murder. Yikes!
When a deadly crime is committed five potential and very eccentric suspects emerge: The butler, the Groupie, the Manager, the Author, and the Host. (Unfortunately Mrs. Peacock was MIA from this episode — she was always my favorite character to play!) But who did it? That's up to you!
Fans on both coasts will have to work together to help Shawn and Gus determine who's to blame for the night's events. You can cast your votes for one of the five suspects on psych.usanetwork.com or Tweet your choices using a custom hashtag for each possible culprit (#PsychButlerDDit, #PsychGroupieDDit, #PsychManagerDDit, #PsychAuthorDDit and #PsychHostDDit) Sounds like a lot of freakin fun to me! Who do you think will commit tonight's crime? Shout out your speculations in the comments below!
How excited are you for Game of Thrones to premiere on Sunday? Who would you rather be friends with: Mary Kathering Gallagher or Sue Heck? Were you sobbing after Monday night's episode of Revolution? Tell me everything in the comments below!
Follow Leanne on Twitter @LeanneAguilera
—Additional reporting by Alicia Lutes, Sydney Bucksbaum and Shaunna Murphy
[Photo Credit: Keith Bernstein/HBO; Brownie Harris/NBC; Alan Zenuk/USA; Michael Asnell/ABC; Patrick Harbron/The CW]
---
You Might Also Like:


Topanga's Revealing Lingerie Shoot: Hello '90s!


13 Most WTF Fan Tributes