Leanne's Spoiler List: Proposal Talk on 'The Big Bang Theory,' A 'Glee' Star Plans For Graduation, and More!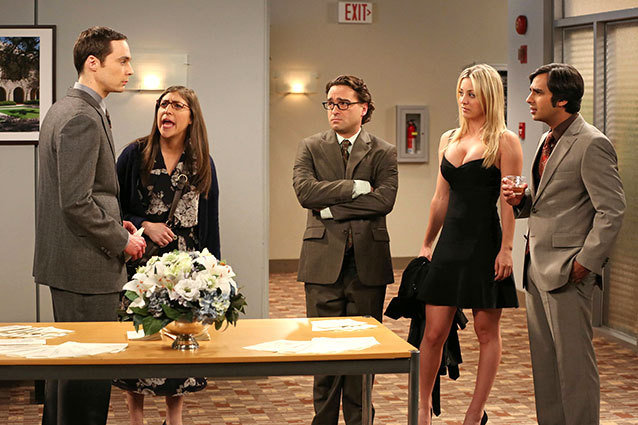 The Easter Bunny may have already hopped away, but I'm here to bring you a basket full of TV treats in this week's edition of Leanne's Spoiler List. As usual this week's lineup features handpicked intel on five stellar shows. I uncovered talk of a marriage proposal from the powers that be at The Big Bang Theory, and chatted with Arrow star (and all-around perfect human being) Stephen Amell about tonight's head-spinning episode.
Read on for tons of Shameless scoop from William H. Macy in anticipation of this week's Season 3 finale, and get excited to learn all about the hilarious antics from the always-funny Happy Endings cast. Last — but most certainly not least — I chatted with a Glee star to bring you graduation updates and sprinkled in plenty of scoop on this show's upcoming drama. Enjoy your spoiler-filled treats, TV Lovers!
RELATED: Leanne's Spoiler List: Game of Thrones Scoop!
1. The Big Bang Theory: Promotions and Proposals
Words can't describe how much I adore The Big Bang Theory — but if I had to try explain, all you'd have to know is that I spend the past weekend at WonderCon weaving in and out of the deodorant-challenged participants in search of a "Wesley Crushers" bowling t-shirt. Unfortunately my quest for the perfect-fitting tee was unsuccessful, so I happily bought a Sheldon Cooper bobblehead instead.
This week's episode features an amazing battle that once again pits our brilliant characters — and the lovely Penny — against one another. In "The Tenure Turbulence," the competition heats up as Leonard, Sheldon and Raj fight one another for the chance to receive tenure at the University. Things get even more ferocious when the girls get involved to fight for their men.
Leonard and Penny fans will absolutely adore this episode because there are some seriously sweet moments between our favorite beauty and the geek couple. This is especially apparent when Penny agrees to bring out the big guns — and by guns I mean her boobs — in order to sway the vote in her man's favor. (Side note: Can we all just take a moment to admire the perfection of Miss Kaley Cuoco? Great, thank you for your time.)
The executive producers of The Big Bang Theory told me that after this year's proposal agreement in the Valentine's Day episode, Leonard and Penny are in a perfectly happy place. Bill Prady explains, "I think it's interesting because in that episode it really took a lot of pressure off Leonard and it also I think that it's taken Penny so long to articulate this feeling of the danger of being with somebody you like."
EP Steven Molaro adds that Penny is a girl who likes to take her time when it comes to matters of the heart. "We're also talking about a character that only for the first time this year told Leonard she loves him," he says. "I don't think there's any immediate plans, but at some point down the road if there happens to be a proposal, you're right — the ball is in her court." As a card-holding Lenny fan, I'd like to first propose that we change our name to something cooler, and second I'd like to go on record as having a feeling that when Penny proposes to Leonard, it's going to be 30 minutes of televised perfection.
RELATED: Leanne's Spoiler List: Shameless, The Big Bang Theory, Grey's Anatomy and More!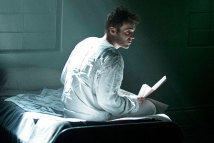 2. Arrow: Enemies and Friends
This weekend at WonderCon I also got to sit down with the devastatingly handsome Stephen Amell and stare directly into his beautifully bright blue eyes — I'm still recovering from my massive swoon-attack — and we gushed all about the exciting things coming up on Arrow. Hey, it beats binge-eating Reese's Peanut Butter Eggs (barely). In tonight's episode, "Unfinished Business," fans will be treated to a familiar face in Starling City when a woman on vertigo meets a violent death: Seth Gabel is back to reprise his role as The Count, and let's just say the drug-dealing criminal is still on Oliver's bad side.
Amell says the return of the vertigo epidemic brings up some past demons that Oliver would much rather forget. "It does bring up those memories about how it could've killed Thea. She was in a car wreck and though she just got a few bumps and bruises, she could've easily just have been in the morgue." There's a truly intense confrontation between Oliver and The Count, with our favorite hood-clad hero snarling, "I should have killed you when I had the chance."
In an interesting twist, The Count is not the only person Oliver is skeptical of. Amell — speaking in first person because he's amazing like that — explains, "I cast a suspicious eye toward Tommy when vertigo pops up in Verdant and he doesn't appreciate it at all. But I have every right to be suspicious!"
Amell continues, "We find out that Tommy has actually gone to great lengths and risked himself to protect me and to protect my secret, and that drives a big wedge between us by the end of the episode." Get excited, Arrow lovers, because Tommy is poised to take a deep, dark turn after tonight's action-packed hour.
RELATED: Leanne's Spoiler List: Ryan Murphy Tallks Glee, Girls and More!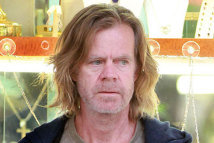 3. Shameless: Fake Goodbyes and Real-Life Threats
After 11 laughter-inducing yet emotionally charged episodes, it pains me to say it's time to once again say goodbye to the Gallaghers in this week's Shameless season finale. Many many moons ago, I chatted with William H. Macy about this phenomenal final episode and now I can finally fill you in on all the deets. When asked which child Frank is probably most proud of, I was excited and surprised to learn Macy's answer. "I think that Frank knows that Lip has an extraordinary brain," he said.
Fans will get to witness these two alpha males share a lot of screen time in this week's episode, "Survival of the Fittest." After taking the rap for Carl in their father/son bonding heist, Frank's unexpected kindness causes Lip to let down him impenetrable emotional guard and the two share some unexpectedly sweet moments. However, all of this heartwarming yet hilarious bonding will come to a halt when Frank's health takes a turn for the terrible.
Macy explains, "[Frank] finally has to pay the piper for years of self-abuse; that's really dramatic." Well it's about damn time — he's been drinking like there's no tomorrow for decades! Despite all of the cruelties Frank has put his family through, the Gallaghers are still emotionally distraught to see their pathetic patriarch in the hospital.
In a truly touching scene, fans will get a sense of déjà vu when Carl shaves off Frank's luscious locks. Macy explained that he had a strong sense of anxiety before this scene because Ethan Cutkosky — the young actor who plays Carl — kept messing up his lines in rehearsal. Macy expressed his frustrations because they only had one chance to get the scene right.
"We cut off my hair in the show and [Ethan] did it. We have a couple of lines and I said 'Run the lines with me,' and he blew the line. I said 'Come on,' and he blew it again. He kept doing it over and over. I finally grabbed him by the collar and I said, 'They're about to shave my head, you will get this f**king line or I will kill you.'" Macy adds with a laugh, "It's funny how life imitates art." Note to self: Do not piss off William H. Macy. Ever.
RELATED: Leanne's Spoiler List: Glee, The Vampire Diaries, Justified and More! a>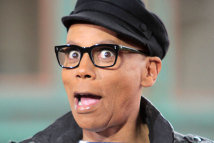 4. Happy Endings: Sister vs. Sister
Last week I ooh-ed and aah-ed over all the amahzing reasons as to why Happy Endings is the new TGIF, and this week is going to be especially wonderful. Lemme put it this way: What's better then a cat fight? Answer: A sister bitch-fit that delves into years of repressed animosity, s**t-talking, and secrets. Add in a snarky hairdresser and you've got the perfect episode.
RuPaul guest stars in an all-new Happy Endings this Friday as Jane and Alex's long-time hairstylist and sister psychiatrist. For years the Kerkocich girls have been bitching about one another whenever they get their hair did, so when Max decides to take a spin in RuPaul's chair, he learns all of their secrets and his big mouth nearly ignites World War III.
I recently visited the Happy Endings set and chatted with the fantastically funny Adam Pally about "The Incident." Pally explains, "Basically as you can see Max is having hair trouble this year. He's having trouble finding a style that suits him … so he goes to Jane and Alex's stylist and they hit it off." The actor says RuPaul was a phenomenal addition to the Happy Endings family. "RuPaul was great He was being really funny and hilarious and we were improvising and it was so much fun." Make sure to you all tune into (or at least DVR) the double-dose of Happy Endings this Friday at 8 PM!
RELATED: Leanne's Spoiler List: Arrow, Happy Endings and Grimm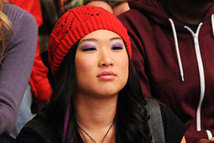 5. Glee: A New New Yorker?
The year a pack of newbies have taken over the McKinley side of Glee, and while I adore their fresh new energy, I sometimes can't help but get a little peeved at the fact that Glee originals Tina, Brittany, and Artie have been put on the back burner in their senior year. Of the ferocious five that started it all, I feel like Tina is the character that has never really gotten the time to shine, so I made sure to catch up with Miss Cohen-Chang's off screen counterpart Jenna Ushkowitz a few weeks ago to talk about life after Lima.
Earlier this year it was established that Tina's dream is to become a singer and while some may think she doesn't have what it takes (Ahem, Brittany…) Ushkowitz is confident that her character could make it. But the question remains: Is Tina a New York singer or an L.A. singer? The actress answered immediately, saying,"I think she's definitely more of New York singer. I would love to see her pursue her dreams and do that." Eeek! So would I!
The Glee original says that she's eager to find out Tina's fate. "I don't know what the writers have in mind, so I'm excited to see what happens," she says with a smile. One thing Ushkowitz knows for sure is she'd love to see Tina join in on the NYC side of Glee. "She cares about [singing] so much and she really loves that glee club, so I hope to see her try and move to New York." How do you think Tina would fit in with the New York crowd? Sing your thoughts in the comments below!
Bonus Glee Scoop: When our beloved show returns next week, a terrifying event will shake the halls for McKinley and each of the New Direction-ers will have a different yet equally serious reaction. Let's just say that the episode's title, "Shooting Star," should give you a very clear indication of what's to come.
In the following episode, "Sweet Dreams," prepare to say "Hello gorgeous!" to Rachel Berry because this is the week the NYC gang will return. Not only does Rachel's relationship with Shelby drastically improve — it's even better then the time Shelby made her Lady Gaga costume! — Finchel fans will get an oh-so sweet conversation that will make you blush, swoon, sigh, and squee all at the same time.
Are you hoping Penny will eventually pop the question? Think Frank is ready to sober up on Shameless? What do you want to see from the final episodes of Glee? Tell me everything in the comments below!
Follow Leanne on Twitter @LeanneAguilera
[Photo Credit: Michael Yarish/Warner Bros.; FOX; Showtime; Cate Cameron/The CW; Josiah True/WENN]
---
From Our Partners


See 'Game of Thrones' as 'Mad Men' (Vulture)


Hayden Panetierre Bikinis in Miami (Celebuzz)