Leanne's Spoiler List: Behind-The-Scenes Scoop From 'Girls,' Ryan Murphy Talks 'Glee,' and More!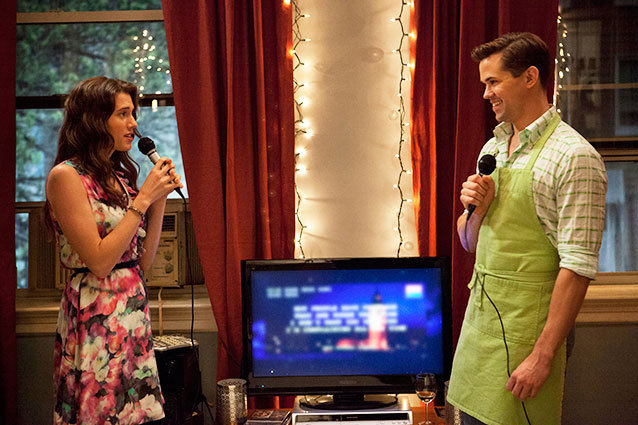 In this week's edition of Leanne's Spoiler List, I decided to shake things up a bit. On Monday, I asked you — the lovely readers of the Internet—to vote for the five shows that you wanted to be featured this week. After thousands of votes I've discovered a few things: The first is that the Glee fans will automatically dominate any type of competition or poll. And secondly, I was pleasantly surprised to learn that your votes allowed me to write about five of my all-time favorite shows! Basically I felt like this when I saw the results.
To thank you for your good taste and participation, I've packed this week's list with as many spoilers as I could. I chatted with Andrew Rannells to get the goods on Girls, laughed with Once Upon a Time's Josh Dallas about his charming new family, and chatted with Glee's very own Ryan Murphy to bring you your weekly shipper update. I've also gathered scoop from the stars of New Girl and Arrow to get you all caught up on the craziness that it coming to your TV screens. Read on for all the scoop from the shows you picked!
RELATED: Leanne's Spoiler List: Glee, The Vampire Diaries, Justified and More! a>
1. Girls: The Best Performance We Never Saw!
In last Sunday's painfully awkward — and just plain painful to watch — episode of Girls, fans witnessed Marnie's first attempt to showcase her newly declared dream of being a singer. In case you missed the most horrifyingly realistic performance to ever creep across your television screens, you can watch it here. Was anyone else peeping from between their fingers?
Hopefully Marnie's singing skills will improve, because as I recently revealed, The New Normal star Andrew Rannells is returning to Girls in Season 3! We all know that Rannells has a flawless voice and amazing stage presence — but does Elijah share these same skills?
To find out the answer, I caught up with the unbelievably handsome Rannells at PaleyFest's red carpet to honor The New Normal last week. After gushing over the brilliance of Matt Bomer — again — I asked if we could expect to see a Marnie/Elijah duet sext season. Rannells smiled and revealed, "Well you know what's a bummer is we did one!"
Did you hear that, Book of Mormon fans?! Rannells sang on the HBO hit earlier this season, and somehow it ended up on the cutting room floor. Gasp! "In Season 2 — the first episode back — Allison and I sang a song together," Rannells said. "We sang a karaoke version of The Wreckers, which is Michelle Branch's country group. We did a duet." Apparently this alcohol-induced performance happened only a few minutes before their "two-and-a-half pumps" that took place on the couch.
Is anyone else experiencing a strong case of FOMO right now?! (Psst! That means "fear of missing out" Mom.) Thankfully, the multi-talented actor assures Girls fans that he's currently campaigning for another duet next season. "Hopefully we'll get to do something else. If nothing else Allison and I will just get drunk and sing somewhere," Rannells says with a laugh. Umm, that sounds absolutely amazing! Can we come too?
RELATED: Leanne's Spoiler List: Arrow, Happy Endings and Grimm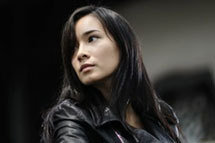 2. Arrow: New Island Ally
Believe it or not, we're about to hit the home stretch, Arrow fans: starting on March 20, we're going to get 7 amazing, action-packed, jaw-dropping episodes in a row, all the way to the season finale! And if you think the freshman CW drama can't get any more epic than it already has, then we're clearly not watching the same show.
When we caught up with the Arrow cast and producers at their PaleyFest event last week, we could barely contain our fangirling long enough to ask questions about the next chapter of the show. Thankfully, star Stephen Amell was as eager as we were to talk about what Oliver does next, especially now that his island self has started to toughen up.
"I've become a big sucker for the island," he says. "When we began on the island, I was just laying around in the cave like an idiot, like, 'Aww I need some fooood.' But I always knew that eventually my spine would begin to form. We're going to see in coming episodes that things are actually pretty good for Oliver — relatively speaking [on the island], so that means something bad is about to happen."
Executive producer Marc Guggenheim agreed that the island story is a crucial part of Arrow's mythology, and the addition of Manu Bennett's Slade Wilson was a success. "We love writing Oliver and Slade together," Guggenheim says. "They are the proto Butch and Sundance. But something will complicate that relationship soon, adding a third element to that."
Spoiler Alert! That third element is Yao Fei's daughter, Shado, who we briefly got a glimpse of during "The Odyssey" — when we learned that Fyers was holding her hostage in exchange for Yao Fei's obedience. Shado is a lawyer (as well as an expert martial artist and archer… hmm, that sounds like another certain lady friend in Ollie's past… cough, Laurel cough…) fighting to free her father from being banished to the island by the Chinese government.
Expect to see the dynamic duo of Slade and Ollie add one more to their alliance when she teams up with them to rescue her father and escape the island But most mysteriously of all, she has the same tattoo of a tiger on the back of her shoulder that post-island Ollie has… Could there be something more between them? Something romantical, perhaps?
RELATED: Leanne's Spoiler List: Smash, Revolution, Shameless etc.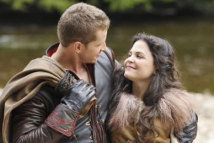 3. Once Upon a Time: A Baby Maybe?
Being forced to save your baby girl by passing her through a magical wardrobe into another realm and then missing out on her first 28-years of existence — followed by a year of not remembering her at all — is not an ideal parenting situation. 
In ABC's hit drama Once Upon a Time, Prince Charming and Snow White have spent the past 16 episodes trying to make up lost time with their darling magic-inclined daughter Emma, and it's been just lovely. However, many fans — myself included — are campaigning for the stork to visit Storybrooke.
So I caught up with Prince Charming himself, Josh Dallas, last week at PaleyFest, and asked if a new baby is something he'd like to see for his on-screen alter ego. "God, that would be nice wouldn't it?" Dallas says. "I think that would be a really nice happy ending for them. There are [currently] no talks, but I think it would be a cool way to go."
That's not quite true, Josh! In the PaleyFest panel, creators Edward Kitsis and Adam Horowitz briefly mentioned that a Charming baby is most likely in the works for sometime next season. All together now: Squee!
Until the Charmings get another royal bun in the oven, their main priority for the next few episodes is looking after Henry. Luckily Neil/Bae's presence should help take away some of that babysitting burden. Dallas admits that Charming is genuinely happy that Henry has been reunited with his father. "I think on one hand he's going to be really relieved that there's going to be a puzzle piece from Henry's past placed back in there," he says. "So he's going to sit back and just see what Neil is all about." Would you like to see Snow and Charming with a baby prince, or princess? Cast your vote in the comments below!
RELATED: Leanne's Spoiler List: 'Once Upon A Time' Reveals The Father Of All Secrets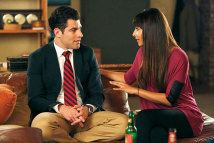 4. New Girl: Love in The Loft
Nick/Jess shippers, let it be known that something major goes down during next week's episode, "Quick Hardening Caulk." Jess, hopped up on pain pills, confesses her true feelings to Nick. But how will he react? I'm not telling …but let Nick himself, Jake Johnson, share how this admission will affect the group's dynamics: "It throws a wrinkle into the mix a little bit, and it kind of takes it to another level."
But while Nick and Jess could potentially heat up, another beloved non-couple (not anymore, at least), cools down. In "Quick Hardening Caulk," we'll see Schmidt desperately trying to let go of his feelings for Cece now that his ex is engaged. "In a way, there is a cathartic experience that Schmidt goes through involving a fish — that he may think is Cece — and he's starting to try to come to terms with it," Max Greenfield says.
Schmidt will get back out in the field as a way to get over the one that got away, and "ends up reconnecting with an old girlfriend from college, played by Merritt Wever, who is just the best," Greenfield says. That will last for at least a few episodes, and inspires the gang's virginity-losing flashback episode the cast and producers teased during the show's PaleyFest panel Monday night.
Not to worry, Winston fans! He certainly won't be left out on the relationship front — he's still dating Daisy, although the state of their relationship is up in the air. "His relationship is very patchy," Lamorne Morris says. "His girlfriend is always on a plane somewhere so he doesn't really have time to see her. It's more of a convenient relationship [for Daisy] — it's like I'm in town, and none of my other dudes have picked up their phones, so I'm going to call Winston. That's what I feel like Daisy's doing. I don't even care."
Their relationship should last for a while, though — or at least until the end of the season. "The only reason I say that is because Brenda Song got a new TV show, so she won't be back next season," Morris says. "Hopefully her TV show will last a million years. She's the greatest." Fingers crossed New Girl lasts a million years too!
RELATED: Leanne's Spoiler List: Kaley Cuoco's Sister To Star On 'Big Bang Theory's Valentine's Day Ep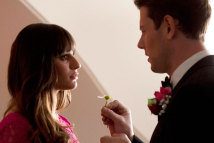 5. Glee: Ryan Murphy Tells All
It's no secret that Glee fans are, without a doubt, an extremely and sometimes overly passionate group — but that's what makes them so great! According to Glee creator Ryan Murphy, that is. (Bee tee dubs: I totally agree, but you already knew that of course.) When I caught up with the Murphy a few weeks ago, I made sure to ask the showrunner extraordinaire if he ever lets some of the — Hmm, how should I put this? — intense fans influence his creative choices for the show.
"They're all so intense, are you kidding?" Murphy says with a smile. "I don't look at is as pressure, I just look at it as passion. I'll be honest — when I first started [using] Twitter, I was a little unnerved. But [now] I just treat it as a fandom that has a love of things that I've created, so why would I think differently?"
And as far as the "original" shipper fandoms go — we're talking Klaine, Wemma, Brittana etc. — Murphy reminds fans that all couples go through their natural ups and downs in a relationship and there is always an opportunity for reconciliation. However, when it comes to progression in upcoming episodes, Murphy revealed that Finn and Rachel fans should remain optimistic. "Always have hope, I've said that from the beginning," he says. "Always."
Bonus Scoop! Here are some other Gleeful goodies we can look forward to: Finn is finally going to find his dreams — and he's going to discover this inner amazingness in the hallowed halls of college! That's right, Mr. Hudson is headed to higher education. While I'm not allowed to reveal what his major will be, I can tell you that we will be meeting his roomie very soon!
Also — we're getting a flashback! In the upcoming episode "Sweet Dreams," fans will not only be reunited with the lovely Shelby Cocoran — aka Rachel's momma — but we'll also get to see 5-year-old Rachel! Fingers crossed they make Reindeer sweaters for little ones. Also, one member of the New Directions will take their crack at songwriting — and I anticipate it to be very Taylor Swift-y. (Pssst! Meaning it'll be about boys…)
Are you excited for the upcoming episodes of Glee? Think Snow and Charming should have a royal new addition to the family? Wanna get drunk and sing karaoke with Andrew Rannels and Allison Williams on Girls? Sing out in the comments!
Follow Leanne on Twitter @LeanneAguilera
—Additional reporting by Sydney Bucksbaum and Jean Bentley
[Photo Credit: HBO, Universal Pictures, ABC, FOX (2)]
---
You Might Also Like:


14 Movies That Are, Surprisingly, Not Porn


Stars Who Have Lost Roles For Being Too Hot (Celebuzz)