Leanne's Spoiler List: 'Glee' Gets a Sitcom Makeover, A Best Friend Battle on 'Vampire Diaries' and More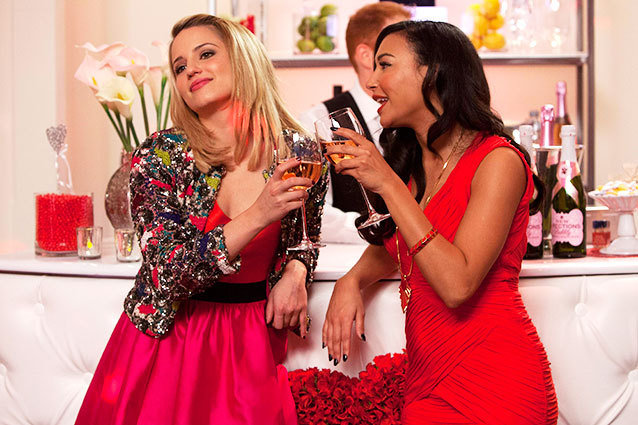 This week I'm in the middle of PaleyFest madness, which means a lot of long nights interviewing pretty TV actors, sitting through sneak-peek previews of new episodes, and enduring delightfully fun Q&A panels with the casts of some of my favorite shows. Wait, who am I kidding? I love PaleyFest! Even though it's a bit exhausting, I love knowing that I'm gathering a plethora of spoilers for all you TV lovers out there, so it's all worth it.
From a supernatural drama to quick-witted procedural to a weekly dose of comedic perfection — this week's edition of Leanne's Spoiler List has a fun mix of of five top-notch shows. Hollywood.com chatted with Glee's most sassy singer, Naya Rivera to bring you all the latest news from her NYC adventures, nabbed heartbreaking details from The Vampire Diaries' boss lady Julie Plec, and talked with Joelle Carter to gather scoop about the season finale of Justified. Plus, I previewed upcoming episodes of Psych and Parks and Recreation and I've got all the hilarious highlights. Read on for all the TV craziness below!
RELATED: Leanne's Spoiler List: Arrow, Happy Endings and Grimm
1. Glee: Santana Speaks!
Three weeks ago, Glee shocked audiences everywhere when besties with breasties, Santana Lopez and Quinn Fabray, hooked up at the almost-wedding reception. To discuss this drunken romp in the sheets, I caught up with the always-wonderful Naya Rivera last week at the Paley Center for Media to honor Ryan Murphy. (Psst! I also nabbed some awesome Glee scoop from Murphy right here!)
After ooh-ing and aah-ing over each other's shoes, the actress revealed her first thoughts after reading the script for the "I Do" sex scene: "When I first read it, I was like, 'That's so weird! What's going on?' But when we shot it we had a bunch of fun running through the hallway, pretending to be wasted. So it just ended up being like a fun ha-ha moment," she says. Now before you throw your laptops against the wall in outrage Brittana lovers, read on!
Rivera says that despite the hook up, Quintana will not become a full-fledged sweet lady-kissing couple, and she's grateful for all the Brittana fans that are still standing strong. When asked if she had a special message for the Brittany and Santana shippers, Rivera immediate smiled and said, "Aww! Thank you for still supporting us!" Rivera added that the fans should "always" have hope for the couple. Now, by a show of tweets, how many of you Brittana fans are freaking out right now?
The actress says that her days are overflowing with laughter now that Santana is living in the loft in New York. "It feels very sitcom because it's just like the four of us or the three of us and the banter is just very witty. Santana has never been funnier!" Rivera explains she was excited to discover brand-new sides to her character, saying, "She has all these weird quirks that you find out when you live with someone. She's really funny and it's great, I love it."
Oh and get excited to see Santana's new job! I can't reveal what it is, but for those of you who have been guessing that she'll be a Starbucks barista, Rivera has a few words for you: "Come on now, it's Santana! You've got to think a little crazier." Tweet me your guesses Glee-bees!
RELATED: Leanne's Spoiler List: Smash, Revolution, Shameless etc.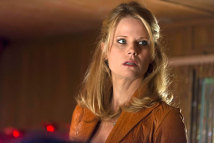 2. Justified: Season Finale Scoop!
Still reeling from the big reveal that Sheriff Shelby is Drew Thompson? Us too. So Hollywood.com sat down for a chat with Justified's blonde bombshell, Joelle Carter (aka Ava) to find out more about what's coming up next. She revealed that there's trouble down the line for her and Boyd (oh no!), and teased an epic finale that will shake up the lives of all of our Harlan County favorites.
"She listened to her moral compass [when she killed Delroy last year]," Carter says. "She still battles with that, you'll she in the next couple of episodes." Still, Carter emphasized that Ava isn't losing too much sleep over that decision, or the one to embrace the life of a redneck mafia wife. "As long as she can work out in her heart, mind and soul she's going to go down this road," she says. "Unless something stops her — which it looks like might happen this season." Yikes!
The one person who knows the secret behind Delroy's death — Ellen May — is still alive, so does this mean that Ava might spend time behind bars? Well… we're not sure. But Carter says that the March 26 finale will definitely be one you won't want to miss. "The finale isn't going to disappoint anyone… it's going to stand up there with all of the finales," she says. "It's really exciting. This finale is going to leave everyone in a different place than they've ever been. All of the main characters. It will be a true test for Ava and Boyd." We can't wait!
RELATED: Leanne's Spoiler List: 'Once Upon A Time' Reveals The Father Of All Secrets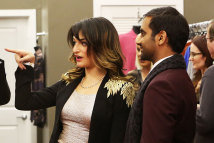 3. Parks and Recreation: A Second Saperstein!
Stop whatever your doing (which is reading this lovely spoiler-filled list) and get ready to do a happy dance. Not only does next week's Parks and Rec feature the incredibly amazing return of Jean-Ralphio, but there's also a second Saperstein headed to Pawnee: His twin sister!
SNL's Jenny Slate is the epitome of perfection as Mona Lisa, Tom's newest employee at Rent-a-Swag. Hmm, let's see, how can I put this nicely? Mona Lisa is absolutely, one hundred percent, bats**t crazy! She steals, she's lazy, and she's intimidating as hell, but after some fatherly advice from Chris, Tom finds the perfect way to put Mona Lisa in her place.
In the same wonderful episode (which is entitled, "Bailout" p.s.) Leslie is doing her best to save the local Pawnee video store because she thinks that it brings culture and class to the city. Things are going absolutely Knope-tastic until Ron decides to step in. Let me just say if you thought this Ron Swanson GIF was the best thing to happen to the Internet, just wait until you see the one you'll get after "Bailout." It's better than bacon. (Gasp!)
Also, Chris receives some advice on his decision to be a daddy from Ben and Jerry (no not that kind of Ben and Jerry!). Oh, and Ann and April spend some quality girl time together complete with pedicures, building the perfect man, and a very Romy and Michelle moment. Wait, what do you mean you've never seen Romy and Michelle's High School Reunion?! Watch this and you'll thank me forever.
RELATED: Leanne's Spoiler List: Kaley Cuoco's Sister To Star On 'Big Bang Theory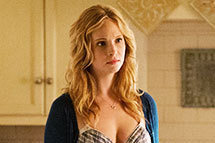 4. The Vampire Diaries: Sweet Caroline v. Erratic Elena
Even though Jeremy's death may have eclipsed Tyler's exit from The Vampire Diaries, that doesn't make the beloved hybrid's absence any less devastating. Watching Caroline leave increasingly sad, unanswered voicemails for Tyler during the tragic death episode was heartbreaking, and his absence will plague Caroline throughout the rest of the year.
Vampire Diaries boss lady Julie Plec tells Hollywood.com that Tyler's disappearance as he runs from Klaus will certainly continue to affect Caroline as Season 4 progresses, although she'll have a lot of other stuff on her plate when the show returns March 14. "Caroline gets caught up very quickly in the 'What can we do to keep Elena from feeding on the neighboring cheerleading squad?' storyline. It puts a big wedge between the two girls and their friendship takes a big hit when we come back," Plec says.
Caroline will have essentially lost two of the most important people in her life — Tyler and Elena — and those losses will compound to make things very difficult for her. "She's struggling with both the absence of Tyler, and the loss of her best friend in Elena, and trying to figure out how she can make things better," Plec says. Fingers crossed that the TVD gods find a new way to bring happiness into Caroline's life. I hate it when my favorite character is sad.
RELATED: Leanne's Spoiler List: Couple Alert! What's Next for Nick and Jess on 'New Girl'?
5. Psych: Lost in the Woods
Much like Castle and Bones, Psych is one of the few procedural shows that I genuinely enjoy watching — and that's mainly because the characters involved are quirky, unique, and make me smile. So you can imagine my delight when Psych finally returned to our TV screens last week with Season 7.
Next week's episode is a really fun and crazy experience. Even if you're not the world's biggest Psych fan, I highly suggest you tune in to "Lassie Jerky" because is a hair-raising good time. So here's the sitch: Shawn and Gus team up with two students/aspiring filmmakers who are on the quest to capture Bigfoot. Oh yes you read that correctly: they're creating a documentary to prove that the mythical creature is very much alive and extremely dangerous.
The really wonderful thing about episode — airing March 13 — is that the entire hour is told through the various cameras that Shawn, Gus and the film student have. Think The Blair Witch Project but without the bloody nose. (And more laughs.)
Here are just a few wacky moments you can look forward to: Someone's foot gets caught in a bear trap, someone gets stabbed in the back (literally), one of the students is a overly blunt nymphomaniac, and Gus's infamous sniffling skills are put to the test. Oh and Shawn saves the day with his "visions," but I'm sure you already knew that part was going to happen.
What do you think Santana's new job is going to be on Glee? Excited to see the season finale of Justified? Dying for the return of The Vampire Diaries? Tell me everything in the comments below!
Follow Leanne on Twitter @LeanneAguilera
—Additional reporting by Jean Bentley and Shaunna Murphy
[Photo Credit: FOX, The CW, FX, NBC, USA]
---
From Our Partners:


Seal Is Dating the Pink Power Ranger: Report (Vh1)


60 Celebrity Bikini Bodies: Guess Who! (Celebuzz)