Leanne's Spoiler List: Emma Struggles With Magic on 'Once Upon a Time,' 'Arrested Development' Cast Spills Secrets and More!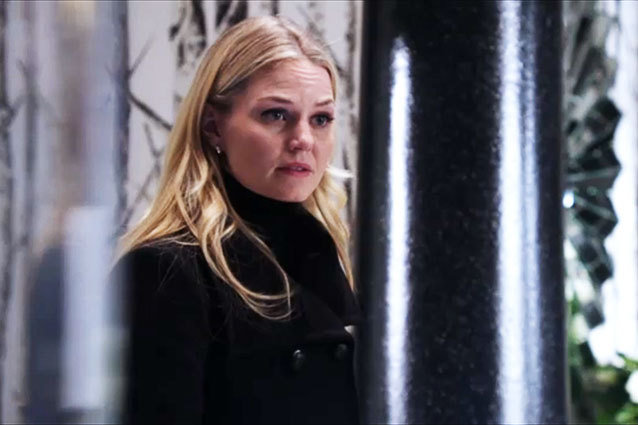 Happy May Day, TV lovers! My mother told me that on the first of May you're supposed to send flowers to the ones you love. If I could I'd send each of you a thousand yellow daisies (name that TV show reference!), but instead I've created this finale-filled list of TV spoilers. Hopefully this will be a fun, less allergy-inducing alternative.
There are five brilliant shows featured in this week's edition of Leanne's Spoiler List and while some are coming to the end of their seasons, others are just beginning! The cast of Arrested Development shared as many Bluth family secrets as they could about their upcoming season on Netflix, and I chatted with the enchanted creators of Once Upon a Time to bring you spellbinding insights from the two-part finale.
Jim O'Heir teased if Jerry is really gone from the Parks and Rec office for good, and Happy Endings boss man David Caspe told me exclusive (and hilarious) information about Megan Mullally's return. Finally, get ready to loose your appetite because the next new episode of Hannibal is going to be deliciously dangerous for the one and only My Girl star Anna Chlumsky. Enjoy your bouquet of TV scoop!
1. Once Upon a Time: The Magic Within
To put it lightly, this season has been a complete whirlwind of magical mayhem for Emma. It's crazy to think that in the Season 2 premiere she was just coming to terms with the fact that her parents are the infamous Snow White and Prince Charming and now, 20 episodes later, she not only believes in magic, but she has the ability to do it!
Earlier this week I had breakfast with Once Upon a Time creators Edward Kitsis and Adam Horowitz, and they told me that in these last two episode fans will get more of an insight into how Emma feels about all of these changes — especially the idea of moving back to The Enchanted Forest. Kistsis reveals, "I think we're definitely going to explore he magic inside her, but I think there's a part of Emma that is still reeling from all this. I don't think she cares for it. ['The Evil Queen'] was the first time she starts to question it."
He continues: "Last year was about believing. Now she believes, but it's not what she really wanted. This year she's really embraced being a mother; she's really put Henry first and she's really coming to grips with it. In the finale, it's going to set up for her next year to say, 'I have a new purpose, and maybe it's time I commit either one way or the other.'" Do you think Emma would be happy living in the Enchanted Forest or should she take Henry and Neal and move to NYC?
2. Arrested Development: So Many Secrets!
The Arrested Development gang has been sworn to secrecy over the Netflix-reincarnated fourth season of their bizarre, wonderful, and delightfully weird comedy. But lucky for all you Bluth family fans, Hollywood.com hit up the orange carpet premiere of the new season on Monday night, where we squeezed out a tiny bit of scoop from some cast members. Also worth noting: there was an Ostrich on the carpet. That's right, an Ostrich! I don't know what that means, but it was awkwardly amazing.
Stan Sitwell, who was interested in buying the Bluth family's shares in the Bluth Company during the show's series finale, will have some business dealings with the Bluth patriarch in the new season. Well, maybe. Says Ed Begley, who plays the follically challenged Stan, "I can't give away any secrets but there is a scuffle between me and Jeffrey Tambor. That much I'll tell you. There is a physical scuffle, and they decided to capture it on film. We were actually fighting, he and I, because there's a lot of bitterness."
That can't possibly be true! Maybe we'll have better luck with new cast member Terry Crews, who's playing a weaselly politician. "He's very despicable, but in this family, there's levels of that. So I might even end up being a good guy," Crews says with a laugh. "You never know!"
Told you the Arrested Development gang were taking top secret to a whole 'nother level! This is how hush-hush creator Mitch Hurwitz and co. were about the whole thing: Crews, who is actually in the show, didn't know anything about storylines other than his own until he sat down to watch the premiere. "I can't wait to see it," he spilled before heading inside to catch the very first screening. "This is my first time even getting near what the story is, so I can't wait to see this tonight." May 26 — so close, yet too far away to touch. (No touching!)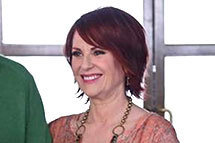 3. Happy Endings: A Baby Maybe?
In my opinion Megan Mullally is one of those actresses who can do no wrong. She captured my heart on Will and Grace and the day I found out she was going to play Penny's mom on Happy Endings — one of my all-time favorite shows — well, let's just say there was a lot of jumping up and down. So you can imagine my delight when Happy Endings creator David Caspe told me that she would be making her grand return this week.
During the first episode of this week's glorious TGIF hour, "Deuce Babylove 2: Electric Babydeuce" (Best episode title ever, bee tee dubs), Capse explains that both Dana Hartz and Big Dave are returning — and they have some life-changing news. "Michael McKeen and Megan Mullally come back as Dave's dad and Penny's mom and they're still dating, which is great," Caspe explains. "But they're actually thinking of adopting a baby, which throws Penny and Dave into a crazy breakdown spiral." Just imagining Penny and Dave's shocked faces is making me all giddy.
Of course, since this is Happy Endings, ABC's best comedy you need to be watching, everything is over the top and their solution to the problem is amahzing. Caspe reveals that Penny and Dave will go to drastic measures to change their parents' minds. "That news results in them kidnapping a baby themselves in order to teach [their parents] a lesson," he says. Classic Penny Blossom move!
But while Penny and Dave are committing crimes, where is the rest of the gang? Well dear reader, I will tell you the answer right now. Brad and Jane are desperate to have a little alone time together so they decide that an exclusive tennis club is the perfect way to get their cardio on — and by cardio I mean they're probably going to do it in the tennis courts because Brad and Jane are awesome like that. Because Max and Alex hate to be excluded from things, hilarity ensues as they try to track the couple down. Don't miss "Deuce Babylove 2: Electric Babydeuce" this Friday at 8 PM, followed by the Happy Endings season finale at 8:30 PM! Seriously, don't miss it. I'll be pretty peeved if you do.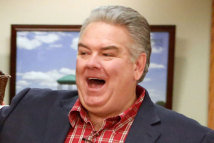 4. Parks and Recreation: The End of Jerry?
I've already watched Thursday's Season Finale of Parks and Rec and it's definitely not an episode you wanna miss — mainly because I choked on one of my gummy bears from laughter at episode's best line. Should I reveal it? Hmm… okay! "I'm bored. Let's go have sex in a tree. He'll be back in eight minutes." Mona Lisa shines in this episode, and this is my official campaign to make her a regular next season! Fun fact: Jean-Ralphio is also in the finale and yes, he's just as amazing as always.
It's Founders Week in Pawnee and Leslie is celebrating her first year of being on the City Council. It's been an amazing year for our waffle-loving Knope, but unfortunately not everyone in Pawnee agrees that things are better off with Leslie in office. While Leslie and Ben are dealing with the always-stubborn citizens, Andy's crime-solving alter ego Bert Macklin is back in town to solve the mystery of the positive pregnancy test. The suspects are: Leslie, Donna, April, Mona Lisa, and Ann, but trust me when I say the answer is going to absolutely shock you.
We saw a few episodes ago that Jerry retired, but Jim O'Heir says that doesn't necessarily mean we've seen the last of the person everyone loves to hate. "It's a bit of secret. I'm not supposed to reveal too much, what's happening with Jerry, because as we saw, he retired and then he came back and he might be back for a couple of hours here and there," he tells Hollywood.com.
O'Heir teases there will be clues dropped in the finale for Jerry's future plans. "I think it's kind of obvious what's about to happen, just in the way they opened the door for me to come back but I can't officially say either way. But to me, people should be able to figure it out," he says. The Parks and Rec actor also says fans definitely don't want to miss the final scene of Thursday's episode. "There's a really sweet cliffhanger in the finale. I can't reveal it now, but believe me, Jerry would be officially retired if I revealed it." I can second that! Don't miss it!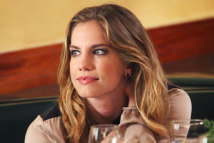 5. Hannibal: Don't Eat My Girl!
Things for Will Graham and the FBI team on NBC's new series Hannibal are about to be ripped to shreds. Literally. Guest stars Eddie Izzard, Anna Chlumsky, and Raul Esparza join in on the horror show on Thursday night's episode (dubbed "Entreé" Oh la la!) and this brand new hour may just open up a bit more into the psyche of our main characters.
Agent Jack Crawford has always pushed Will Graham hard when it comes to finding serial killers — nearly to the break of Graham's own mental well-being. It's a slippery slope, but after watching the episode, it's safe to say that Graham and Dr. Hannibal Lecter aren't the only ones bringing their own baggage into this series.
Izzard shines in his creepy best as a suspect in the Chesapeake Ripper murders, and fans of the Thomas Harris series of novels will be happy to meet Dr. Frederick Chilton. Esparza's Chilton seems to crave recognition and accolades for his work — whether he deserves them or not — and has taken a special interest in one of our main characters as a potential case study. Only time will tell if Dr. Chilton ends up getting the attention he seems hell-bent on receiving, but his introduction is an eye-opening one.
My Girl's Chlumsky joins the team as Miriam Lass, a young FBI trainee under the tutelage of Jack Crawford — and let's just say fresh meat is the perfect way to describe this character. If you thought watching Thomas J. getting attacked by bees was traumatizing, you might want to watch the second half of Thursday night's episode from the cracks between your fingers. Oh, and you'll also feel a little bit nostalgic for the days when you'd rather die than let go of your Blackberry. #TeamiPhone.
Are you excited to see the new season of Arrested Development? How do you think Jerry will stay close to the Parks and Rec team? Eager to see Anna Chlumsky's tasty appearance on Hannibal? Tell me everything in the comments below!
—Additional Reporting by Jean Bentley, Alicia Lutes and Kelsea Stahler.
Follow Leanne on Twitter @LeanneAguilera
MORE:
Leanne's Spoiler List: Baby Daddy Drama On 'Glee,' The Vampire Diaries and More!
Leanne's Spoiler List: The Vampire Diaries, Once Upon a Time And More!
Leanne's Spoiler List: Nurse Jackie, Revolution and more!
---
From Our Partners:


Miley Goes Braless for Magazine Cover (Celebuzz)


33 Child Stars: Where Are They Now? (Celebuzz)