Leanne's Spoiler List: A Pregnancy Possibility on 'Shameless,' 'The Big Bang Theory' Couple Update and More!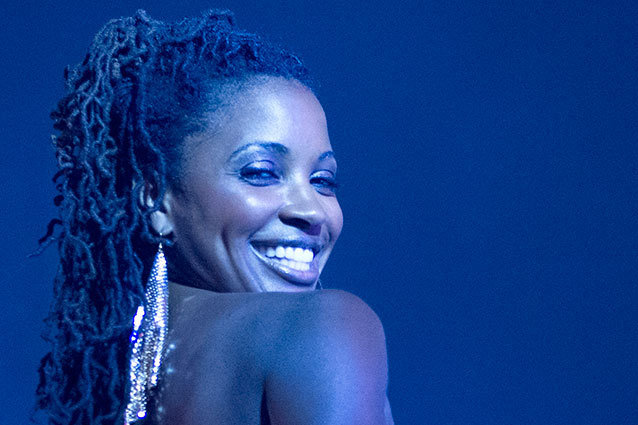 Sometimes I'm totally fine with letting shows collect dust on my DVR. I know that like Sour Patch Kids or my little black dress, those shows will never let me down and they'll wait patiently until I have time to enjoy them. Unfortunately yesterday in my haste to make sure I could record the Pretty Little Liars finale, I did the unthinkable: I deleted my entire DVR library. My world is in shambles, I literally called my mom and cried, and I'm pretty sure I put a straw directly in my wine bottle last night. Can we please have a moment of silence for all the precious episodes of Gilmore Girls, Veronica Mars, Glee, and Chopped that I lost? … Thank you.
On a happier note, this week's edition of Leanne's Spoiler List features five phenomenal shows that will make you twirl with excitement. I chatted with Shameless star Shanola Hampton to bring you updates on the year's most important, yet bizarre, baby-watch, and gushed with the Mayim Bialik and creators of The Big Bang Theory about taking Sheldon and Amy's relationship to the next level. Plus, you'll find delightful details on upcoming episodes of The Good Wife, Grey's Anatomy and The Mindy Project. Read on for all the TV wonder below!
RELATED: Leanne's Spoiler List: Ryan Murphy Tallks 'Glee' and More!
1. Shameless: Baby Maybe?
Whenever some one asks me what my favorite shows are — and believe me when you're a TV reporter that happens a lot! — Shameless is always in my top three. This season has featured the most jaw-dropping, mind-blowing, heart-pounding episodes that have ever graced my TV screen so naturally I needed someone to discuss all the chaos with.
Last week I giggled with the incredible Shanola Hampton as she filled me in on all the baby mama-drama that V and Kev are currently dealing with — namely, the fact that since V can't conceive, her mom and hubby are doin' it so her mom can be the surrogate for their child. Hampton explains that even though V is using a rather twisted method to get a baby, she understands how her desire to be a mom clouded her logic. "The options were limited for her and that's what she chose to do. For a woman like V who is determined to always get what she wants when she sets her mind to it, I get it," she says.
But Hampton says Kev and V's mother's last baby-making session officially snapped V out of her crazed pregnancy plan. The actress says, "Once she saw her mother getting into it with the music and stuff she's like, 'Okay no! This has gone to a whole new level!'" In fact, the Shameless star was so in tune with V's horror and digust that she almost got sick on set filming that day! "The episode that you saw with the final sex scene where V finally stopped it and said, 'No no no no no!' By that point I was nauseous, literally threw up in my mouth a little bit shooting," she says with a laugh.
We saw at the tail end of "Where There's a Will" that Kev received a sexy text from Carol, so could this intimate event come back to into play? Hampton teases, "There will be some other craziness that comes out about my mother by the end of the season and Veronica will flip her lid, but it wont be that message." As we all so clearly know, if there's one girl in Chicago you don't want to eff with, it's Veronica. Isn't that right, Cheryl?
Potential ass-kicking aside, will all this craziness finally let V get her "little punk" with Kev's pretty eyes and smile? Not to brag or anything, but I've already seen this Sunday's episode, "Civil Wrongs," and I can tell you that there will be a pregnancy test involved. I can't tell you whether it's positive or negative but I can tell you that my girl Shanola is truly a master at sprinting in heels.
RELATED: Leanne's Spoiler List: 'The Vampire Diaries,' 'Justified' and More!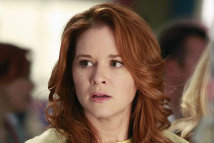 2. Grey's Anatomy: Practically Perfect in Every Way
Dr. April Kepner finally found some luck in the love department last week when her hot new EMT boyfriend revealed he was a virgin and was waiting until marriage to have sex, just like she was! (Well, minus her little dalliance with Jackson, of course.) And according to April's lovely portrayer, Sarah Drew, he's only going to get more perfect when we see him again.
"He's not actually in this week's episode but I talk – quite a lot – about him in the episode, and he shows up in two weeks where he gets injured in a gas explosion trying to shield a child from the blast," Drew reveals to Hollywood.com. Risking his life to save a child? Yeah, we agree with Drew: "He's just perfect in every way."
Too bad April didn't tell him the whole truth about her brief sexual past with Jackson. We have a feeling that won't end well for one of our favorite Grey Sloan Memorial Hospital doctors. "She has lied to him and she is stuck in this in-between where she doesn't know how she feels about Jackson," Drew says. "I don't think she can fully articulate that she is in the middle of a love triangle but she is, whether she believes it or not."
But despite her feelings for Jackson, April's lie is the biggest obstacle in her new relationship right now. "She's so excited that she's met someone that's exactly on the same page about sex that she is that she didn't want to screw it up," Drew explains. "In that moment she felt like it would be such a disappointment to try to explain, 'I was a virgin and then I wasn't and now I am again.' Who understands that? That's absurd. I think she should have told him, and if she told him right off the bat he would have been fine. But she didn't want to screw with it. It's going to come back and bite her in the ass." Yikes!
RELATED: Leanne's Spoiler List: 'Arrow,' 'Happy Endings,' and 'Grimm'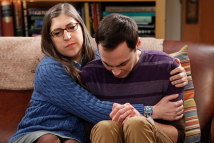 3. The Big Bang Theory: Mother May I?
There are certain things in this world that I love with all my heart: the teeny-tiny meows of a kitten, the first cup of coffee in the morning, the word "adore," and last but certainly not least: The Big Bang Theory! So you can imagine my delight when I caught up with the scientifically gifted cast and creators on the PaleyFest red carpet last week.
Those who follow me on Twitter know that I one of my goals in life is to be besties with Amy Farrah Fowler and that I consider this moment to be one of the greatest 43 seconds ever created on television. So of course I had to talk about one of my all-time favorite couples: Shamy!
"We are constantly amazed that Amy is able to make progress with Sheldon in the relationship," creator Bill Prady reveals. "It's actually fought when it happens in the writers room because someone will say, 'Amy wants this.' and someone else will say, 'Sheldon would never do that. Then the work is what could Amy do to make him do that? She's a strong and smart, character so it usually works out."
So what should the next step in their relationship be? Go on a scientific retreat together? Write a thesis together? Or maybe (gasp!) coitus? Well I have an idea that I've been wanting to see for months: Amy meeting Sheldon's mom! Prady agrees that this would be the perfect next step for the couple. "That a good idea! We'll talk about that." Executive producer Steven Molaro agrees, saying, "We would love to see that as well, so do not be surprised if in the future that occurs."
Just thinking about Sheldon's Christ-loving Texan mother talking with our Sheldon-obsessed Amy makes me feel all warm and fuzzy inside. When I pitched the idea to Mayim Bialik she was equally excited. "Oh I think that would be really clever!" she smiles. "I mean Laurie Metcalf is just so amazing, so anybody with her would be incredible." Squee! So keep in mind Big Bang Theory lovers, whenever we see this amazing interaction it was my hypothesis that started it all!
RELATED: Leanne's Spoiler List: 'Smash,' 'Revolution,' 'Shameless'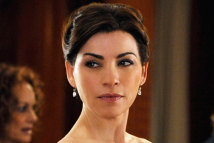 4. The Good Wife: Best Episode Ever!
I kind of feel a little like Saturday Night Live's Stefon trying to describe the next episode of The Good Wife, "The Death of a Client." While I can't tell you exactly what happens, just know that It. Has. Everything! Murder, lawsuits, fistfights, life-changing job opportunities, ball gowns, Fringe star John Noble, drunk Stockard Channing, and some steamy Alicia/Will makeouts.
Yes, that's right — Will and Alicia totally make out. I know. OMG! But before you freak out, know that much of the episode is told through flashbacks after Noble's character, Alicia's eccentric and extremely litigious client, is murdered and the police enlist her help to figure out who killed him. Things only get scarier when we find out Alicia may be the next target. Dun dun duuuuun!
But despite the serious premise, don't expect non-stop drama — although they're trying to find a killer, the episode is pretty funny! What you should prepare yourself for is plot development after plot development. That too vague for you? Okay, fine. Here are some more teases: Someone gets decked in the face, Diane gets a very intriguing career opportunity, Channing's character (Alicia's mom) reveals some secrets about her daughter's marriage to Peter, and there's a well-timed "go f*** yourself."
Of course, as always, Juliana Margulies looks gorgeous, but especially so in a red gown as she heads to an important political event with Peter. (Did I mention the sexy Will/Alicia scenes? Because they're pretty damn hot.)
RELATED: Leanne's Spoiler List: 'Once Upon A Time' Reveals The Father Of All Secrets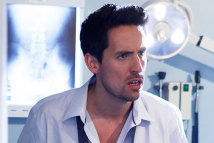 5. The Mindy Project: Romance and Bromance
The Mindy Project has explored the love lives of two of its main stars, but we haven't seen much of the action the sexy yet womanizing Dr. Jeremy Reed has presumably been getting (aside from the pilot, where he and Mindy ended their ongoing fling).
That's about to change, Ed Weeks promises Hollywood.com. Score! Jeremy is about to spark up a relationship with Mindy's old college friend, Maggie (Mary Grill), and the "fun mismatch" will heat up quickly. "He normally goes for models and 10s and bimbos, and she is slightly more rough hewn," Weeks spills. "She's a gym teacher, unreconstructed, doesn't give a s**t about all of Jeremy's bulls**t, isn't seduced by his accent or his hair or his clothes. I think Jeremy finds that really intriguing, like a challenge."
While Weeks stayed quiet on how long the relationship will last, you should know that the couple just filmed their first screen kiss. "It was pretty good. My action was bad but I tasted fine," Weeks jokes after popping a piece of gum.
But a new fling isn't all we'll see of Jeremy in the second half of Season 1. "We might meet some of his family," Weeks teases. "We might learn a little bit about his past, how he got to America from England, which will be really fun. We'll see his bromance with Morgan develop. We've shot a few really fun stories of recently."
Like what? Prepare yourselves: "There's an amazing scene in a sweat lodge where Morgan and Jeremy are topless and are embracing — and are arguing. Buckle up."
Follow Leanne on Twitter @LeanneAguilera
—Additional Reporting by Jean Bentley and Sydney Bucksbaum
[Photo Credit: Showtime, CBS, FOX, ABC]
---
You Might Also Like:


Topanga's Revealing Lingerie Shoot: Hello '90s!


25 Stars Before They Were Famous