Leanne's Spoiler List: Claire Holt Teases Her 'Male Conquests' on 'TVD', A Huge Secret is Revealed on 'The Office', and More!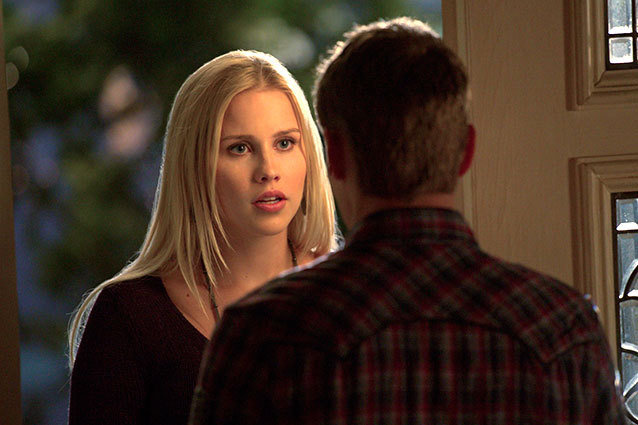 This week's edition of Leanne's Spoiler List is packed with so many pre-finale goodies that I'm going to skip a long intro because I'm way too excited for y'all to read 'em, including how The Vampire Diaries' one-and-only original lady vampire Claire Holt spills secrets on a blossoming romance for Rebekah in Mystic falls and squashes rumors about a former flame.
Plus, I've got jaw-dropping Big Bang Theory news about Sheldon and Amy's relationship-changing episode and scoop on who is getting an engagement ring in this week's episode of The Office. I've even seen next week's Modern Family and Nurse Jackie to bring you all the details before anyone else. So sit back, relax and enjoy being spoiled!
1. The Vampire Diaries: Matbekah
We know know Rebekah will be heading down to New Orleans to join her brothers on The Vampire Diaries spinoff The Originals, but that doesn't mean she's abandoning Mystic Falls without another word. She's got actual friends there, one of which she's become especially close to in recent episodes: Matt, the group's token human friend.
That relationship is only going to grow during the final two episodes of the season, Claire Holt tells Hollywood.com. "I think Matt's going to see a side to Rebekah he's never seen before. He's dying to see some of the good qualities that she has. She's very vindictive — girl is definitely going out for what she wants," she says. "I think fans will be happy with the outcome. Whether it's long-lasting or not I don't know, but it's definitely going to tie up some loose ends, I think."
Will things get romantic? We kind of hope so! "I kind of hope so too," Holt says. "I've had a lot of lovely male conquests on that show so Zach Roerig would be welcomed as another." There's one thing we shouldn't look out for as high school graduation approaches, however: Stebekah. Rebekah and Stefan ain't gonna happen, y'all.
"I think that's kind of been put to bed for the moment, which I'm more than disappointed about because I adore Paul [Wesley]," Holt spills. "He's such a great guy and such fun to work with and I love every second of shooting with him. But I don't think that's going to go anywhere any time soon. I think that's just a mutually beneficial race to the cure fling and now it's kind of over."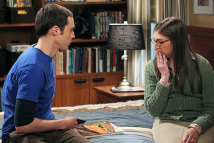 2. The Big Bang Theory: An Elf and Ogre Sitting in a Tree…
By now you all should know how I feel about this show, but for the few Leanne's List newbies out there, let me reiterate: I love The Big Bang Theory so much that it almost hurts. So you can imagine how disappointed I am now that there are only two new episodes of the season. In order to cheer me up, CBS gifted me with an early viewing of this week's all-new episode, "The Love Spell Potential" — and goodness gracious it most certainly worked because I can't stop smiling!
The ladies are thrilled to be heading off to Las Vegas but their plans for a six-way with The Blue Man Group — (Amy's suggestion, FYI) are put on hold when the trip is cancelled. In order to make the girls feel better for their lost weekend of alcohol-fueled shenanigans, Leonard, Howard and a reluctant Sheldon invite their ladies to join them for an epic quest in the world's nerdiest game: Dungeons & Dragons. Trust me, this episode makes you actually want to play it!
You'll also get a taste of Howard's uncanny celebrity impersonations as Dungeon Master (his Nicolas Cage voice is great!) and the group really gets into the imagined action (although I'm pretty sure Penny's "magic potion" has a lot to do with that). Unfortunately, the episode is not all fun and games because Amy finally reaches her breaking point with Sheldon's stand-offish un-boyfriend-like behavior and she lets him know it!
But, get excited Shamy fans because there is a BIG revelation with our favorite brainiac couple. I'm talking huge! Let's just say that Sheldon and Amy have a ridiculously sweet heart-to-heart and finally decides to take a long awaited and very intimate journey together — Dungeon & Dragons style of course! It's even better than the tiara episode.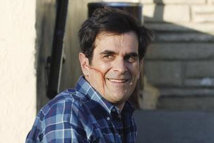 3. Modern Family: Pure Family Fun
After tonight there are only two more episodes left of Modern Family this season and next week's episode —airing May 15 — entitled, "Games People Play," is three separate storylines of pure family fun. When Phil snags a brand-new RV and takes the family for a quick ride up the coast, Claire is anxiously awaiting for her kids to unleash their inner demons and turn their relaxing daycation into a drama-filled fight. Unfortunately for her, she's realizing that maybe the kids are not the problem, maybe it's her. Gasp!
Lily is competing in her very first gymnastics competition and one of her dads (okay, maybe both) really gets into the competitive sprit as they watch their little girl balance on a beam that's 6 inches off the floor. Gloria and Jay overreact to not being invited to a game of charades.
Looking back, I have absolutely no idea where Gloria and Jay's newborn baby was during this episode. It was never explained and now I fear for that child's safety. Oh, and someone (I'm not going to say who) auditioned for The Laker Girls and their routine is fun for the whole family!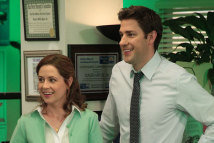 4. The Office: Pam and Jim Perfection
Tomorrow's penultimate episode of The Office, "A.A.R.M." is 22 minutes of pure magic. This episode has pretty much everything you could ever want: Classic Jim and Dwight shenanigans? Check! A choreographed dance routine? Uh-huh! Amazing Pam and Jim flashbacks that'll make you cry? Grab a box of tissues because that's a huge tear-filed yes!
While Andy is off perusing dreams at The Next Great A Cappella Sensation — and pissing off Clay Aiken in the process — the staff at Dunder Mifflin is preparing for the long-awaited premiere of their PBS documentary! It's all very exciting and extremely sad at the same time. Oh and have you figured out what A.A.R.M. stands for yet? Why, it's Assistant to the Assistant to the Regional manager, of course!
Now that Jim is firmly back at his Dunder Mifflin desk, he is completely embracing his spot in this classic Office position and even going one step further by holding a competition to find his assistant. It's truly wonderful to see Jim and Dwight finally on the same team, especially when Jim offers his friend some adorably honest and life-changing relationship advice.
There's also a HUGE secret revealed and someone may be getting a ring on their finger. Oh, and Steve Carell returns! Okay, fine it may just be his voice in this episode but, hey, it's still pretty damn exciting. That's what she said.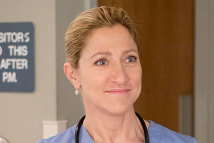 5. Nurse Jackie: First Date Jitters
Grab your favorite dress and put on that perfect shade of lipstick because in this Sunday's all-new episode of Nurse Jackie, we're tagging along on a date! It's Jackie's first date post-split and it's clear that she's a bit off her game. Luckily Zoey, Thor, (and pretty much the entire hospital staff) step up to help their flirtation-challenged friend in need.
Overall, Jackie's date is great: the fish and chips are delicious, Frank's jokes are hilarious and our leading lady is surprised at how much she's enjoying her first time being sober while wearing a dress. Unfortunately, the good times are interrupted when a phone call from Jackie's past sends her into the arms of someone completely unexpected.
Oh and for all the youngsters out there reading this, a piece of advice: don't lie to your mother saying that you're going to watch The Hunger Games at a friends house and then sneak out to a noisy club that you're not supposed to be in. Because that's exactly what Grace does and the repercussions are not pretty.
Are you excited to see more Matt and Rebecca flirtations on The Vampire Diaries? Sad to see The Office come to a close? What do you think is going to happen between Sheldon and Amy on The Big Bang Theory? Tell me everything in the comments below!
Additional Reporting by Jean Bentley
Follow Leanne on Twitter @LeanneAguilera
More:
Leanne's Spoiler List: Baby Daddy Drama On 'Glee,' The Vampire Diaries and More!
Leanne's Spoiler List: The Vampire Diaries, Once Upon a Time And More!
Leanne's Spoiler List: Nurse Jackie, Revolution and more!
---
From Our Partners:


Watch Justin Bieber Attacked in Dubai (Celebuzz)


33 Child Stars: Where Are They Now? (Celebuzz)